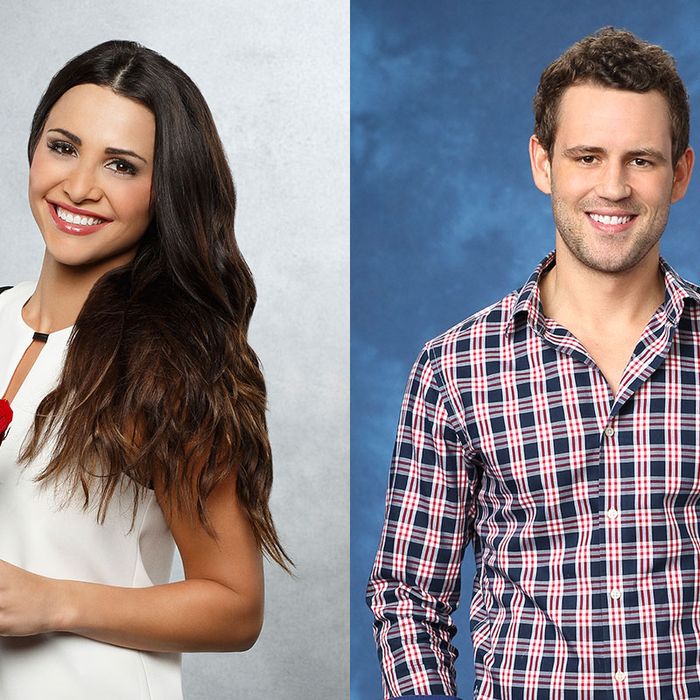 Last night, someone in your Twitter feed probably informed you that Andi Dorfman, star of this season's The Bachelorette, is a slut. Or that she was slut-shamed by a contestant she'd rejected. Both reactions popped up readily on social media during the franchise's first honest — if short —discussion of sex. Neither are true. Both are disturbing.
ABC has aired 10 seasons of The Bachelorette and 18 seasons of The Bachelor since 2002. The franchise has so penetrated our national consciousness that even if you've staunchly abstained from watching, you know the vernacular. You may not know what the right reasons are, but you know that contestants best be there for the right reasons. You may never have seen the moment when two consenting adults on an all-day date "discover" a card written by host Chris Harrison inviting them to, if they choose, forgo their individual hotel rooms and stay as a couple in the Fantasy Suite. But you definitely know what's goes on in the Fantasy Suite. We all do.
Yes, sex. In my ridiculously long — and somewhat embarrassing — history of being a dedicated viewer of these marriage-minded reality shows, I'm not sure that word has ever been uttered. That No-S-Word streak held out even last night, during the Most Blatant Admission Ever (every season brings a new most dramatic thing ever) of the fact that people on these shows have sex. In fact, every lead of every show gets the opportunity to go into the Fantasy Suite three times, with three different members of the opposite sex, on three consecutive dates. Which means these shows have produced, all told, 84 officially sanctioned chances to get laid, not to mention several rare, but well-documented, instances of "skinny dipping" in the ocean —the one place besides the Fantasy Suite where contestants' genitalia can co-mingle out of view and earshot of cameras.
Which brings us to the reveal of "Andi's Shocking Sex Secret," as a Fox News headline put it, on last night's finale of The Bachelorette. The secret was that 27-year-old Andi had had sex with not one, but two, of her final three suitors. (Never mind that she'd rather valiantly broken up with the third, farmer Chris, before entering the Fantasy Suite because she didn't think their relationship had enough of a foundation to warrant a night in a hotel room.) And that reveal came at the hands of the heart-broken runner-up, 33-year-old software sales executive Nick Viall, when he confronted Andi on the season's live postmortem, After the Final Rose. Prompted by Harrison, Andi admitted she hadn't been in love with Nick. With quivering hands and downcast eyes, Nick then asked Andi, straight up, "If you weren't in love with me, I'm not sure why, why you made love to me."
Here's the backstory: Buoyed by veiled assurances from Andi, Nick had gone into the final morning of the season confident that he would propose and she would say yes. Yet when he was expecting a visit from Neil Lane, creepy purveyor of diamond engagement rings, Andi showed up at his door instead and sent him home. She then went on to get blissfully engaged to former pro-baseball player Josh Murray, telling him that she'd loved him since the moment she laid eyes on him. Andi and Josh just so happen to live five minutes from each other in Atlanta and, they revealed on After the Final Rose, spent the past two months, between the taping and the airing of the finale, sneaking around to see each other, wearing disguises and wigs.
Nick, meanwhile, has been venting his frustrations loudly on airplanes and semi-stalking Andi for a one-on-one conversation. According to Harrison, he tried to see her once while she was on vacation in Mexico (with Josh, presumably), and again at the live taping of "The Men Tell All" episode a couple of weeks ago. Andi refused him both times, but did accept a letter he'd written her. One can presume the only reason she sat down with him at the After the Final Rose special was because she was contractually obligated. (Or because the producers realized this would be the most dramatic way to end a somewhat boring season.)
"Andi Gets Slut-Shamed" crowed the headline of Cosmopolitan.com's recap of the finale — the shamer being Nick. The Frisky argued the opposite, that Nick had asked a perfectly valid question and hadn't so much slut-shamed her but "asshole-shamed" her for being cruel: She'd refused to grant Nick closure, and was defensive and unsympathetic on the ATFR. Jezebel applauded Andi as "the first female Bachelor of The Bachelorette," for the cold, calculated way she Samantha-ed her way to getting the guy she claims she wanted all along, but still got her rocks off in the process.
Debate all you want whether it was, as Andi retorted, "below the belt" for Nick to bring up their "private" Fantasy Suite interaction and the fact that they made love on live national TV, as her fiancé waited in the studio about to go on air, and as her parents were no doubt watching. Debate all you want whether Andi really refused to see Nick before the ATFR or if she was just following producers' orders. Debate all you want whether Nick was sincerely heartbroken or just playing a part. Whether he really wanted answers or just wanted the world to know he and Andi had had sex. Whether he wanted the world to know because he was bragging and wanted to rub it in Josh's face or because he was hurting and wanted to humiliate Andi and destroy her relationship.
The more interesting debate is why we, collectively, seem to think that a woman should be humiliated for people to know that she had sex with a man she'd been dating non-exclusively for two months (on-camera!). Or that she'd had sex with him in the same week that she had sex with another man she'd been dating non-exclusively for two months (also on-camera!), with both men aware that she was dating more than one person (ON A REALITY-TV SERIES THAT HAS BEEN EXACTLY THE SAME FOR 28 SEASONS AND 12 YEARS).
There are only nine women in the world who have experienced anything close to Andi's state of mind when she went into the Fantasy Suite with Josh and then Nick, having traveled the world with those men for two months under artificially heightened and pressurized circumstances and chosen them through a prolonged elimination process from a pool of 25 suitors. Did she have sex with Nick because they had a uniquely "passionate" relationship (her preferred descriptor) and she wanted to know what it was like? And did she do it cavalierly, knowing that she was in love with Josh and had been from the beginning, as she'd told Josh when he proposed? Was she only keeping Nick around because she was under contract and being paid $50,000 to bring two men into the finale? And if that's the case, doesn't that make it extra-slutty that she had sex with him anyway, especially knowing how in love with her Nick was, and how he viewed sex and whatever else they did that night as "fiancé-type stuff"?
Or is it possible, just possible, that parsing out Andi's exact motives shouldn't matter? Isn't it possible that Nick wasn't making some grand societal judgment when he asked why she'd made love to him when she didn't love him, but just wanted her to know how badly her actions had hurt him?
Watching back the tape, that seems to be the case. And listening to Andi's speech to Josh during his proposal, it seems quite possible that, while she had strong feelings for Josh at the start, it took her the entire two months to understand that those feelings were L-O-V-E, and that that realization likely didn't come until after she'd slept with Nick. Nick may not grasp how that could happen, and he may feel like Andi led him on, but he certainly doesn't seem to regret the sex, or be judging her for a night he clearly enjoyed and in which they were both willing participants. That subtlety gets lost, though, in an accepted double standard that allows for a man to have sex with a woman and never call her again (see: the vast majority of leads on The Bachelor), but that makes any woman who does the same a heartless bitch. (If you want to see slut-shaming, look no further than the comments for the Jezebel piece, or Entertainment Weekly's recap, or type the words "Andi" and "slut" into your Twitter search.)
There's something disturbing, too, about the circular logic of the term "slut-shaming." It's a way of vilifying those who look down on women with healthy sex drives, via a term that denigrates women with healthy sex drives, or women who appear to fall under some arbitrary definition of promiscuity. The ugliest example before last night came during the last season of The Bachelor, when runner-up Clare invited worst-Bachelor-ever Juan Pablo to go "skinny dipping" and he spent the next day accusing her of pushing him to far (and then later told her he loved fucking her).
The only shameful thing about the Nick-Andi debate is our collective reaction. Andi didn't deny the sex or apologize for it. Her fiancé Josh recovered by going on air and cheerily talking about how they'd been sneaking over to each other's houses, as an engaged couple, and he'd been "trying" to get her pregnant. What Andi did with Nick in that Fantasy Suite was what normal couples do. It's about time that talking about sex, and recognizing that women like to have sex and ought not to feel shame for that desire, become the norm, too.