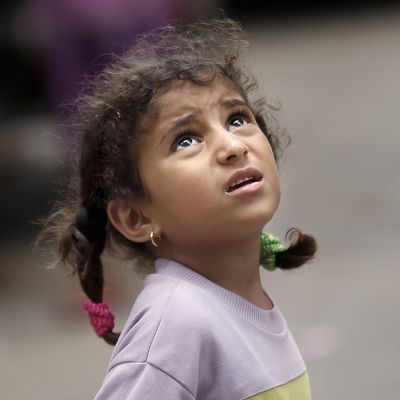 Photo: Thomas Coex/AFP/Getty Images
At the moment, the world's attention is naturally focused on the most camera-friendly elements of the Israel-Hamas conflict: the explosions and the refugees and the many civilian casualties. But simmering beneath the fighting is a longer-term problem for Gazans: They are one of the youngest, most frequently traumatized people on Earth. The psychological effects of the repeated battering they have endured in recent years could linger for decades, posing a huge challenge not just to Gazans themselves but to Israelis, Egyptians, and everyone else concerned with peace in the region.
"This is a very serious problem for the people in Gaza, particularly for young children," said Akihiro Seita, the director of health for United Nations Relief and Works Agency for Palestine Refugees in the Near East, in an email.
It will be impossible to know the full extent of the problem until after the end of the fighting, but past research paints a grim picture. A 2004 study conducted during the second intifada found that 32.7 percent of Gazan children between 10 and 19 exhibited signs of severe post-traumatic stress disorder, while 49.2 percent showed signs of moderate PTSD. A full 83.2 percent of all the children sampled had witnessed shooting, while 66.9 percent had seen injured or dead victims of the violence — and that was several rounds of violence ago. More recently, a "rapid psychosocial assessment" conducted by UNICEF shortly after a week of Hamas-Israel fighting ended in November of 2012, told a similarly grim story: 84 percent of children sampled over a wide swath of Gaza affected by the fighting "looked stunned or dazed"; while 77 percent reported crying more than usual.
Seita visited during this period. "I visited health centers and met dozens of mothers and children who were there for ordinary care like immunization and growth monitoring," he said. "I asked all of them about their situation, particularly about their children. Without exaggeration, all mothers told me their children were different now: They don't sleep well, don't eat well, cry at night, hold tight with [their] mothers, night wetting, etc."
The Israeli-Palestinian conflict has taken its toll on all of the civilian populations caught up in it, with Israelis and Palestinians enduring everything from suicide bombings on buses to late-night house raids and aerial bombardment. But Gazans do appear to suffer from PTSD to a greater degree than either Israelis or West Bank Palestinians, at least according to a 2009 joint Israeli-Palestinian study also focused on the fallout of the second intifada, which found that 6.8 percent of Israelis and 37.2 percent of West Bank Palestinians met the clinical criteria for the disorder.
It's hard to draw direct comparisons across studies done at different times and relying on different methodologies, but there are commonsense reasons to trust the notion that, all things being equal, Gazans are usually hardest hit by the conflict, psychologically — especially in the last half-decade or so. Gazans have dealt with more direct violence than anyone else since 2008 or so, with only rare reprieves from Hamas-Israel hostilities. During this period, things have been relatively quiet in the West Bank by the standards of the region.
And when war comes to Gaza, there is often no place to hide, the death and destruction both more concentrated than they are elsewhere. As Katie Zavadski explained in her Daily Intelligencer article yesterday about why so many children are dying in the conflict, Gaza is a very densely populated place with a population of 1.8 million spread over a total area of just 360 square kilometers. Compare that to the West Bank, which has 2.7 million people over 5,860 square kilometers.
There are mental-health resources in Gaza, but they're overstretched and constantly disrupted. The infrastructure is provided by a mix of the Ministry of Health, NGOs, and UNRWA, Seita explained, with UNRWA providing "psychosocial counselors" at schools, health centers, and women's centers that can refer patients to more serious treatment from the Ministry. There are many obstacles to treatment. Israel's blockade (and Egypt's to the south) has made it difficult for medical supplies to cross the borders into Gaza, and the same goes for people trying to temporarily get out: Gazans who require specialized care must travel to better-equipped medical centers in Israel or Egypt, and they often aren't allowed to.
All of this helps make an otherwise treatable problem a potential crisis. "Most kids are actually quite resilient and they can bounce back after a traumatic event," said Ryan Herringa, a University of Wisconsin-Madison researcher who runs a lab dedicated to youth-PTSD research. If it's "a one-off trauma, or if they have a lot of social support … most kids can actually do pretty well."
But mix in repeated trauma with a lack of consistent access to care, and you reduce the chances of PTSD-stricken children making full psychological recoveries. "I think it gets a lot more complicated when it comes to a war zone where these traumas are happening, especially when they happen over and over and there's a lot of uncertainty over what might happen next," said Herringa.
In Gaza, this repeated trauma, mixed with a very youth-heavy demographic structure and societal problems brought on by the territory's ongoing economic isolation — 63.8 percent of Gazans are age 24 years or younger, and more than 40 percent of the population is unemployed as of May — could be a recipe for long-term catastrophe.
What happens when you traumatize a very young, very frustrated, population over and over and over? Here's where Gaza's problems threaten to overrun its borders, and not just in the form of rockets fired at Israel. Gaza is a cutoff non-state that both Israel and Egypt dearly wish they could ignore, but in the long run it isn't going anywhere. Both countries need to deal with it as a neighbor, and the ongoing toll of PTSD could make this even more difficult than it has been in the past.
In the long run, Seita said, children with untreated PTSD suffer from a variety of ailments: "higher risks of developing attention deficit disorder (e.g., anxious state, hyperactivity, attention problems, phobias and impulsivity), violence, adopting extreme ideas, low school performance, addiction, criminal conduct, and other antisocial behavior and ideas." All of these problems, of course, are compounded in a society that's isolated from the rest of the world and run by a radical group that has, in the past, been known to recruit young men to blow themselves up in crowded markets.
So even after the last bomb of the current conflict is dropped, the last Hamas rocket fired, the civilian population will still be there, trapped, unable to do anything but wonder when the next wave of violence will come. "This will compromise the future of the economic, social and cultural development of the whole nation," said Seita.