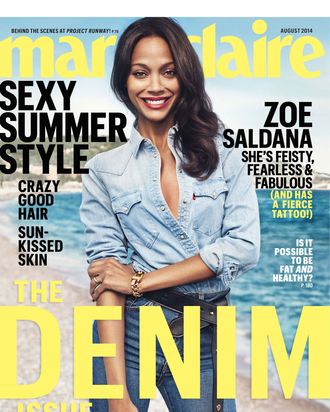 Photo: Boe Marion/Marie Claire
Actress Zoe Saldana is on the cover of Marie Claire this month, billed as a "feisty and fearless" star. We'll assume that's women's mag speak for being extremely intense, perhaps slightly terrifying, and prone to refreshingly real quotes.
For example, Saldana bluntly discusses  her attitude toward the whole keeping former boyfriends as BFFs sham:
I don't want to be the one going, 'I'm cool, because I'm friends with all my exes.' There's a reason why you're called an ex. I crossed you off my list. Moving on. You cross a line, you need to know that you're going to walk this earth knowing that there's an individual who has no respect for you.
Zoe Saldana's Annotated List of Men Who Have Disrespected Her sounds like a much better read than Lindsay Lohan's fuck list.