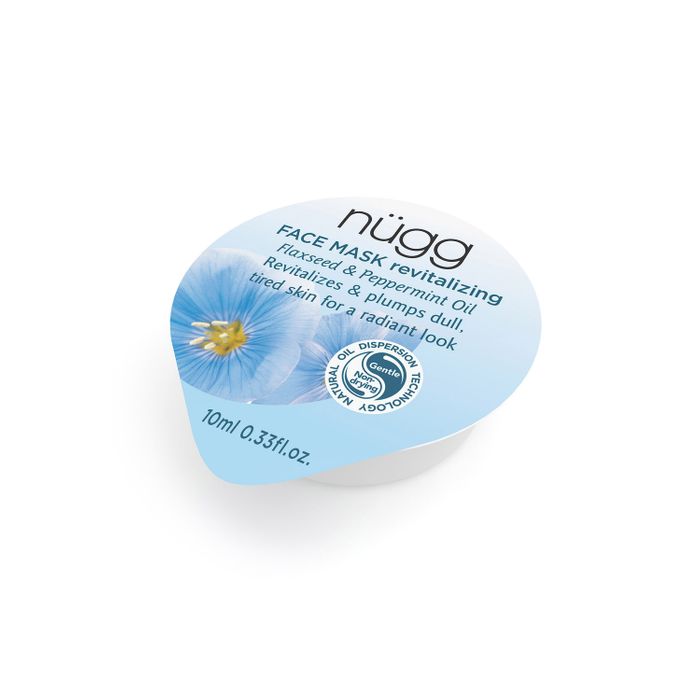 Face masks that cost $150 are all well and good — but here's a face mask that's luxurious and doesn't even cost $5.
Nügg face masks, which come in a container the size of a coffee-machine pod, make face masks an everyday luxury, rather than one you need to ration out every week à la Gwyneth Paltrow's approach to cigarettes. They comes in five varieties: Exfoliating, Deep Cleansing, Hydrating, Revitalizing, and Anti-Aging. How good can a $3 face mask be, you're probably wondering. Well, pretty good, if the ingredients are 90 to 95 percent natural, free of alcohol (making them safe for all Patrick Bateman–like bankers you know), and without parabens, fragrances, synthetic colors, and emulsifiers.
Nügg masks are largely made up of essential oils, and use a natural oil-dispersion technology. (Most companies use emulsifiers to bind oil to water since they don't naturally mix. Nügg, on the other hand, breaks down the oil into smaller particles, allowing it to coexist with water.) I tried the Revitalizing mask as an initial test, smearing a neutral-colored goo liberally on my face. Within a few seconds, my skin was tingly (in a good way) from the mix of peppermint, olive, menthol, and aloe oils, and I felt like my face was getting a cooling menthol wrap or soothing throat lozenge. After leaving it on for 15 minutes, I was pleasantly surprised to wash it off and find that my skin felt moisturized and soft. While not quite as luxurious an experience as the legendary SK-II face mask, it was still worth every penny.