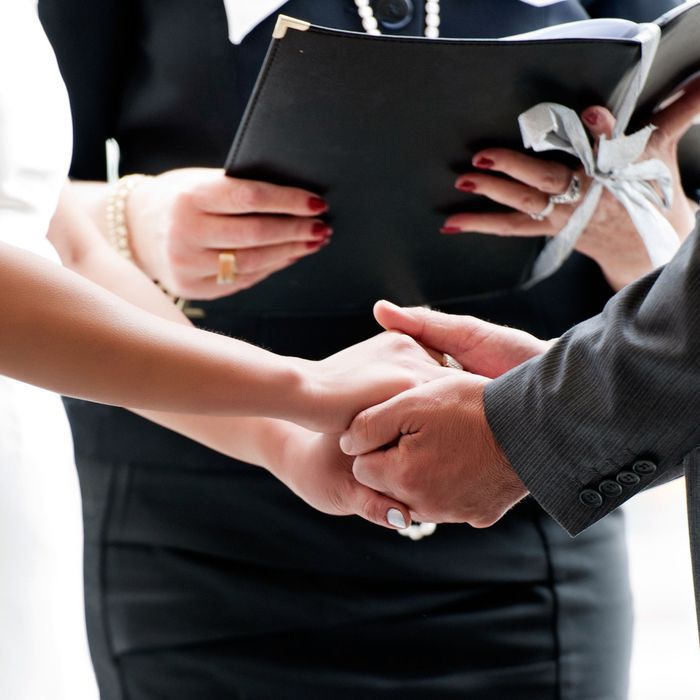 Photo: khoa vu/Getty Images
My childhood friend Kathryn is marrying, and she asked me to read a poem at her wedding. I took to this task, at first, like an overachieving English major, yanking heavy anthologies off the shelf and leafing through physical books. Then I reverted to normalcy, typed "wedding poems good" into Google, and emailed a bunch of people to see if they had ideas I could rip off.
In an age of secular and merely religious-ish weddings, the possibilities for what to read are theoretically infinite — which only makes the pressure to choose the exact right one even worse. A canon of go-to ceremonial literature has emerged, then immediately become reviled, since the rejection of popular things is popular unto itself. After consulting experts ranging from prizewinning poets to DIY websites featuring computer fonts designed to look sandblasted (I find naturally weathered fonts more tasteful), I have concluded there are five key genres of wedding poems. Herewith, a discussion of each genre, with examples, expert opinions, and reactions from the very patient Kathryn and her fiancé, Alex.
1. The Poem That Explains Weddings
Even as "married" becomes an increasingly meaningless distinction, weddings are nevertheless expected to remain what the poet Robert Hass calls "a feast for the saying of a magic spell." Perhaps this is precisely because marriage is so flexible. We need the bride, the groom, the officiant, and the king's horses and all the king's men to put together again what, exactly, is at stake at a wedding? Why are we here? Are you really going to use the ice-cream machine I bought off your registry? In ancient days, a type of poem called epithalamium blessed brides en route to the marital chamber (and instructed them on the obscene terrors waiting therein).
Drawback: Talking about the ceremony itself can be a little boring — where's the romance? — but I find two wedding-explainer poems that I like: Jane Hirshfield's "A Blessing for Wedding" replaces traditional chants with modern language and floral imagery; Peter Meinke's "The First Marriage" explains how ceremonies help to codify love. The couple favors the latter.
2. The Poem That Explains Love
The antidote to procedural exhaustion comes in the form of love poems. The Academy of American Poets organizes its 5,000-poem archive at Poets.org by "occasion"; executive director Jen Benka says love is consistently the most popular.
My lazy googling leads me to believe that popular wedding love poems include Shakespeare's "Sonnet 116," Elizabeth Barrett Browning's "Sonnet 43," and e.e. cummings's "i carry your heart in me (i carry it in)," which people love so much, they are willing to read it out loud even though it sounds like a tongue twister written by Yoda. Although, come to think of it, maybe that's why Cummings is so popular. Who wouldn't want Yoda the Trickster presiding over their wedding?
Selfishly, I leave tongue twisters off my list. Instead I send Paul Laurence Dunbar's "Invitation to Love" and Kuan Tao-sheng's "Married Love," even though the latter was written by a 13th-century Chinese poet to convince her husband not to take a concubine, which could be inauspicious. (Kathryn and Alex say they don't mind, but nevertheless reject it for containing a metaphor that resembles another wedding reading.) For more modern fare, the poet Amy Lawless points me to Mark Strand's "Harmony in the Boudoir" and Jack Gilbert's "Tear It Down," the latter of which is almost urgently romantic: "Love is not / enough. We die and are put into the earth forever. / We should insist while there is still time."
Drawback: First-person love poetry can be a little awkward in wedding contexts, particularly when the poems get sexy. Do you really want your husband's little sister invoking a "tight aroma" that "lives dimly in my body" when she reads Neruda's "Love Sonnet XVII"?
3. The Poem That Is a Children's Book
This category encompasses not just poetry, but poetrylike passages from children's books. These change the pace of a wedding and trigger evocative associations. For instance, as a person who spent her childhood dragging a ragged stuffed bunny rabbit everywhere I went, I can't not cry when I hear the passage from The Velveteen Rabbit that makes the rounds at weddings. Meanwhile, BBC News Magazine reports that the equally bunny-centric Guess How Much I Love You is on the rise at nuptial ceremonies. Ditto The Little Prince.
Drawback: Just as you can only get away with one #throwbackthursday picture per week (maybe two if the haircut is really good), there's a limit to how many childlike moments you can get away with at a wedding. Another reader at Kathryn and Alex's wedding will be using Edward Monkton's Love Monkey, so children's books aren't an option for me.
4. Custom and Purely Personal Poems
"It was refreshing not to have that same damn e.e. cummings poem, which everyone seems to have at weddings," the poet Bianca Stone told me of her wedding, two weeks ago, to fellow poet Ben Pease. The ceremony took place at the Vermont home of Stone's late grandmother, the poet Ruth Stone, which they are turning into a writers' retreat. The poet Sharon Olds read an original work composed for the event; the bride's mother, a fiction writer, read an original poem-essay; Stone's vows were a poem entitled "Bianca Stone's Weddings Vows," a play on her most recent book, Someone Else's Wedding Vows.
Obviously, this wedding must be studied as a test case in wedding poetry, even if it's on the aspirational end of the spectrum for those who aren't literary scions. Still, I have heard of weddings featuring amateur poetry and songs from artistically minded (and independently motivated) guests and loved ones. If you can write a speech, why not a poem? Stone also pointed out that a reading of personal significance to the bride and groom can be equally meaningful: After their vows, Pease and Stone recited Robert Frost's "After Apple-Picking" in unison. It's not a love poem, but is meaningful to the couple. "Which is what happens when we read good poems," Stone reflected. "We create meaning within it on our own."
Drawback: Good lord, this takes a lot of effort. And it can be inappropriately focus-pulling or just, you know, embarrassing. I write for a living, and still I am certain that writing a poem about Kathryn and Alex would ruin our friendship forever.
5. The Commissioned Poem
But what if I outsourced poem-personalization to a professional? "I think it's worth considering commissioning a contemporary poet to write for a specific occasion," Academy of American Poets director Jen Benka suggested by phone. "Occasional poems" are often commissioned for major events (inaugural poems being a famous example), but could it be done on a smaller scale? With Benka's help, I found four poets willing to try.
"Poets make like no money off their poetry," said Amy Lawless, the first poet I turned to. "For a wedding, you can probably charge three times more than you would to publish a poem. Which is three times zero. Poets are also bad at math." She likened it to writing a nonfictional love story and estimated the cost would be "a couple hundred dollars." Hafizah Geter and Camille Rankine both priced wedding poems in the ballpark of $500. But the winning bid came from Justin Marks, a New York–based poet who had three poems read at his wedding: two Rumi love poems and a "rather dark" Denis Johnson poem that he "recited to my wife the night we met." For $100, Marks offered to write a poem for Kathryn and Alex.
Drawback: It's costly and the results may be hard to predict. The poets I spoke to all had experience writing poems for friends' ceremonies, but had never tried a commission for a stranger before. Since I'm commissioning on Kathryn and Alex's behalf, I decide that if they don't like it, I'll eat the cost and give the poem to them as a "gift." (Going off-registry is always a risk, after all.) We still have Peter Meinke's "The First Marriage" to fall back on.
But when Marks's poem arrives by email, I realize giving a poem as a gift isn't just a consolation prize. Seeing what an artistically minded stranger finds inspiring about Kathryn and Alex's lives turns out to be a moving experience for everyone. The bride and groom were both in my class at our (very large) public high school in Minnesota, but they didn't meet until years later. After growing up in the same town, they fell in love at a time when Kathryn was moving between states — but somehow running into Alex again and again. Marks's poem, "Where It Begins," is about the moment two people enter or reenter each other's lives, then stay, and realize "this mysterious thing, a beautiful thing, / this one true thing, has happened." After reading his poem, the couple decide to go with Marks. The poem is lovely, Kathryn writes in an email, and they're touched to know they inspired it.
So congratulations to the happy couple! For your wedding I am giving you a vacuum cleaner, a poem, and this rude listicle.