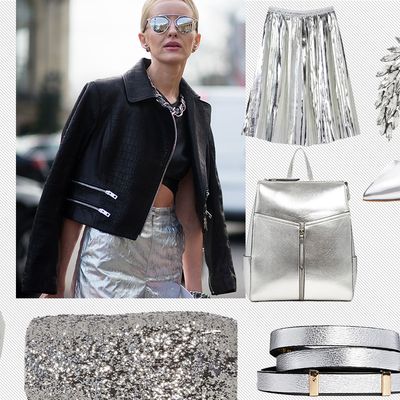 A silver piece offers just enough gleam to elevate a simple look; it's also an evergreen neutral that works well regardless of the season. Not just for futuristic Halloween costumes or "going-out" clutches, silver can easily be mixed into your everyday look — in the form of a great backpack with your baseball cap and jeans, or heels with a dressy pencil skirt and a biker jacket.
As we continue to dress for the heat, we rounded up the perfect silver items to transition you into fall, inspired by our favorite street-style stars. From Miu Miu's silver cap-toe slip-on sneakers to Front Row Shop's full-on metallic pleated dress, click through our slideshow to see the many ways to wear silver now.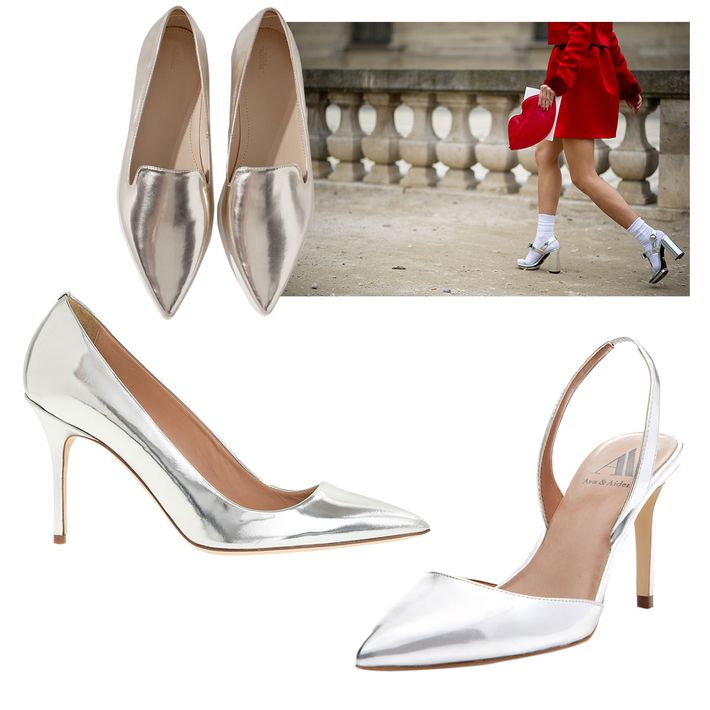 The Silver Shoe
To ease into the silver trend, start with a metallic shoe. Keep it simple with trousers and a white button-up — and as you transition for fall, throw on a pair of socks, as demonstrated here.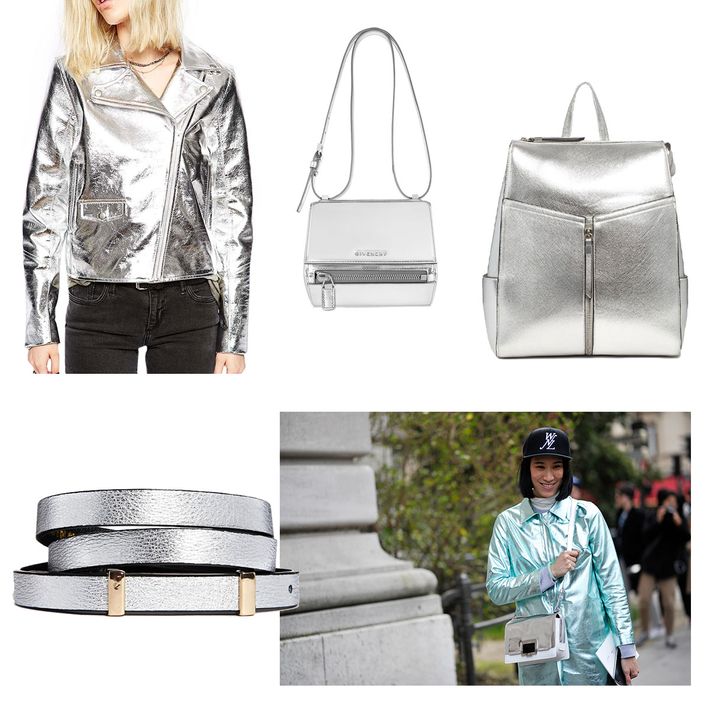 Layer Silver on Silver
Eva Chen takes layering to a whole new level by layering one metallic statement piece over another. Start with a leather jacket and pick a silver accessory of your choice. Of course, any of these items is enough of a statement that you can look great even with just one.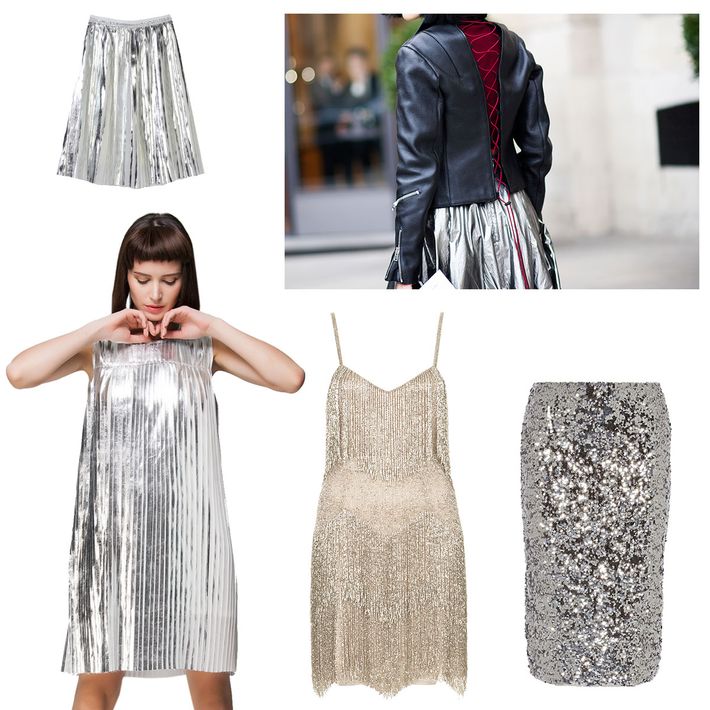 The LSD — The Little Silver Dress
Try a silver dress or a skirt as a base — and then mix a very basic, natural-fiber item such as a soft throw on your cotton tee, blue denim jacket, or leather biker jacket to make the most of its shine factor. Leave it up to your feet to decide if your want to dress up or dress down.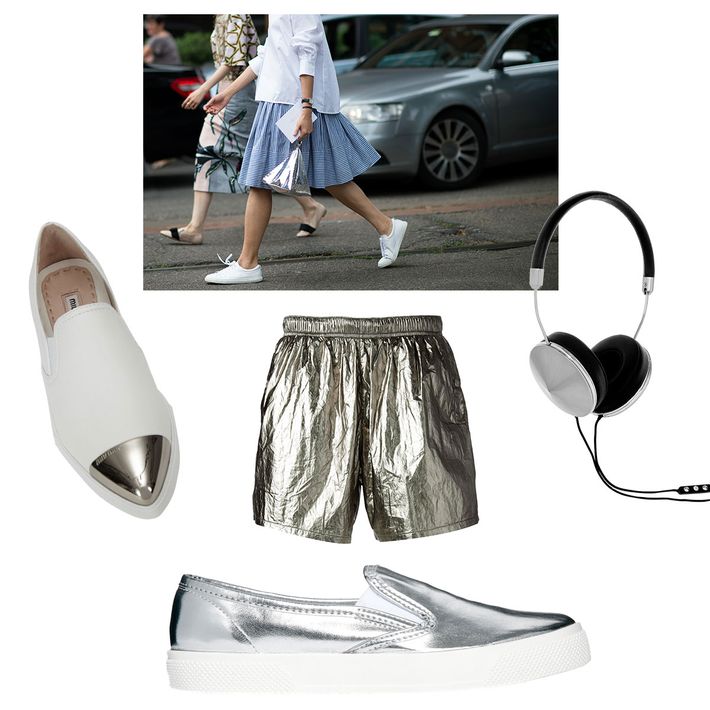 Silver Street Basics
If the slingback route isn't for you, try a more street-friendly piece instead. Try sporty slip-ons, men's foiled boxer trunks (with a sheer white tee), or massive silver headphones.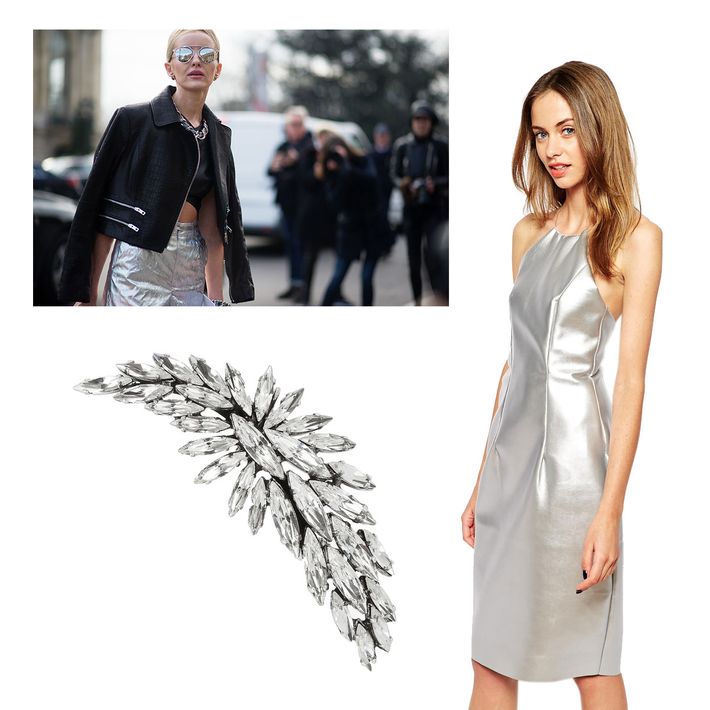 Silver Leather 
Silver leather is the perfect foil to your other styling basics and instantly makes the perfect date-night outfit. Pair it with your other closet favorites, like a leather jacket or bomber, and elevate it with a simple rhinestone earring. Make it feel all the more special with an evening-appropriate ear cuff.