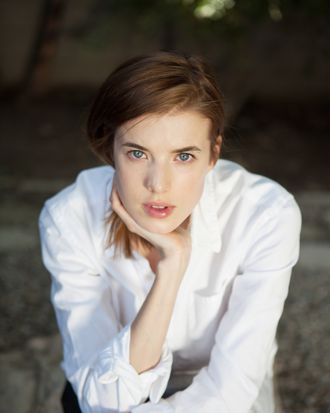 It's been a while since you've seen Agyness Deyn on a runway. To be exact: not since 2009, when she used to be everywhere in that world, walking in countless shows and appearing in dozens of editorials.
But that all feels like a different world to her now. After spending the last four years developing her acting career in Los Angeles, Deyn, now 31, has just launched a new line called Title A, which debuted on Net-a-Porter last week. Her first collection features dressy but uncomplicated separates at affordableish prices: an embroidered pencil skirt ($225), a slouchy cotton Oxford shirt ($215), a Chesterfield pinstriped wool coat ($450). Clothes, as Deyn describes them, that women like herself would actually want to wear — devoid of the kind of frills and flourishes (and also colors) many designers have come to rely upon.
Deyn also sees Title A as a kind of feminist brand — and cites everyone from Annie Hall to Petra Collins, the 21-year-old photographer, as inspirations. Her definition of that idea manifests itself in occasionally mannish silhouettes; she explains that in the design process, she and her team "really gravitated toward men's style." Deyn, who runs the company alongside her little sister, Emily, and friend Tracy Moore, spoke to the Cut about how she got the idea for Title A, what she plans to do next, and the appeal of Cathy Horyn's style.
Where did you get the idea to start the line?
Title A is me, my sister Emily, and my partner in crime, Tracy [Moore]. Tracy and I have worked together for years. We did the Doc Martens collection together. While we were designing these clothes for Doc Martens, we started craving things that we wanted to wear so much, which were menswear clothes without the feminine touch that people give them sometimes, like with the darts and things like that.
We wanted to do something very boxy with suits and suit separates for the relaxed woman. We started craving the simplicity of style, the classics, including really good fabrics, and wanted to be able to give all this to younger women and older women for a price that's really affordable.
Where did you begin from a design perspective? Were you inspired by specific women or designers?
We really gravitated toward men's style, obviously, but also people like Cathy Horyn. People like that who are also craving that kind of style. Like Patti Smith. I feel like she paved the way for that style. Katharine Hepburn.
When you say Cathy Horyn, do you mean the way she writes about clothes — or the way she actually dresses?
The way she uses writing and hears the people craving the same things that we want. That's really inspiring to us, which gives us more confidence to go with our gut feelings. And Katharine Hepburn and Patti Smith and how guys used to dress in the '90s; the list is endless. Annie Hall. Even in the 1900s, how women used to wear big overcoats over their dresses and things. It kind of comes from everywhere, really.
Are there any designers out there who you feel are particularly solving the problem? 
I think that Rei [Kawakubo] at Comme des Garçons. Dries Van Noten is amazing. There are so many, and obviously every collection is different. But all the young guys — it depends what you dress like. I feel like there's something out there for all different women, but I think I'm definitely a Comme girl a Dries girl and definitely love what Miuccia [Prada] does.
You've said before that there is a feminist mentality behind the brand. Can you explain that a little bit?
Yeah, I really feel like feminism nowadays is kind of speaking up for what you want and what you aspire to be. Actually, even feminism today is looking up to other women. I feel like women, and especially this younger generation like Petra Collins and Tavi and all these young women who are out there doing their thing — creating, making art, taking pictures, and not fitting into that pigeonhole of what society thinks a woman should be or dress like. A little while back Petra got her Instagram account taken down because there was a picture of her in her nickers with some pubic hair showing a little bit on the sides. She got her whole Instagram taken down because of that. And then you've got other women — and it's okay if they want to do that — putting very provocative things up there. So I think it's really kind of like saying, This is who I am.
These young women are like, Yeah, I'm not perfect. This is my body. This is the way I want to express myself. And that's inspiring to us. We look to these young women and older women who are like that, who definitely have that strength. I know that when I put on a suit — I don't wear it for business, obviously, but it does make you feel — it makes me feel comfortable, and it's provocative in a different way. I feel like women today are finding other ways of being provocative, which is strong.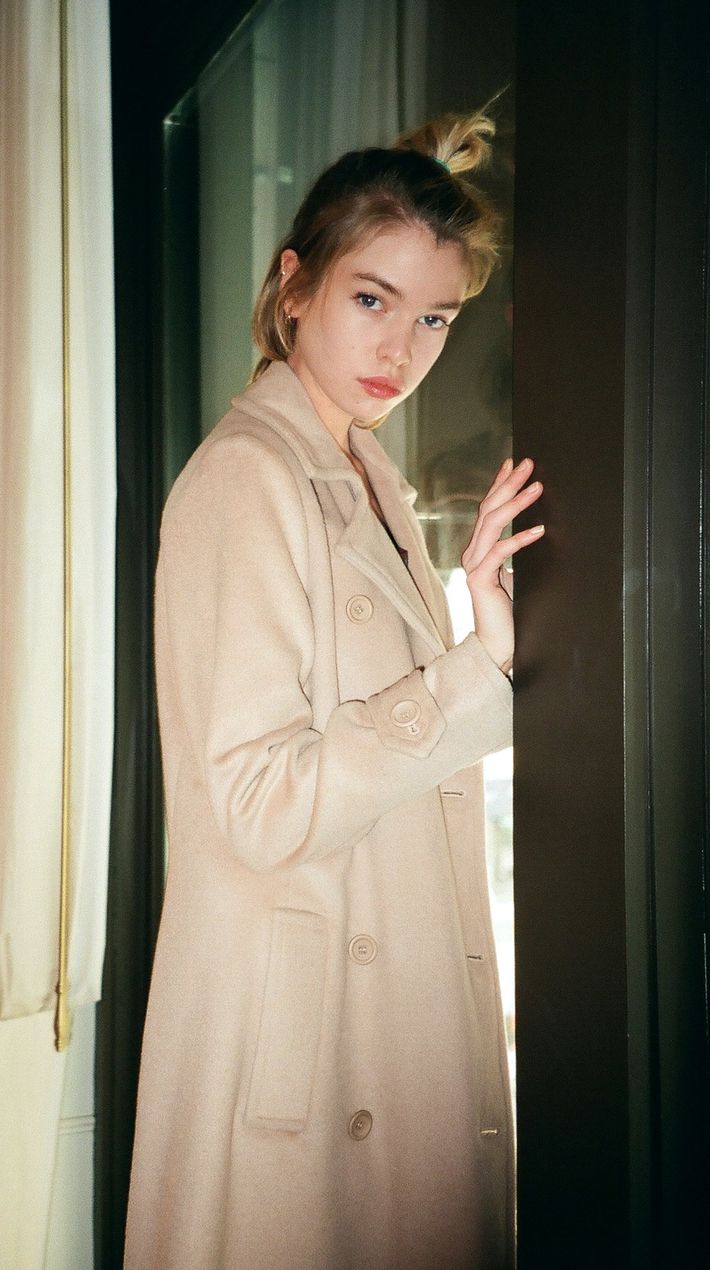 I'm curious, then, why you made the decision to create a menswear-inspired line. It's just an interesting choice, in celebration of women and feminism, to wear men's clothes. Do you see what I'm saying?
I definitely do. I've always worn boys' clothes growing up and menswear all the time, but I feel like this is slightly different. It has sexy dressing. It has very feminine silks, which flow. Silk dresses and silk nightshirts that are very feminine. There's lots of silk-velvet draped shirts that hang. It's kind of that cross between how Mick Jagger and Kurt Cobain wore women's clothes that kind of fit. At the moment, there's kind of a non-gender. Some guys actually dress more feminine than women in their tight jeans and T-shirts and things like that.
So, I feel like it's not just like, Oh, we're making a menswear collection in the burn-your-bra-feminism way. It's more of embracing femininity with whatever you wear, like the silk dresses. We have this silk dress called the Jennifer dress that's really figure-hugging but goes down to the knees and has a slit up the side. It doesn't show shitloads of cleavage, but it shows the shoulders and the skin of the back. It's just very understated. And I don't know; it's kind of funny because I remember my mom — she looked the most beautiful when she was gardening or quickly throwing on clothes to run us to school. And I just remember that effortless simplicity. I remember looking at my mom when I was young, being like, Whoa, that's what beauty is.
I think capturing the femininity of a woman [happens] when you see her rather than seeing the clothes.
This interview has been edited and condensed.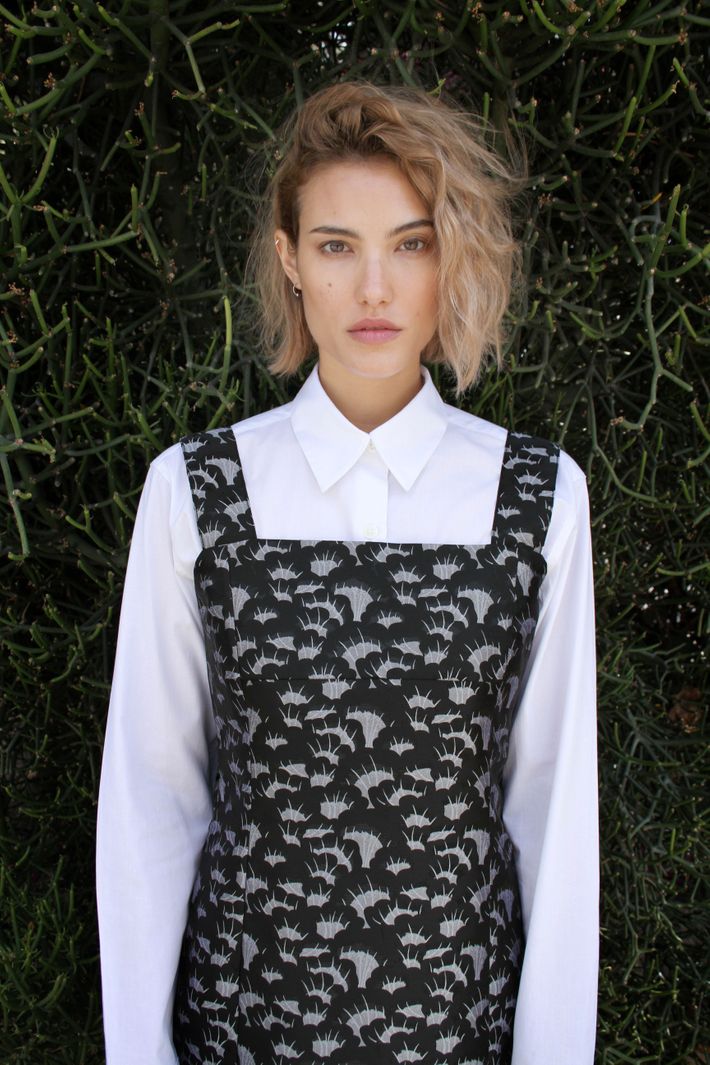 Title A FW 2014 Look Book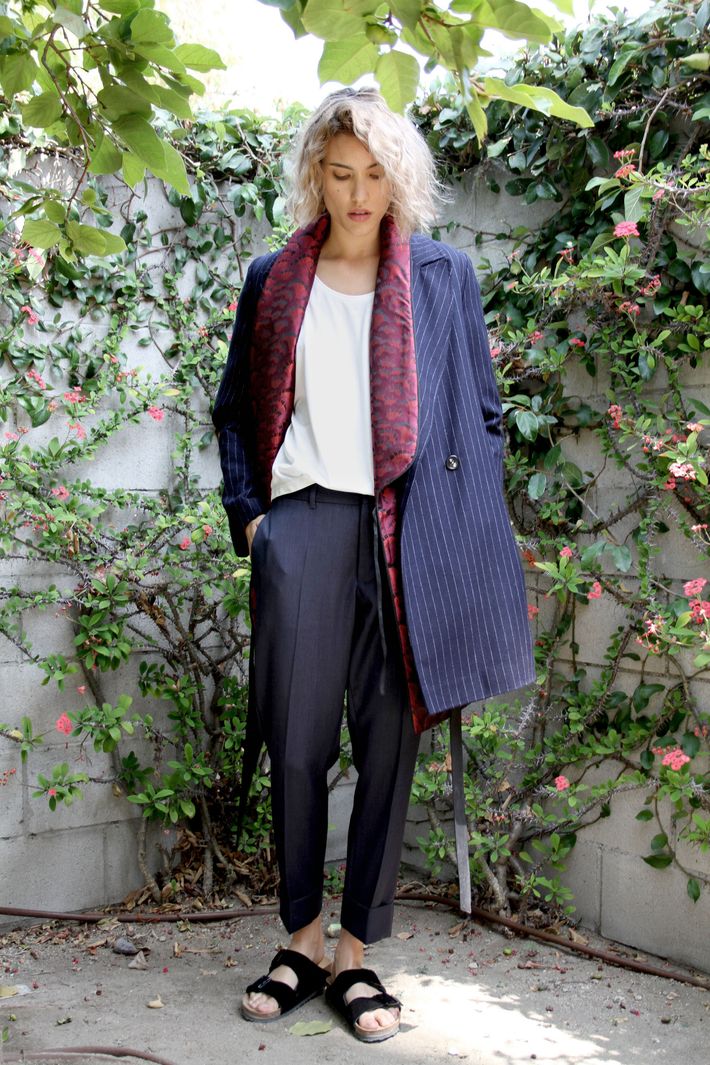 Title A FW 2014 Look Book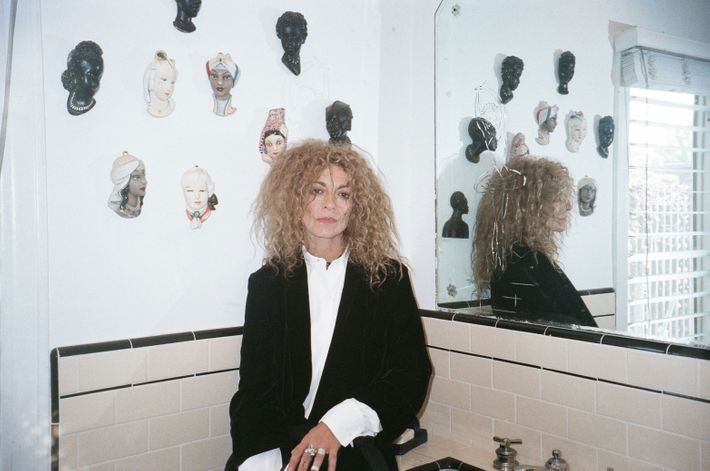 Title A FW 2014 Look Book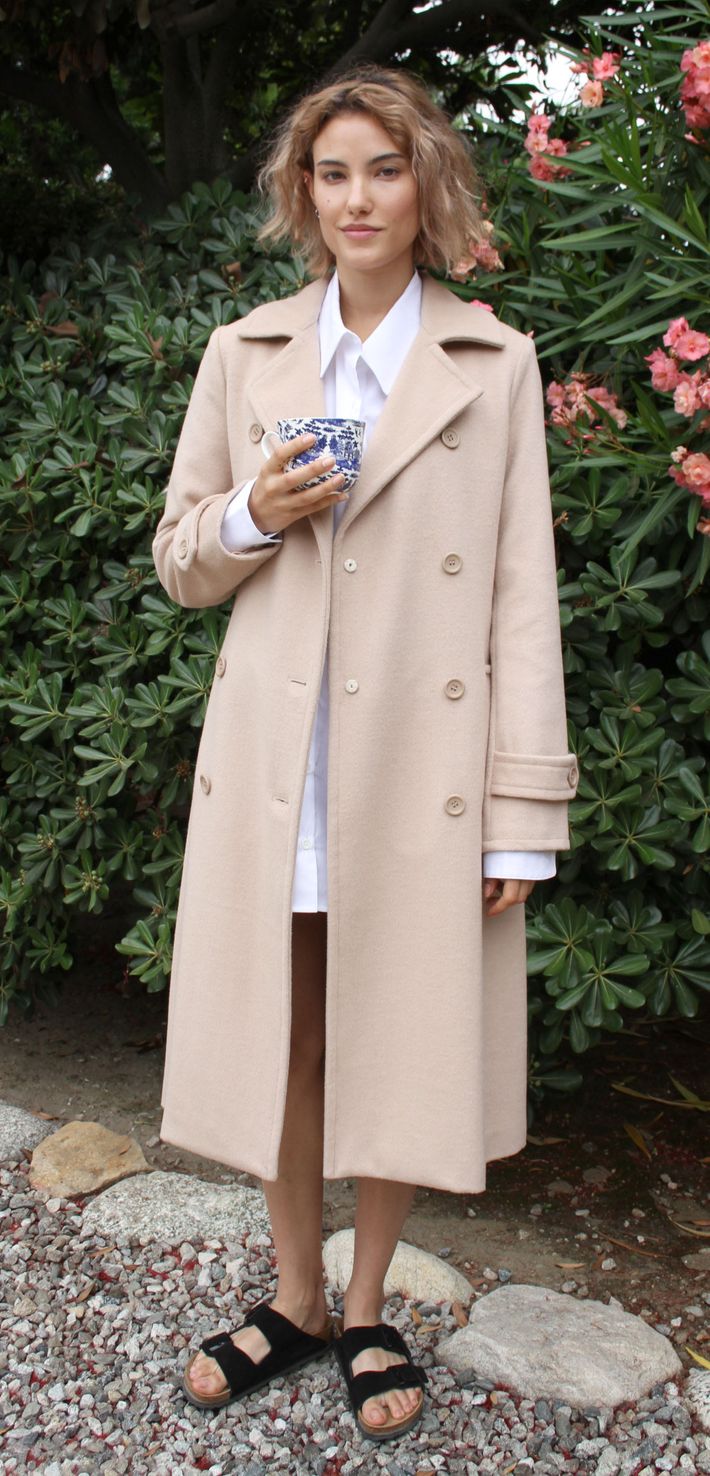 Title A FW 2014 Lookbook