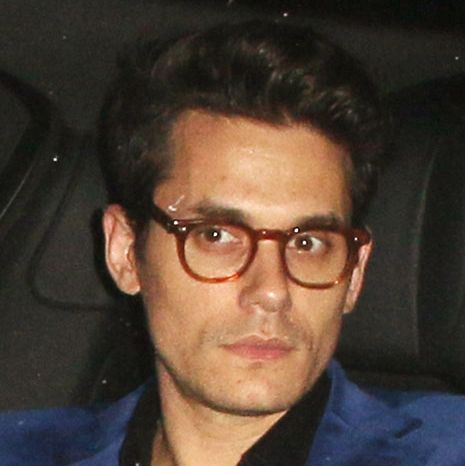 Photo: Pacific Coast News
Here we see Taylor Swift and John Mayer leaving L.A.'s Chateau Marmont, where, according to TMZ, they had dinner. We have no idea what's happening here. They departed separately. But John Mayer was wearing the fancy velvet dinner jacket and sexy glasses of a man trying to repent for past sins. Swift wore a coy expression and red lipstick.
A dire message to T. Swift: Taylor, do what we all do when we're tempted to revisit a past relationship: Get in a car, gather your memories, and emote-sing along to "Dear John." The song that you wrote. About John Mayer.
In other soft-rock Casanova news: Jennifer Lawrence and Chris Martin are still an unlikely couple. They were spotted leaving a nice, blandly romantic wine date — the kind most appropriately soundtracked by an emotional Coldplay ballad.
Update: Taylor Swift's rep told E! News that while both Swift and Mayer were physically in the same establishment, "Taylor was with Lily Aldrige  and never saw Mr. Mayer at Chateau Marmont." Phew! Thank the sweet lord in heaven, that was a close call, huh? Let's hope that's the truth and 1989 is full of songs about awkward dancing and baking with your friends.