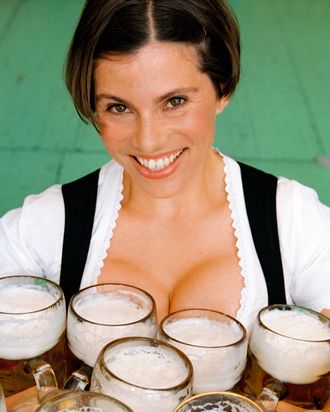 It was a Tuesday night and I was in a bar bathroom taking pictures of a ceiling covered in vintage rubber-boob bath mats. After that, I took snapshots of a boob collage shellacked to a chair, next of some boobs in clear plastic containers on the wall and a neat boob ashtray, and then I sent them to all of my friends. "Look!" I wrote. "A boob bar!" There are so many boobs hidden all over Boobie Trap that I can't even find them all. It's like Where's Waldo? or the game I Spy, but in a John-Waters-meets-rockabilly bar-room environment. (Think pink flamingos, leopard-print lampshades, and hot-pink Christmas lights.)
The Boobie Trap — Bushwick's new breast-themed bar, which takes its name from The Goonies — opened last Friday. It's the brainchild of bar veteran Kristen North: She wanted to create a place where her industry friends could spend their off hours, but also one where she was free to express both her sense of humor and an enduring love of breast décor that had previously been stifled. At the last place she worked, she once bought 40 plastic boobs and strung them up around the bar. Her employers were unamused and made her take them down. The Boobie Trap is her Boobtopia.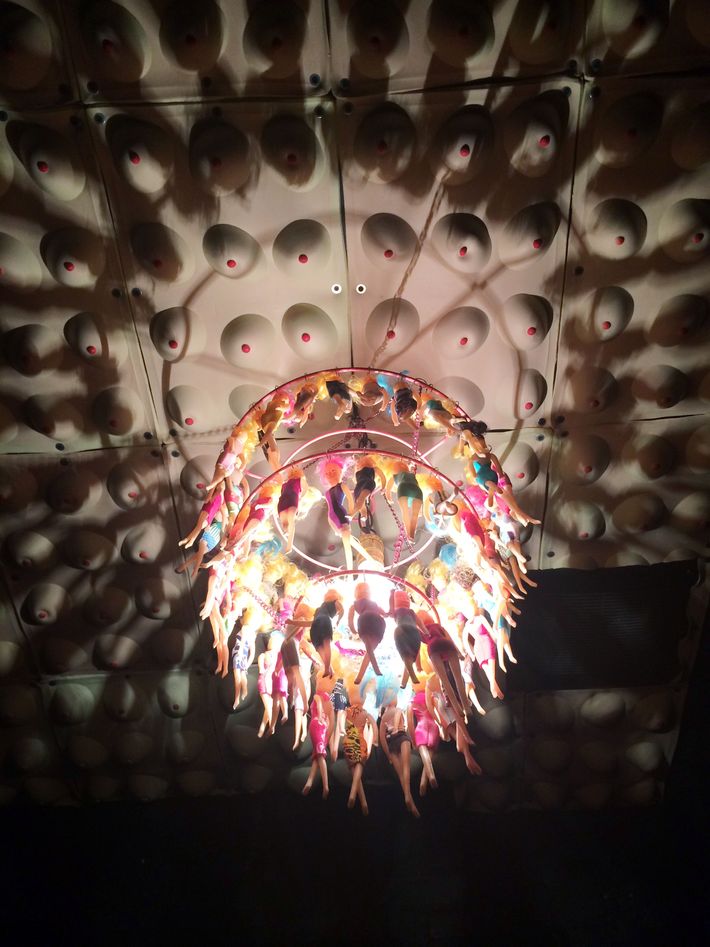 "Now I get my girl bar!" she exclaimed, gesturing around her while serving me a tequila shot and handing me a Boobie Trap lighter. And she's right: Counterintuitively, yes, North's boob-themed bar is totally a great bar for women to frequent — it's like Free the Nipple and a seventh-grade slumber party had a baby. The décor is actually pretty subtle for a place that's been billed as a "boob-themed bar." It's not at all overtly pornographic, because somehow, North has managed to be artful with plastic breasts. "It's just kitschy and fun. My grandmother used to buy those rubber-boob bath mats," explains North. Well, if Grandma approves …
I'd arrived at this glowing, pink-lit bar accompanied by some friends, two of them dudes who had tagged along because "barbecue, beer, and boobs sounds like a straight male's dream." Wrong, dudes. It sounds like a straight woman's dream. As a woman, I want to eat pulled pork and jalapeño cornbread in a pink-lit, pro–Free the Nipple bar. I want to pee under a ceiling of breasts. I want to enjoy beer-and-shot specials in a bar that's heavy on kitsch and appreciative of subtle vintage pornography. It's great.
After I ordered some barbecue from menus attached to vintage Playboy covers, I walked around harassing people. Were they all here, like me, to dine in the comforting presence of breasts?
"Did you come for the boobs?" I asked a tableful of mustachioed, boob-immune bike messengers, who ignored me because they were too busy playing Hungry Hungry Hippos. "Did you come for the boobs?" I asked a really drunk couple, who said they had taken the L in from the city on a friend's recommendation. They were happily coloring boob pictures, their heads swiveling as they tried to peep all the boobs like tourists in Times Square.
I approached another group, three early-twentysomething girls who lived around the corner. One said she'd been turned off by the idea of a boob-themed bar at first, but changed her mind: "I thought it would be too pornographic. Like a Hooters or something. But this is actually pretty subtle. I like it."
"I dunno," her friend chimed in. "There just aren't enough boobs! I was expecting more." I told her to go check out the bathroom.
In the second hour, my friends and I sat around wondering what else to do in a breast bar. Maybe we should play Clue? Maybe we should have another beer? Just then, a helpful new friend excitedly delivered us a box of crayons and a sheath of coloring-book pages, each more boob-centric then the next.  "You gotta color! It's so fun," he said, and we gleefully complied. I made my shirtless female green, to avoid anything too reminiscent of human flesh.
Our new boob-enthused friend hovered around, trying to add to the experience by making comments like: "Oh yeah, that's hot, huh. What about that one? That one reminds me of your friend there. This one, I bet this would be a redhead in real life. And that Asian one, at least the one I imagine is Asian, she's pretty hot. I mean, c'mon. Right?" He finally left when nobody seemed inclined to share his fantasies.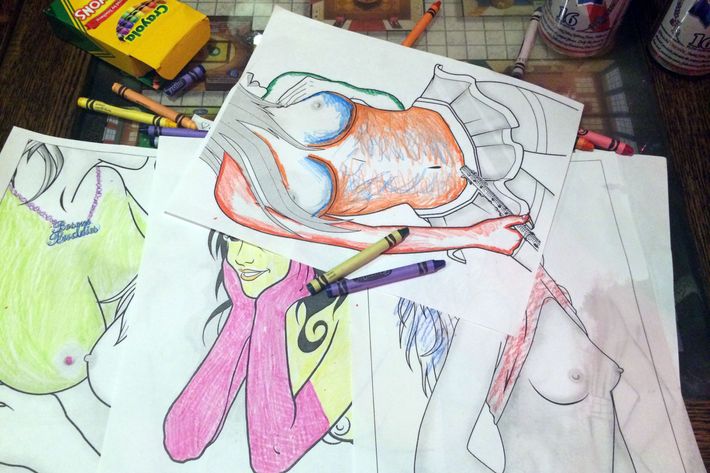 Even my male friends were thrown — like, actually very shaken. One asked, quietly, "We were having fun, right, before we had to discuss what color to make the areolas? When we were just talking and stuff? It was fun then?"
Main lesson for the night: Some men can't handle their boobs. But luckily for her female customers, North has installed a neon sign that says "Fuck Off" in lovely hot-pink cursive. If someone pervs all over your good time, all you have to do is point up for them to get the message.