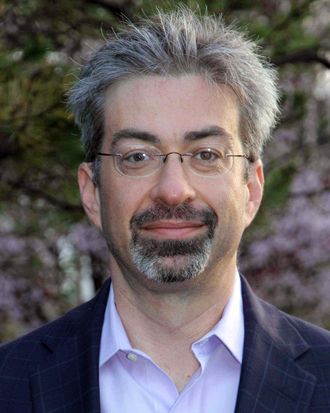 Max Schireson, CEO of software company MongoDB, shares our frustration that no one ever asks men like himself how they balance careers and parenting. If they did, they would find out it's impossible. That's why Schireson is demoting himself to VP. "A few months ago, I decided the only way to balance was by stepping back from my job," he wrote on his personal blog (hat tip Jezebel).
It's always nice to see a man acknowledge the sexist media treatment of his female colleagues. But what's really great about Schireson's post is that it lays out the sacrifices high-powered men make because no one expects work-life balance from them — and that we ignore by not asking them about it. He wrote:
I am on pace to fly 300,000 miles this year, all the normal CEO travel plus commuting between Palo Alto [where his wife works] and New York every 2-3 weeks. During that travel, I have missed a lot of family fun, perhaps more importantly, I was not with my kids when our puppy was hit by a car or when my son had (minor and successful, and of course unexpected) emergency surgery.
It sounds like you have to miss out on a lot in order to "have it all"! And — bonus points for Schireson — he doesn't expect a gold star for prioritizing his kids. He told Today:
"Overall, I think that expectations of fathers are pathetically low … If I spend an evening with my kids, they say, 'Oh, you're babysitting tonight.' … If I'm able to make it three hours without them starving to death, I'm supposed to deserve a medal. It's doesn't make sense."