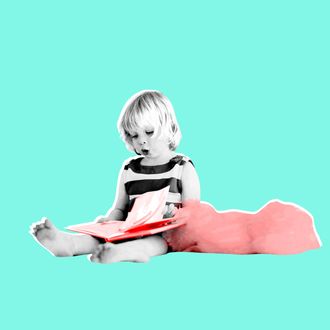 Photo: Jessica Peterson/Tetra Images/Corbis
Kids who spend their early years lost in the imaginary worlds of children's fiction — Where the Wild Things Are, Corduroy, Beatrix Potter's stories of Peter Rabbit — may be getting more out of the stories than pure entertainment. Narrative fiction seems to make young children more empathetic, according to research presented at this weekend's American Psychological Association convention in Washington, D.C. 
Fiction, of course, lets you see the world through another set of eyes, and that isn't lost on young children, argued York University psychologist Raymond Mar. Some research has suggested that adults who read narrative fiction also tend to be more empathetic, but so far, the research is inconclusive, Mar said. But between the ages of 3 and 5, kids are just starting to understand the difference between their own thoughts and desires and those of other people. And kids who read fiction with their parents seem to be better at those early stabs at empathy than kids who don't, the research suggests.   
According to the press release:
In 2010, Mar and colleagues published a study which found that parents that were able to recognize children's authors and book titles predicted their child's performance on theory-of-mind tests. Theory-of-mind tests included testing if a child is able to understand that someone may prefer broccoli over a cookie, and how that is unique from their own desire for the cookie. Parental recognition of adult book titles or author's had no effect on their child's performance — the result was very specific to children's books.
It seems that the parent-child discussion about the characters' beliefs and emotions is key to helping kids develop empathy. More from EurekAlert!:
There may be discussions of mental states, and more discussions during joint-reading than throughout other moments of daily life between a parent and child. These discussions may play a significant role in the development process of the child. A recent study Mar highlights shows that reading a child a tale about honesty led the child to act more honestly when presented with an opportunity to lie or cheat.
Interestingly, the same effect was seen from watching movies, but not TV, which could mean that parents are less likely to talk through issues brought up on television than in movies; it could also mean that the commercial breaks (even if they're fast-forwarded through) make it harder for kids to stay emotionally engaged. In other words, more things like Pixar films and The Giving Tree; less SpongeBob.