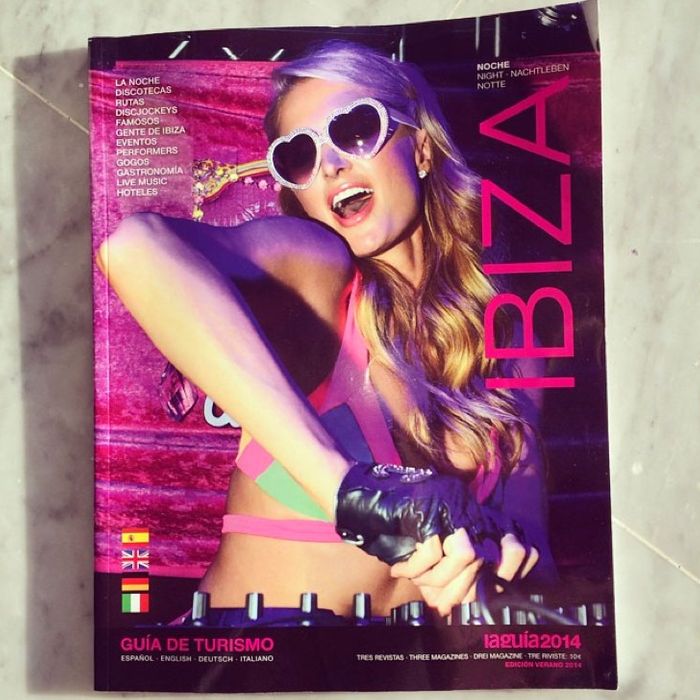 Photo: parishilton/Instagram.com
In one week, Ibiza has established itself as both the summer's most magical hot spot and a land outside of time, where anything is possible. In Ibitha, Kim K rekindles friendships long destroyed, Riccardo Tisci fêtes 40 years of life, Jared Leto walks on water, and, above it all, Paris Hilton's star rises like the hot Spanish sun.
The self-designated #PartyPrincess of Ibiza (or Ibitha, for those in the know) is the island's mascot, to judge by the cover of this Ibiza tourism guide.  She's #KillingIt while promoting a glorious event called #FoamAndDiamonds.
You might be familiar with a "foam party" popularized by this moment in Freddie Prinze Jr. history:
But can you hang at a #FoamAndDiamonds party in Ibiza? We're here to help, just in case you find yourself in line at Club Amnesia with no clue how to #FAD as the celebrities #FAD.

A few things to know before you #FAD:

Location: Club Amnesia, Blackout, Brownout, or the Ibiza outpost of Pacha.
Party Shibboleth: Do you pronounce it Ibitha or Ibiza?

Required attire: EDM Chic: All white clothing, neon bikinis, and Booby Packs.

Drink of Choice: Moët and Chandon Rosé.

Pap-Bait: Kissing your BFF on the mouth. 

Instagram Hashtags: #PartyPrincess,  #FoamAndDiamonds, #PartyPosse, and #ShineBright. 

Dance Anthem: Icona Pop's "I Love It" or anything with a dubstep drop.

Most Popular Guy at the Party: Justin Bieber.

Most Popular Girl at the Party: Paris Hilton. 

Appropriate FAD Party Activities: Making a duckface in the photo booth; losing your phone and not caring; having a cry-fight with your boyfriend or your self.

Next-Day Hangover Cure: IV drip; more rosé Champagne.
Only in Ibitha …