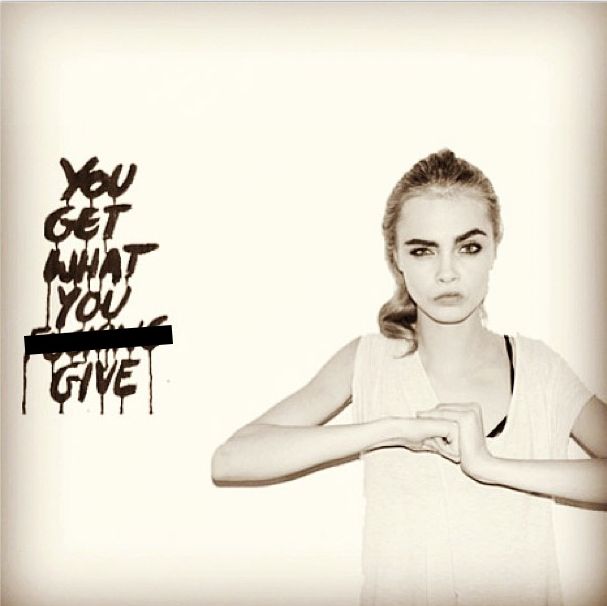 Photo: Cara Delevingne/Instagram
Cara Delevingne lives by inspirational quotes. She employs her Instagram like a modern commonplace book, collecting countless scraps of wisdom that have caught her fancy. And while the casual Instagram-peruser might see a random array of Tumblr-style word-image pairings, closer examination reveals an underlying philosophy. It is the credo of Cara Delevingne.
Cara on Fate 
Cara Delevingne believes that there are no accidents; or, rather, that every accident is actually a worthy non-accident. The fetishization of mistakes is a pillar of Delevingne's thought. She loves mistakes. She acknowledges that some people think her tattoos are just future mistakes, so she cites an ol' lady with full sleeves who looks undeterred. In the logic of Delevingne, fate can be fussed with, but only by our failure to act. The only faults are omissions; the only path to regret is inaction; the only road to remorse is giving up too early. 
Cara on the Ideal
Cara's perspective on the ideal is intrinsically related to her faith in mistakes. Delevingne quotes Bob Marley on being perfectly imperfect. She even posits that she herself is not perfect. The scroll of comments to the side of this post, however, are vehement arguments that she is in fact perfect.
Cara on Choice
In life, one must know why and how and when to give fucks. Mostly, one should not, even if people are literally waiting in chairs for you to dole them out. Especially if you're happy, give none. Especially if people aren't good to you, give none. Cara's personal DGAF hero is Jack Nicholson smoking a cigar. Her personal DGAF patron saint is Biggie. 
Cara on Logic
Cara on Truth
The truth: It's always an option. It can be a satisfying thing. It's worth all the other things in the world combined. Gloria Steinem's truth? John Lennon's? Ernest Hemingway's? Russell Brand's truth? Delevingne is interested in all of them. Particularly, though, Delevingne is interested in Saint Augustine's truth, because it employs lion imagery over the face of a lion: "The truth is like a lion. You don't have to defend it. Let it loose. It will defend itself." Above all, Delevingne's philosophical relationship to truth is lion-oriented. If words are spoke in conjunction with a lion's lined eyes, it is wisdom. She listens to any leonine commentary. She agrees with lions on: The subject of fairness. Coupling. The effects of the external world. Self-confrontation. Fear and perception. 
Cara on Time
Our time management should be better arranged toward hedonism. Failure to be hedonistic is a question of bad time management.
Cara on the Void
Delevingne worships silence. She lives according to the tenets of the nothingness. Noise's only purpose is to appreciate absence. Silence is the mark of the highest internal wisdom. She, through the words of Frank Ocean, believes that through silence, the fruits of your labor are elevated. And she loves that silent is an anagram of listen.  
Despite her worship of quiet nothingness, Delevingne most frequently turns to the erudition of professional noisemakers like: Frank Ocean, John Lennon, Pharrell, Bob Marley, Biggie, Garth Brooks, Tupac (imagine this as a cohesive playlist; oh you can't) and most importantly: Wu-Tang, quoted at least one, two, three times in her collection of meditations. 
The Portable Cara
This grand scrapbook of wise passages should not be reduced — but, as with all things, it's tempting to seek a shortcut to the truth. Delevingne understands this, and so she has selected a few passages that represent her beliefs succinctly and paired them with her own face to emphasize their centrality. 
For example: "You get what you fucking give." Bacon. Smiling honors life. And she believes what she believes — quoting herself and perhaps others: "Don't worry, be happy! Embrace your weirdness. - Cara Delevingne."