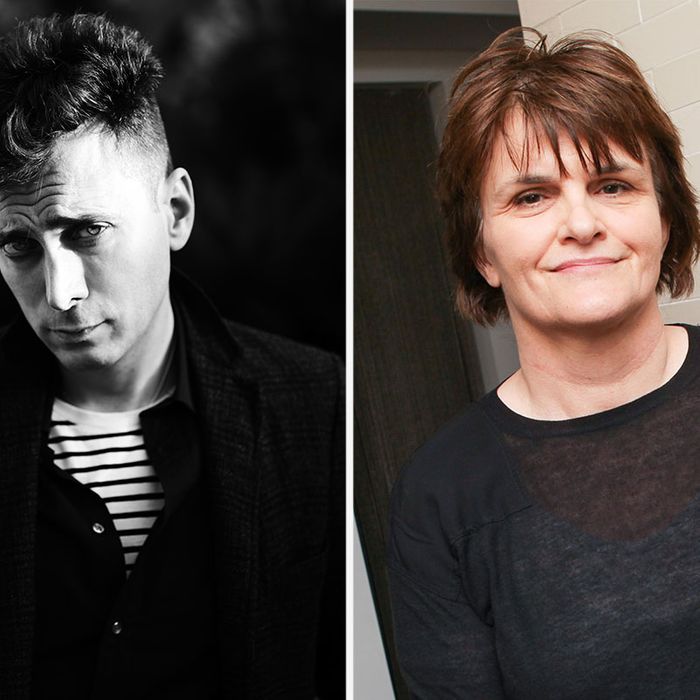 Like a teacher forced to admit her most slacker-ish pupil's diorama is "pretty creative," Cathy Horyn has kind of thrown Hedi Slimane a bone in an essay for T. The critic, who's never exactly been a fan of Slimane's — in fact, she seems to pretty much loathe him — acknowledged that his Saint Laurent collections have influenced the industry to the point where everyone, from Phoebe Philo to Tomas Maier, is taking a page from his playbook. Of course, that isn't the same thing as praising him.
Writes Horyn, "I'm no fan of Slimane's, but he's clever. In two years as creative chief, he has barely broken a sweat as he fetches another pussy bow from the '60s time capsule." Buuurn. We almost wish Slimane had a column of his own, so he could fire back with a jorts sally. (Though the designer's leanings are clear: He has previously referred to her as "a schoolyard bully and also a little bit of a stand-up comedian," but not, presumably, the funny kind.) What particularly seems to offend Horyn is his perceived laziness — "barely breaking a sweat" is the ultimate failing in her book.
Whether or not Horyn has changed her mind about her heavy-lidded bête noire (and it doesn't sound like she has), she does have a good handle on his process. He's mined the best of the house's '60's heyday, she says, and "adding a dark gloss of California rocker angst, he has kept his message stunningly simple — to the point where his clothes, while clearly high in quality, have the attitude of a trendy street label. It's as though he refuses to strive for the standard goals of a luxury designer — to make modern, conceptual or intellectually resonating clothes. Instead, he makes straightforward commercial fashion that a woman can instantly relate to."
"So why write about Slimane now? Here's why: If you accept that fashion reflects the times — and I do — then you have to concede that in this respect Slimane has been impressive, even prescient." It's not exactly a vote of confidence, but it's probably as close as we're going to get.