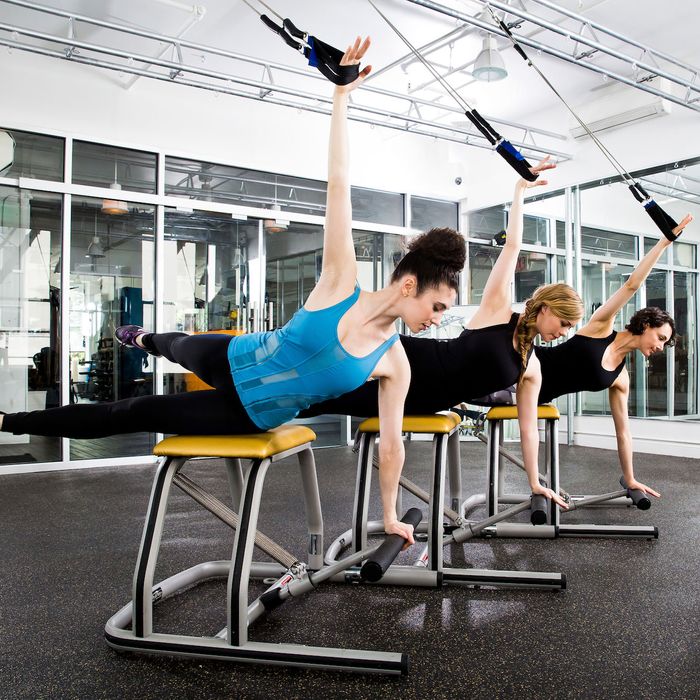 Photo: Courtesy of Chaise Fitness/Matthew Murphy
Chaises are beautiful, lounge-oriented types of furniture. They're usually upholstered in velvet and seen in the type of residences where they use words like compound. Betty Draper famously added a "fainting room" couch to her house, much to the horror of her decorator. But despite its name, ChaiseFitness is nothing like these calm, serene, lounging chairs of yore. The only fainting going on at these classes comes from muscle exhaustion (in a good way).
The chaise in ChaiseFitness is a four-cornered padded stool with a spring-weighted handle, and two bungees, with loops, hanging overhead. Picture an S&M contraption born of a Pilates reformer and a piano bench. Lauren and Rachel Piskin, the mother-daughter creators of Chaise, call their exercise love child the "Reinvention Chair." Indeed. Rachel, a former New York City ballerina, credits the chair and its method with helping her lose the 35 pounds she gained after she stopped dancing. Rachel's mother, Lauren, also made a career of being active: She's a former competitive figure skater and trained Amy Poehler and Will Ferrell for Blades of Glory.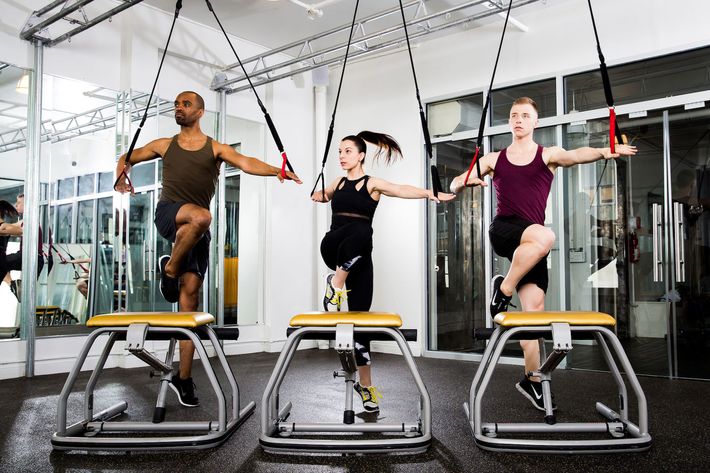 ChaiseFitness has the same type of friendly instruction you would expect from someone who taught Will Ferrell how to do a triple axel. But the friendliness doesn't diminish the level of sweat. Unlike Pilates, no one leaves Chaise without a sweat-drenched shirt. Set to typical cardio music, ChaiseFitness instructors direct the class through a variety of sculpting exercises, which you repeat and pulse. Your arms are constantly engaged, thanks to the resistance of the bungees, and are never loose at your sides. With the use of the spring-weighted handle, lunges become doubly painful, which is great for people who think, "Basic lunges are just too easy" (I've heard you're out there).
Your core gets a gymnast's workout, thanks to use of the spring-weighted handle and stool for a pikelike move, which forces the bulk of your weight to your arms and center. This particular move utterly defeats me. When I do master the pike, I can't do it in time to the music. When I do it in time to the music, I am so tired from the exertion that I drop sweat, emoji-style, all over the chair. At no point in the class do you actually sit on the chair, except when doing several burning variations of tricep dips.

Although the exercises are easy to learn, "Wow, that was hard" is usually the first sentence uttered by newbies after the class. But the instructors don't let you flounder. A few minutes before each class they teach newcomers the basics. I suggest starting with the Reinvention Class, which will remind you most of Pilates, with a dash of barre. Cardio Chair mixes the Reinvention Class with a few dancing cardio moves to get your heart rate up. You can learn more about ChaiseFitness here.