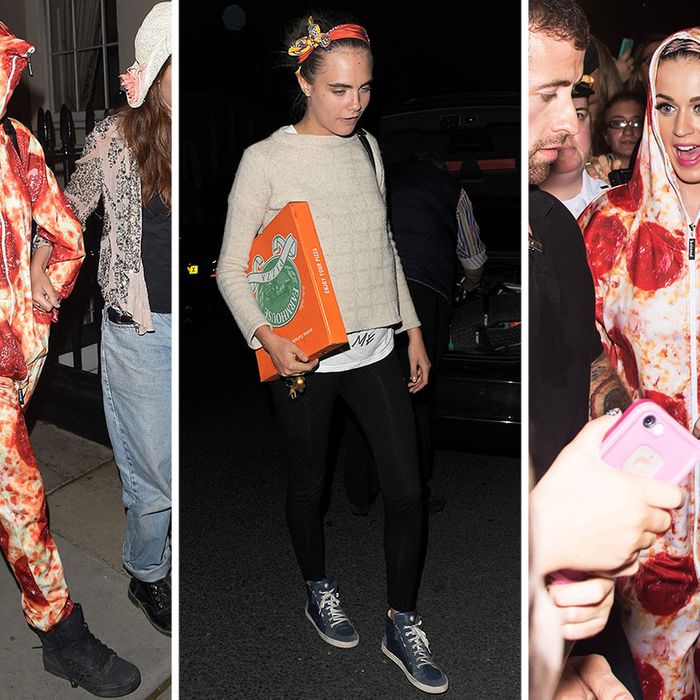 Pizza is so simple: a carbohydrate disc, doused with sauce and covered in molten cheese. This year, however, it has taken on new significance. Pizza has gone from food to fashion item.
That's right. Pizza — your go-to drunk food — is now a trendy thing to wear. Here's how it happened:
1. Rising Popularity Online (and Possible Illuminati Conspiracy): Much like any other "It" girl, pizza's popularity was ignited by internet fascination and possibly endorsed by the Illuminati.
Tumblr and Twitter memes dedicated to pizza's power appeared, among them the Twitter account Pizzaminati. However, almost as quickly as the Pizzaminati emerged, it disappeared.This, a screenshot of a funny tweet — "shots fired in the club over the last slice of pizza" — is all that remains. Where did you go, Pizzaminati? Were you really a sect of the Illuminati, destroyed once the pizza takeover was initiated? Yes, probably.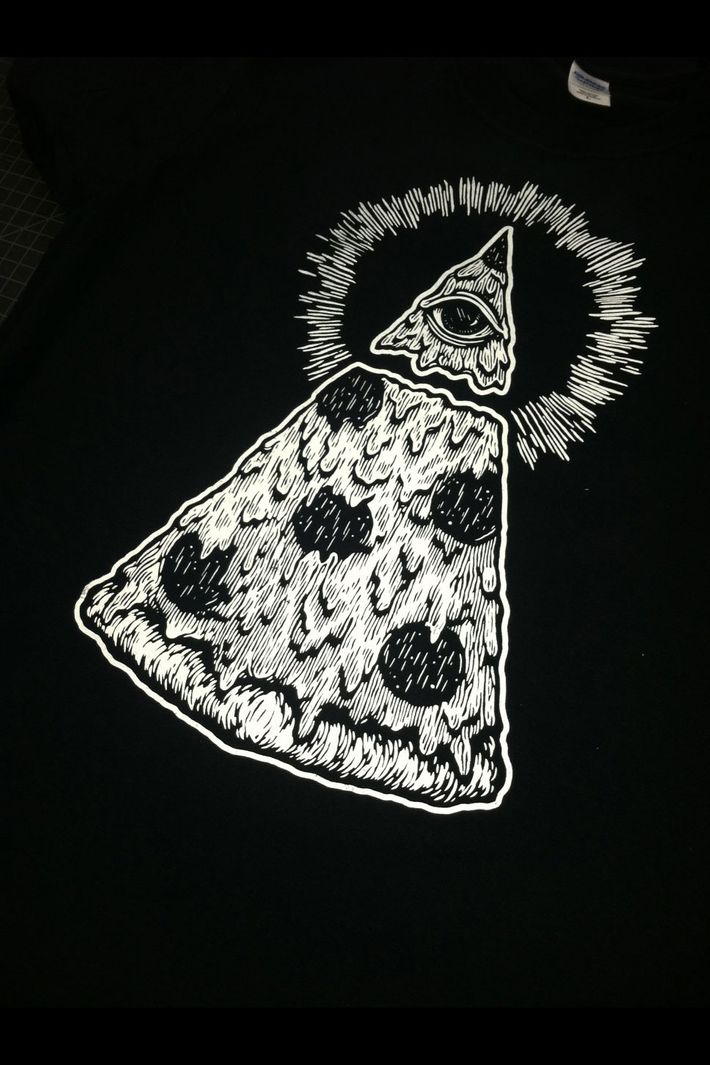 Loyal followers still carry on the work via usage of #Pizzaminati on Twitter and Instagram. As such, "pizza" quickly took on new meaning — for example, pizza as a substitute in romantic relationship. The phrase "touch her butt and give her pizza" became a widely accepted way to keep your bae happy and "Pizza Is My Boyfriend" the new "Single Ladies" rally cry.
Then came the various pithy pizza message tees at clothing retailers like Forever 21 and Asos and Urban Outfitters.
2. Early Adoption by Cool-Kid Brands: It's always hard to tell who came first, Forever 21 or the street-style trendsetters. But around the same time those pithy message tees appeared, brands like Opening Ceremony starting offering cool indie designer versions that nobody could really afford. (Think how much actual pizza that money would buy.)
Like this awesome, chimerical googly-eyes-and-pepperoni-pizza T-shirt by New York artist Andrew Kuo: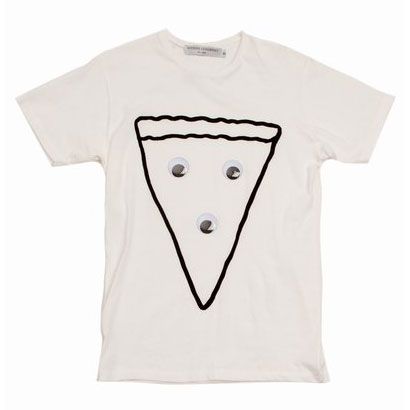 And then Beyoncé wore the Kiko Mizuhara for Opening Ceremony pizza ensemble in early 2014: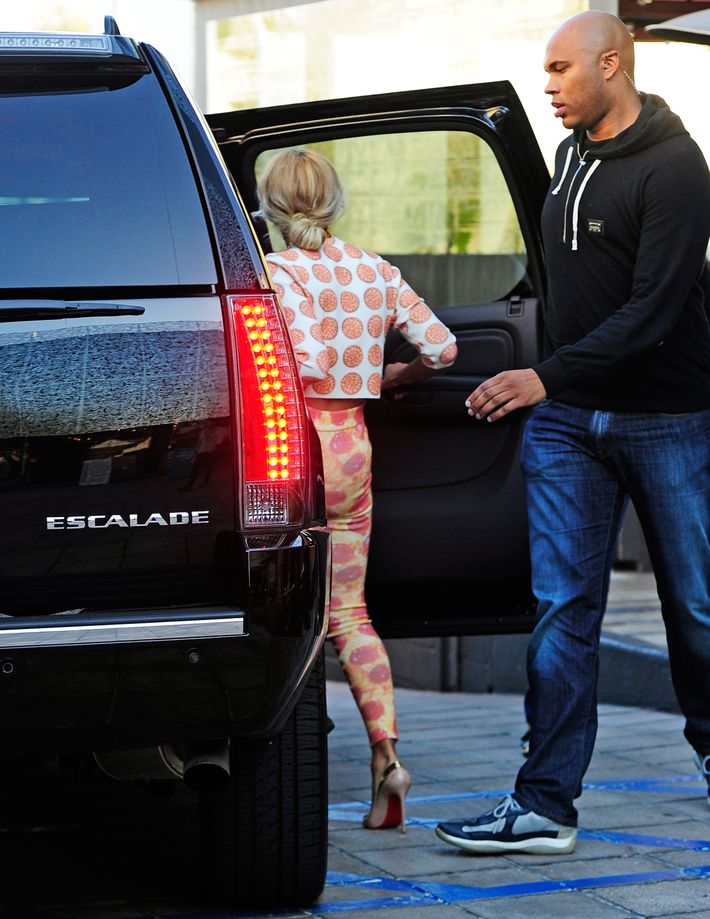 And Reformation collaborated with Keelayjams on these limited-edition sweatshirts, inexplicably connecting pizza to Kate Moss: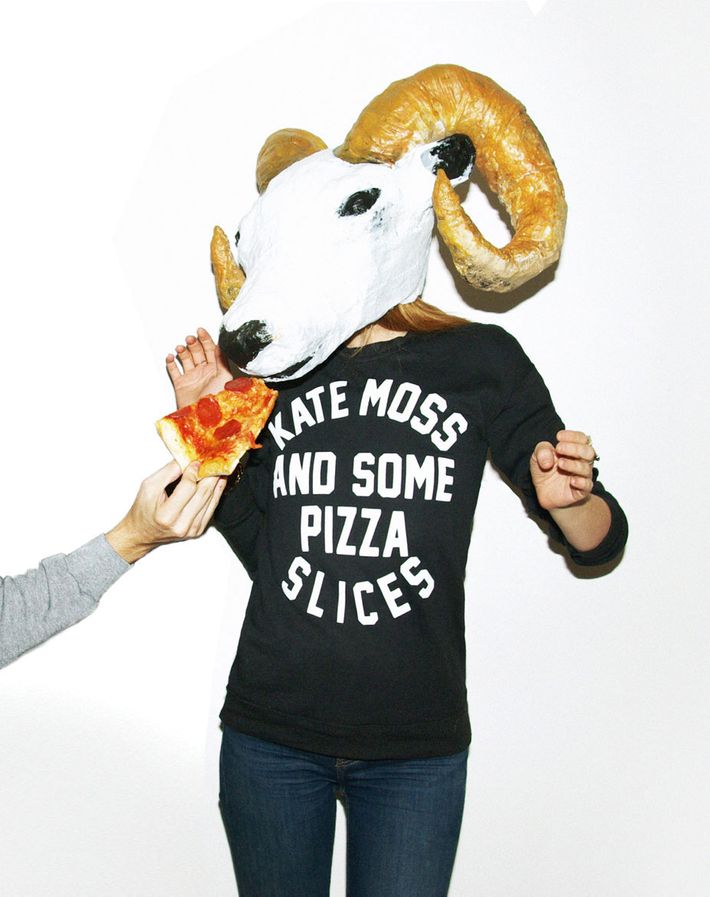 3. Hitting the Mainstream: Pizza has arrived! Next came the campaign to capture the hearts and minds of the American public.
First, pizza made an appearance at the red-carpet event of the year, the Academy Awards: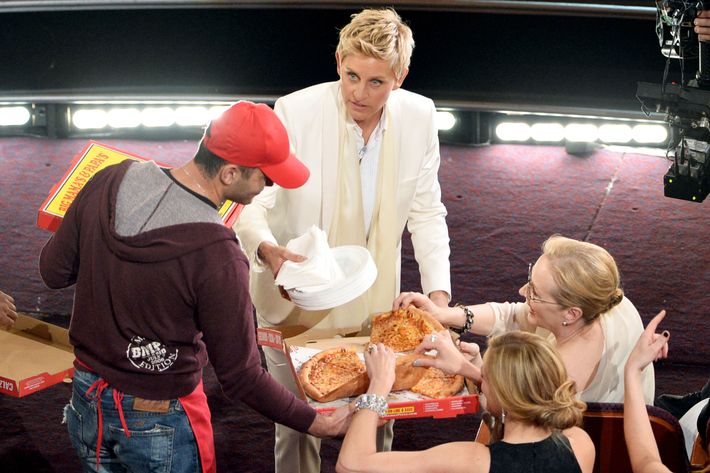 And pizza was seen on Katy Perry and Cara Delevingne. They've both worn this hooded pizza onesie from California brand Beloved.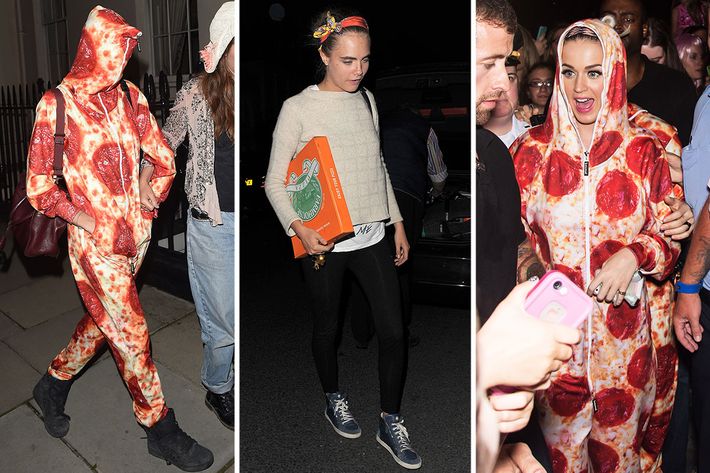 4. Pizza Does Collabs: The campaign worked! Pizza is now America's sweetheart. The Atlantic Monthly reports that on any given day one in eight Americans eats pizza. Pizza is everywhere, and not just at your dollar-slice joint — it's even had a crossover music career with Macaulay Culkin's avant-weird indie band, Pizza Underground.
Pizza also appeared in a Katy Perry video.
And now, just in time for Fashion Week, pizza has a fashion collaboration with Charlotte Ronson: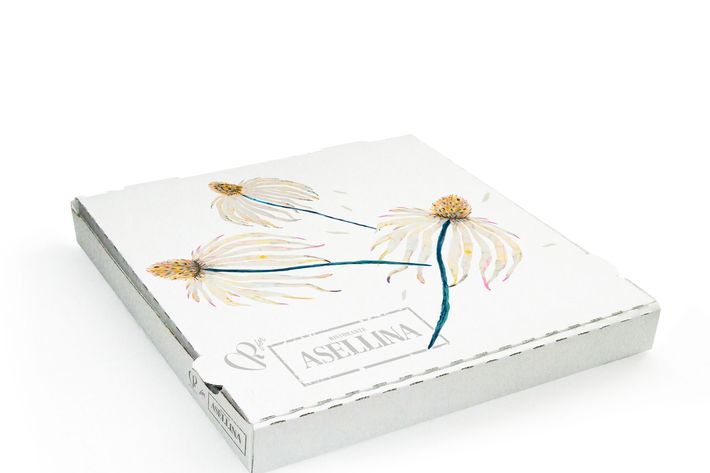 Mark my words, the last half of 2014 will be dominated by two things, Beyoncé and pizza — unless, of course, we hit peak pizza before 2015.*
* That won't ever happen. Pizza is delicious. Pizza forever.