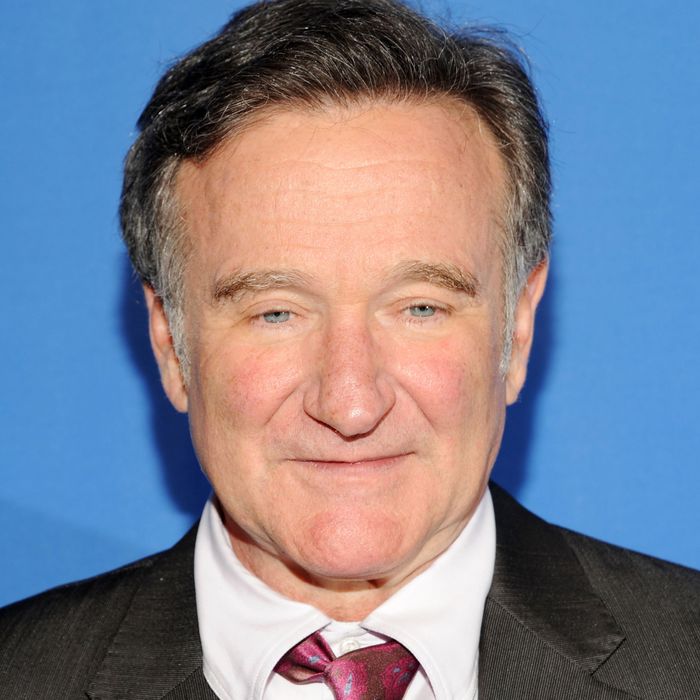 Photo: Ben Gabbe/Getty Images
The news that Robin Williams had been recently diagnosed with Parkinson's disease complicates the already tangled tragedy of his suicide. We knew the actor and comedian had struggled with depression and addiction in the past, and that the two can combine to greatly ramp up an individual's suicide risk. But how did his Parkinson's diagnosis factor in?
The short answer is we'll never know. But Williams's death does highlight the often overlooked connection between Parkinson's, a neurodegenerative that gradually robs its victims of their mobility, balance, and abilities to write and talk, and depression.
Parkinson's is usually a slowly developing disease. According to the National Parkinson Foundation, on average, people who are diagnosed with it can expect to live for 20 years or more, at which point they are likely to die from medical complications brought on by the condition. (About 60,000 Americans are diagnosed per year, with an average age of 60.)
Key to treatment is understanding that the symptoms aren't just physical. "Depression can go hand-in-hand with Parkinson's," said Jessie Katz, a social worker at the Movement Disorders Center at UNC Chapel Hill, which is a NPF facility. "It's been found that over 50 percent of people with Parkinson's experience some form of depression. And that can be because of the daily challenges of coping with chronic illness, but it's also the result of physiological changes in the brain." (Parkinson's can affect the levels of dopamine and other chemicals in the brain, leading to changes in mood.) Perhaps surprisingly, there's no solid evidence Parkinson's sufferers are more likely to commit suicide than the general population, as Alice Robb noted in The New Republic, suggesting it's a bit oversimplistic to tie his death directly to the disease rather than a broader constellation of factors.
Because those who are diagnosed with Parkinson's can expect to live with it for such a long time, mental health is a particularly important aspect of the disease's course to keep an eye on. "Depression screening and anxiety screening needs to be a part of that screening process and treatment process," said Katz, "because depression has been found to have a profound impact on quality of life in Parkinson's patients." When depression goes undiagnosed or undertreated, Katz said, its symptoms can make it harder for Parkinson's patients to stick to their treatment plans. Had Williams lived, his doctors likely would have kept a particularly close eye on his mood as the disease progressed given his past history of addiction and depression.
Parkinson's patients also need to learn to grapple with the disease's vexing symptoms. "You can't really predict how you're going to feel one day compared to the next, or the time of the day you're going to feel different, or what the future holds for you," she said. Katz said that patients fare best when they remain flexible but also find ways to continue enjoying the things that gave them pleasure before their diagnosis.
Overall, Katz said she hoped that Williams's suicide would spark a better understanding of what it means to be diagnosed with Parkinson's disease. "Of course we don't know what was going on in his mind or the other challenges he was coping with at the time," she said. "Obviously it's very challenging and very personal, but I would love for people to know that you can live a meaningful, full, relatively functional life with Parkinson's disease if you seek the expert care that you need."