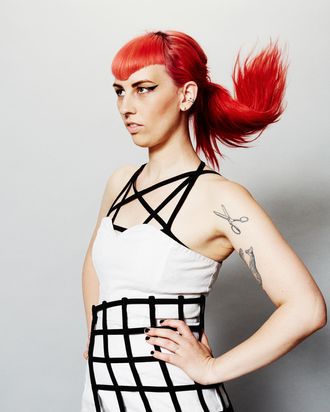 "I'm very inspired by strong, powerful women," says Becca McCharen, the designer behind the strappy-caged clothing line Chromat. Referencing everything from scaffolding to city maps to Paris' Pompidou (one of her all-time favorite buildings), the former architect imbues traditionally coy corsetry with a futuristic confidence.
"Undergarments have a history of constraining women," says the unflappable McCharen. "Chromat helps them take that power into their own hands, to harness their sexuality."
While studying architecture at the University of Virginia, McCharen worked in the theater department's costume shop, where she learned to sew "all kinds of weird stuff," she says, laughing. But it wasn't until 2008, while living in New York City, that she began to make garments, influenced by her job in architecture, as a hobby. In just two years, word of mouth had spread, and McCharen took a leap of faith: She quit her office job to devote herself to her extracurricular project, and anointed it Chromat.
In quick succession, such cultural pot-stirrers as Nicky Minaj and Madonna donned her statement pieces. "I've never met these amazing women. It's all their styling teams," notes McCharen, who names Björk (whom she's yet to dress) as her ultimate muse. Still, the thrill of witnessing her designs make history is no less intoxicating. "Seeing Beyoncé in Chromat during the Super Bowl halftime show was crazy," she says. "We got a call from her team a few weeks before. 'We need 14 harnesses by Monday!' We had to stop finishing our collection for New York Fashion Week just to create those pieces."
Busy dressing pop peacocks by day, McCharen has been know to unfurl a little exhibitionist in herself, too, at night. Often found wearing Chromat (as she is, in the photo above), she paints on "ginormous eyebrows" to match her creations, she says. "I'll do anything to make them bigger. And bolder."