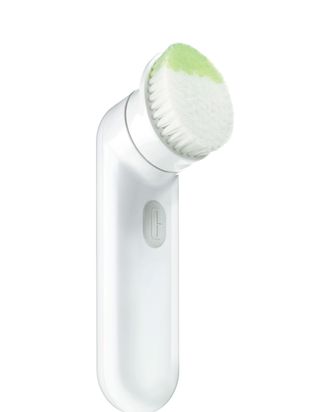 Photo: Richard Pierce/Courtesy photo
Unlike many beauty editors, I'm not a big fan of face brushes. Perhaps as a result of all the beauty spoils over the years, my skin is fussier than a fluffy white cat that only eats Fancy Feast. And so the only face brush I've ever liked until now has been the Clarisonic, with its supersoft "cashmere" attachment. Pressing most other face brushes against my skin causes a mild grimace, followed by "Oww." So I approached testing Clinique's newest Sonic System Purifying Cleansing Brush with the kind of caution that an Afghan princess might reserve for sleeping on thread counts less than 700. 
One hears of lifelong, die-hard fans of Clinique and for good reason: No one has gone wrong with its famous three-step system. The company's new brush is designed for use with that routine, though you can also use it with any other cleanser you like. Compared to other brushes, this one weighs little, and the brush head is noticeably smaller and uniquely designed with two different types of bristles. From three quarters down, the bristles are white, softer, fluffier, and longer. The top one quarter has denser, shorter green bristles.
Clinique designed the brush head (created by one of the largest manufacturers of toothbrushes) so that consumers can angle the brush, tilting in or out to target specific areas of the face, with the green portion intended to unclog the T-zone. Each bristle also has a thread of silver, for antimicrobial purposes. The brush has just one mode: on, when it vibrates for 30 seconds and shuts off automatically. Unlike other brushes, there is no beeping signaling that you should move to a different area of your skin, and you are free to move to the next section of your face without the tyranny of the beep.
I used the brush for a week and was surprised by how effectively it worked. When I tilted the brush in and used the entire brush head, my skin enjoyed the experience as much as sleeping on a mattress with a pea underneath it. But angled so that my cheeks received only the soft, white bristles, I was pleasantly surprised by how soft the brush was. The green T-zone area was small enough to be nimble around my nose while still really getting into the pores of my T-zone. Both able to clean and be soft at the same time, this brush truly is fit for the skin of a princess. Or anybody who fancies themselves one.