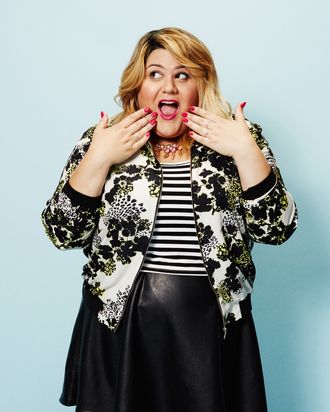 When she was a teen, Nicolette Mason was bent on attending Parsons the New School for Design, famous for bolstering many of fashion's vanguard. Like alums Donna Karan and Marc Jacobs before her, Mason has also gone on to carve out her own niche in that world, where the curvy wunderkind has become a much-loved multi-hyphenate.
She's a consultant for a swath of brands from Chanel to ASOS to ModCloth, whose collaboration with Mason hits stores in October. She's a video personality behind a popular YouTube series. And most compelling, she's a journalist-blogger whose Marie Claire column, "Big Girl in a Skinny World," outed and surmounted bias through the industry.
"It never occurred to me to be anything but honest, authentic, and to follow my own intuition when it came to my career," says the imminently amiable Mason, who was a brand strategist at a design firm when she launched her blog, "as a passion project." After amassing a loyal following, she quit that job about four years ago to commit, full-time, to fashion.
"Rather than being held back by my 'non-confirming look,' it has actually been an opportunity to give a voice to a completely underserved market," she says. "But I get approached by women of all shapes and sizes who relate to my message. Practically every woman living today is subject at some point to body scrutiny."
Social messages aside, Mason also happens to be a keen trend-spotter whose broad appeal lies on her warm aesthetic that seamlessly combines classic pieces with the à la mode. "I keep my makeup look clean and simple, too," she says, "but also bold."
Mason frequently finds herself in the unique, if challenging, position where she's solicited for advice. Mindful of keeping that universal as well, she's crafted the perfect reply. "The biggest 'don't' is holding yourself back from wearing fashion that you like," she says. "If horizontal stripes, wearing white, and donning a bold jumpsuit makes you happy—you do you! Nothing looks better than confidence."