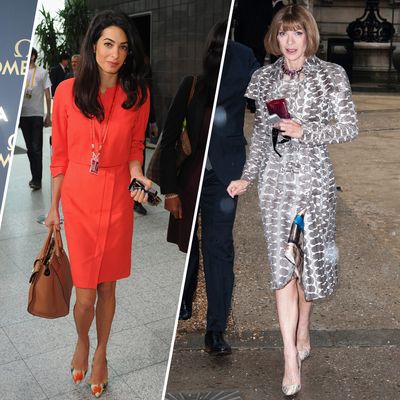 Photo: ChinaFotoPress via Getty Images, Eamonn McCormack/WireImage, CS Presse/Splash News/Corbis
George Clooney and Amul Alamuddin's wedding is sure to be a blessed event, on par with the Royal Wedding or Kimye's Wedding Bonanza: Anna Wintour is one of the few selected guests expected to attend, reports "Page Six." But remember, Clooney and Alamuddin, with the Wintour comes great responsibility.
The Post's sources say the wedding will be in Vogue ("She wouldn't go there and not cover it"). Clooney will reportedly wear an Armani tux while Alamuddin will follow in the footsteps of many a Wintour-endorsed bride and wear custom Oscar de la Renta. No more details regarding the guest list or wedding theme, but given Vogue's involvement, I bet André Leon Talley will be there, and you know what that means — dinner caftans.