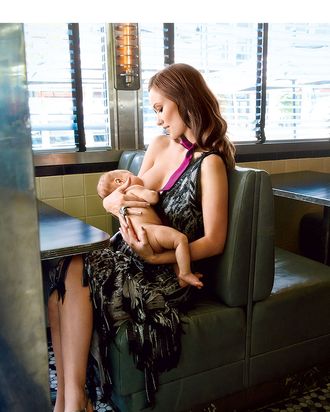 Photo: Patrick Demarchelier/Glamour
In Glamour's September issue, cover star Olivia Wilde is photographed breast-feeding her son Otis in what appears to be a diner. Is this photo beautiful and wonderful ("stunning," per Us Weekly) or kind of strange? And why is young Otis unclothed?
Below, the Cut discusses these matters.
Stella Bugbee, Editorial Director: I have mixed feelings.
Emily Shornick, Photo Editor: I think she looks great.
Stella: It might be that I am in a super-crabby mood spurred on by "National Underwear Day."
Allison P. Davis, Writer: What are your mixed feelings?
Isabel Wilkinson, Editor: It's hard not to see it as baby-as-prop
Emily: No way. It's her real baby! She's just mommin' it up.  Glammy mommy.
Stella: Right, but breast-feeding all retouched and in fancy clothes makes the reality seem … I dunno. Less than.
Emily: Now, if there were a stretch mark on her breast, I'd be more impressed.
Stella: Right, it's so retouched.
Emily: Well, it's her way of saying, I may have had a kid, but please still cast me in sexy roles.
Allison: She has nice boobs, though. We can all agree on that. Her boob looks great.
Stella: WHY is that baby NAKED in a diner?
Emily: Okay, nakedness of baby is definitely weird.
Allison: I think all babies are naked in these photo shoots, though.
Emily: Yeah, why is THAT?
Molly Fischer, Editor: Maybe naked babies are just more chic. They have nice skin.
Stella: It's because these images reinforce IDEAS about breast-feeding, in a classical-art way. Poop on the diner table is all I can think about. Poooooops on that beaded number.
Emily: It's a pretty dirty diner anyway.
Allison: Is the diner supposed to be like a "working-mom" environment?
Isabel: Not if you're in beads and finger-waves. Then it's Dirty Glamour.
Stella: I guess I just feel like it gives us all another unattainable standard, but that's nothing new.
Molly: Boobs can't be unsexy, but now they have to be sexy in an additional way
Stella: Right.
Allison: Sexy and nourishing.
Emily: I think what's troubling about it is that it's taking all the aspirational airbrushing we accept for fashion and bringing it into a sacred space.
Allison: Here is her quote: "I don't know, now it feels like Otis should always be on my breast," she continued. "It felt like we were capturing that multifaceted woman we've been discussing — that we know we can be. You can be someone who is at once maternal and professional and sexy and self-possessed. [But] I mean, I certainly don't really look like that when I'm [typically] breast-feeding. And there's usually a diaper involved."
Stella: OH THANK GOD. Then really, let's place blame where it belongs: Patrick Demarchelier. I guess I do like the picture. Because it's clear that Olivia is like, I'd rather be with Otis than doing this photo shoot. So, she wins in the end.