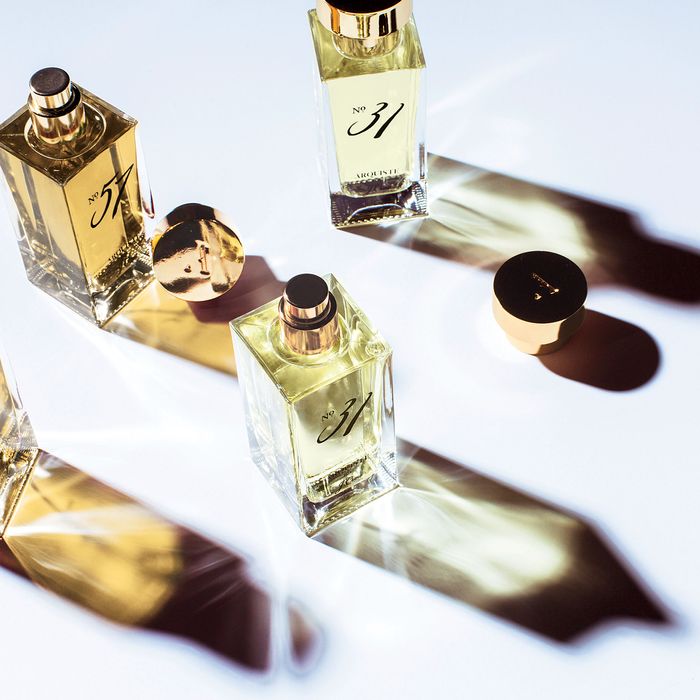 Photo: Bryan Derballa/Courtesy of Arquiste
Do you consider J.Crew to be a lifestyle brand? If not, their new foray into fragrance, the first tentative product toe-dipping for anyone hoping to enter the lifestyle category, may convince you. Just in time for fall, the retailer has launched two new fragrances, created in collaboration with Arquiste. "Fragrance just felt natural," Jenna Lyons explained of the decision. "Everything we do connects back to our customer's lifestyle. Every product extension that we've done — whether wedding, or baby, or kids' — has come out of a desire to create a full lifestyle message for our customer." Consider the message smelled and delivered, with No. 57 and No. 31. Here, Carlos Huber, Arquiste's founder, explains the journey of the fragrance and why the scents smells somewhat boozy.
What was the creative process for this project?
Myself, Rodrigo Flores-Roux, and our evaluator would meet every week. Then, every two weeks, we would present to Jenna [Lyons] and Tom [Mora, J.Crew's head of women's design]. That lasted a little over a year. From the beginning, we had a very focused idea, inspired by Peggy Guggenheim's "Exhibition by 31 Women."
We had a very specific moment and place. We had notes we could research from that moment in place to make it very accurate. Instead of the story being pulled in a thousand different directions, we could keep it with some constraints. When we first talked about inspiration, Tom mentioned Venice. It was this idea of a woman, who travels, collects, has a very strong personality, is American and very open to the world. I started thinking, Nice, strong woman, collects, and Peggy Guggenheim came to mind.
You're known at Arquiste for creating perfumes that recall a moment in history. How did you bring that technique to creating No. 57 and No. 31?
I don't like to focus perfumes on one person. You probably don't want to smell like Peggy, and I don't want to smell like Louis XIV or an Italian farmer from the Middle Ages or whatever. But I do want to smell like the moment. It's the moment of the gathering, the excitement, that enables you to feel the experience of being there more vividly.
Instead of focusing on Peggy solely, I started researching about this time and place that was aspirational, inspiring, and romantic, and that represents what J.Crew is about. The first all-female exhibition was a very positive, hopeful, cool moment. At that moment, that nexus of artists with someone like Peggy to guide the whole thing, could only happen in New York City. She launched that gallery and changed American art for the better. It reminded me of the values that someone, who likes J.Crew and admires Jenna, would feel proud of.
How conscious of an inspiration was Jenna herself?
She was a force who inspired the kind of story we were telling. Like, These were woman who created beautiful things, and here's a living example. But it's not like we were spraying it on her skin to see how it would perform. We actually needed to try it on a lot of people: Blondes, brunettes, men, women. Her opinion mattered a lot, of course, but it was more like: What would a woman like her think about this?
No. 57 is described as being more unisex, and No. 31 seems like it wasn't given a specific gender category.
No. 57 was always open to more interpretation. We started with only one fragrance and it was going to be a women's fragrance. My brief was about extracting ingredients from three different places from the exhibition, like the woods from the gallery, the fragrances worn by women in the early '40s, and the cocktails served.
We presented three different combinations of this trifecta: We called them Retro, Contemporary, and Avant-Garde. The three names were nods to art and style. We eliminated one of them, and then in our last session, which wasn't meant to be our last session, Jenna decided she loved the two a lot. People were having good reactions to both, and we decided to launch both. One centered more on the wood of the gallery. One on the scent of women and the cocktails. No. 57 is the gallery wood. No. 57 is always one that was more bohemian and abstract and more modern, and more unisex.
We thought having the two would represent two different types of personalities. One is more feminine and sparkly and the other was more edgy and tomboy-ish. Both represent the J.Crew DNA, like a pump-with-a-sweatpant type of thing. It was Jenna's decision, really. We want the women who like unisex to feel comfortable and also for some men who are curious to partake. But the story is still about the women. We never made it a more neutral story. No. 57 has a more boyfriend quality to it. Even if women wear it, it smells like something he would pick up.