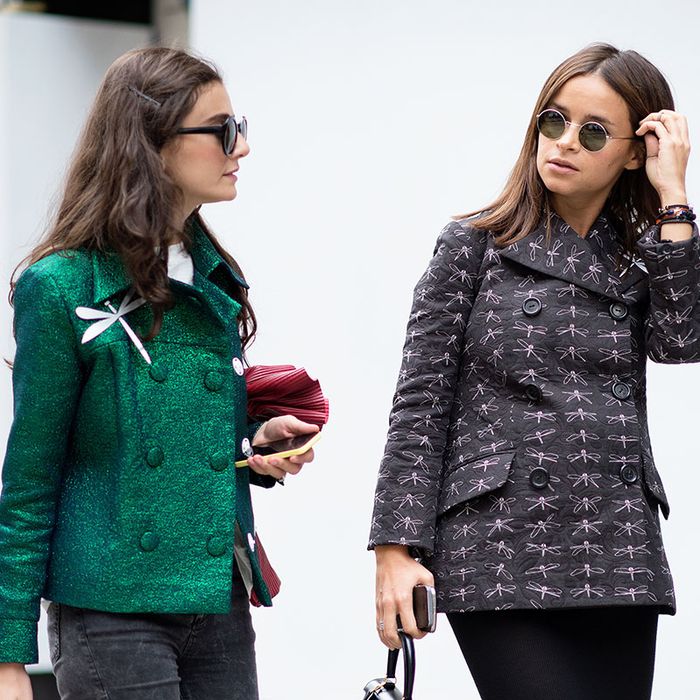 Natalia Alaverdian (left) with Miroslava Duma wearing A.W.A.K.E.
Photo: YoungJun Koo
Three years ago, the brand Ostwald Helgason was virtually unknown. But then stylish women such as Natalie Joos and Miroslava Duma discovered the London-based brand and were subsequently photographed wearing its colorful pieces during fashion month. Those pictures helped get Ostwald on the map — and now the design duo behind the brand, Susanne Ostwald and Ingvar Helgason, freely admit that street-style photography has helped them immensely.
Now a new crop of designers are following in their footsteps and using street style as a form of really great marketing. Labels like Sandy Liang, Urania Gazelli, and Joshua Sanders are among the emerging brands that have turned recognizable pieces, like furry coats or holographic sneakers, into press coverage. Other brands, meanwhile, originate with street-style stars themselves: The high-end and surreal ready-to-wear line Vika Gazinskaya, the youthful and quirky contemporary brand A.W.A.K.E. (by Natalia Alaverdian), and the charmingly retro fine-jewelry and ready-to-wear line Natasha Zinko are all fashion brands started by women who are also frequently photographed at shows (and who now appear in their own designs).
Since today marks the first day of Milan Fashion Week — and we'll likely be seeing many of these designers on the streets this week — check through our slideshow of ten designers who used the street circus to their advantage.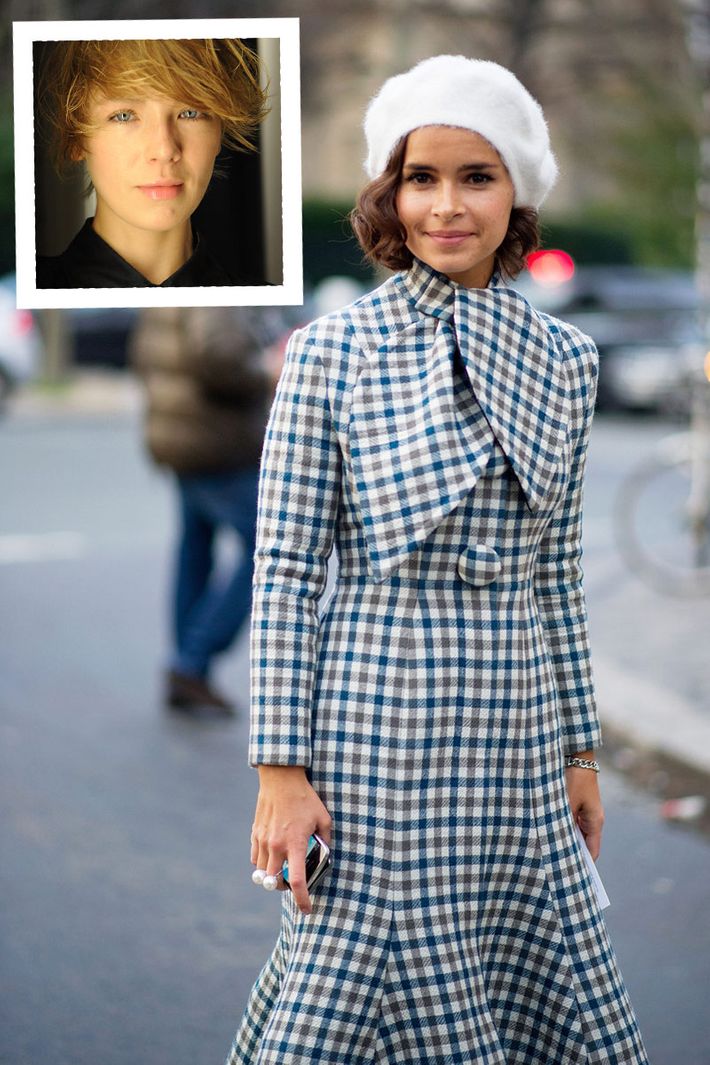 Vika Gazinskaya
Among the batch, Vika Gazinskaya is one of the more established designers. She began as a fashion editor for L'Officiel Russia and was frequently photographed with the other Russian street-style stars. Her whimsical pieces were a big hit with retailers, leading to a recent collaboration with & Other Stories. Now she serves as the biggest promoter of her own brand but can count on good friends like Miroslava Duma and Taylor Tomasi Hill to help, too.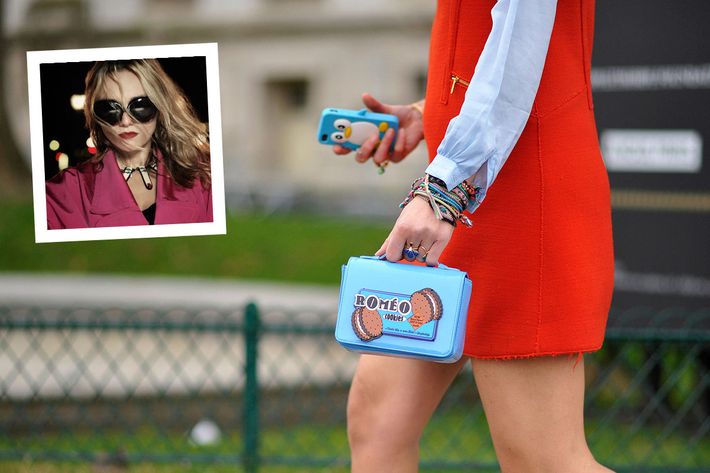 Yazbukey
When it comes to getting noticed by photographers, the weirder the accessory, the better. In the case of Yazbukey it means featuring everything from Karl Lagerfeld's head to vintage cookie cases. Founded in 2000 by a self-described Ottoman princess (her family's ancestor was the king who gave Napoleon the Concorde obelisk), Yaz has worked at Maison Martin Margiela, Givenchy, and Jeremy Scott. Her fans include stylist Elisa Nalin, Vogue Turkey's Ece Sukan, and Elle China's Leaf Greener, all of whom have been photographed in the brand.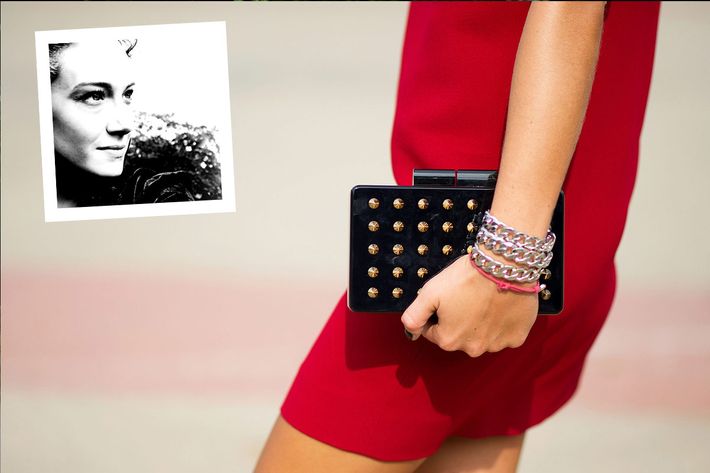 Urania Gazelli
Urania Gazelli's sophomore collection of zodiac clutches serves as a charming conversation starter, but it was her debut line of personalized, playing-card-inspired bags that put her on the radar. A quick glance through her Instagram reads like a who's who among the street-style set, including Anna Dello Russo, Natalie Joos, and more. "Street style is a powerful way to promote the designs that will make you stand out! It was the best way to be recognized and have a small place in the industry," Gazelli tells the Cut.
A.W.A.K.E.
The petite Natalia Alaverdian has been a street-style favorite for years, attending shows as Harper's Bazaar Russia's fashion director. The stylist added designer to her résumé in 2012 with the launch of A.W.A.K.E, which stands for All Wonderful Adventures Kindle Enthusiasm. The whimsical pieces are adorned with everything from giraffe prints to roosters. Besides being her own brand ambassador, she also counts friends like Miroslava Duma, Natalie Joos, and Caroline Issa as big supporters.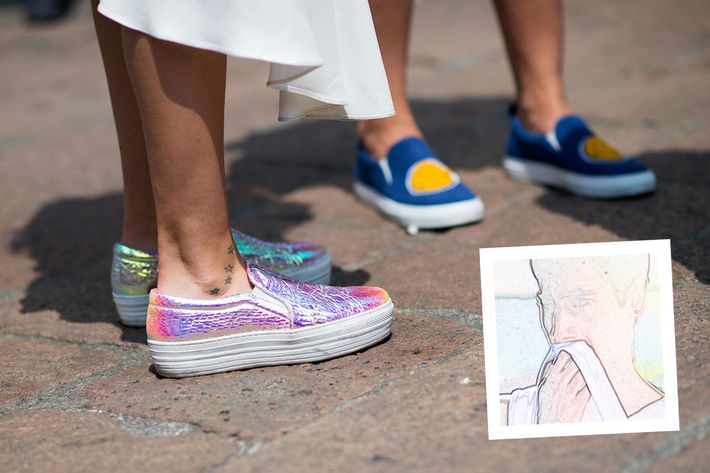 Joshua Sanders
Slip-on sneakers have been the shoe of choice, and entering into the fray is Joshua Sanders. The Parsons graduate spent time at Sandro, Isabel Marant, and Maje before starting his own brand of kicks. Worn by stylist Chiara Totire and captured in Eva Chen's Instagram, the brand discovered street style as a marketing tool. "[After a few seasons] we started to understand how it influenced our popularity," Sanders told the Cut. "It's incredible for us to [see] people like Eva Chen wearing our shoes!"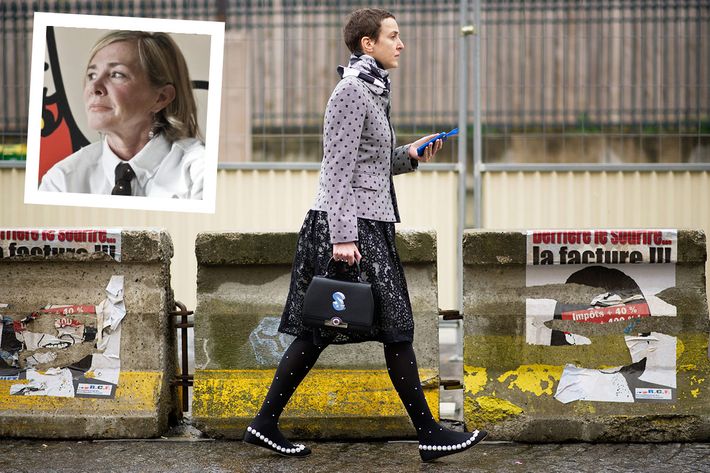 Jupe by Jackie
Founded by Dutch designer Jackie Villevoye in 2010, Jupe by Jackie combines menswear with intricate embroidery sourced via a special Indian atelier and counts Rei Kawakubo as its biggest fan. While Villevoye focuses on her designs, her daughter Kate Villevoye promotes brand awareness. "She and her friends have assisted me in Paris. One day at the Comme des Garςons show they were photographed, and that's been happening ever since," Villevoye said. So next time you see a group of girls in floppy hats, menswear shirts, and pleated skirts, chances are they're part of the Jupe by Jackie gang.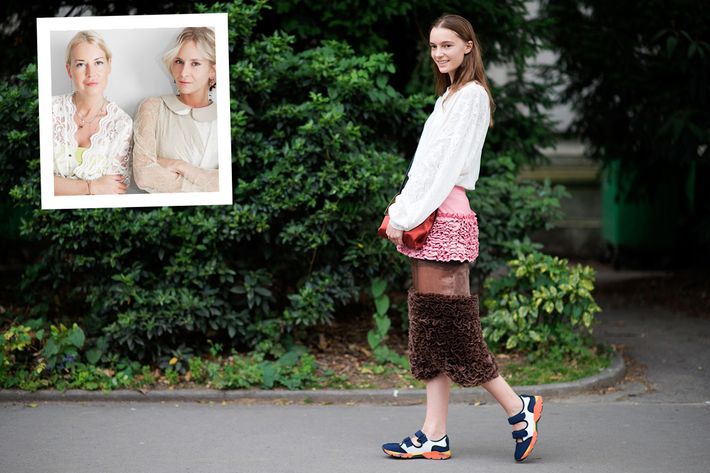 Ruban
Like others on this list, sisters Alisa and Julia Ruban began their careers as stylists. While attending Paris Fashion Week, Alisa was photographed wearing her own designs, spurring them to found their own brand in 2010. Though well known in their native Russia, the brand is relatively new to the street-style scene, popping up on the likes of Meruyert Ibragim, editor of Buro 24/7 KZ. With layers of cascading ruffles, sheer inserts (the skirt, at left), and unusual curved silhouettes, the feminine pieces are dramatic and couture-like.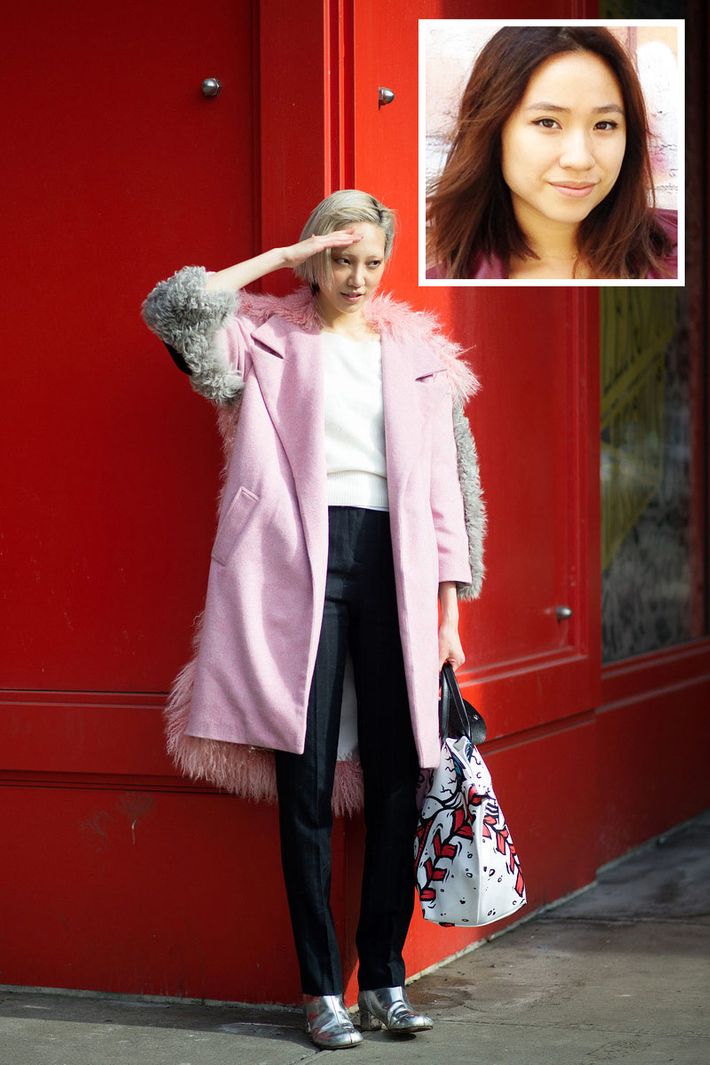 Sandy Liang
Thank the brutal winter in New York for Sandy Liang's success. With freezing temperatures and multiple snowstorms, warm coats were a necessity, and her multicolored fur creations stood out because of their unique shapes. Worn by model Soo Joo Park and former Opening Ceremony buyer Kate Foley, Liang's designs were featured on Style.com, Vogue, Harper's Bazaar, and the Cut. For a designer in her debut season, that's pretty good press, especially since it developed organically (though with a little help from Foley).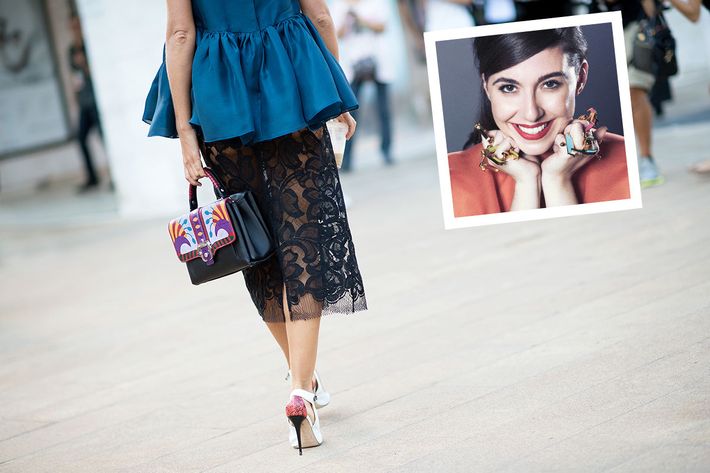 Paula Cademartori
Brazil-born Paula Cademartori moved back to her father's native Italy in 2005, where she honed skills at Versace. In 2009 she entered Vogue Italia's Vogue Talents competition with her line of eponymous handbags, and in 2010 she formally founded her brand. Known for its distinctive metal-buckle closure that resembles the Greek letter pi, the colorful bags are favorite among Eva Chen, Leandra Medine, and Natalie Joos.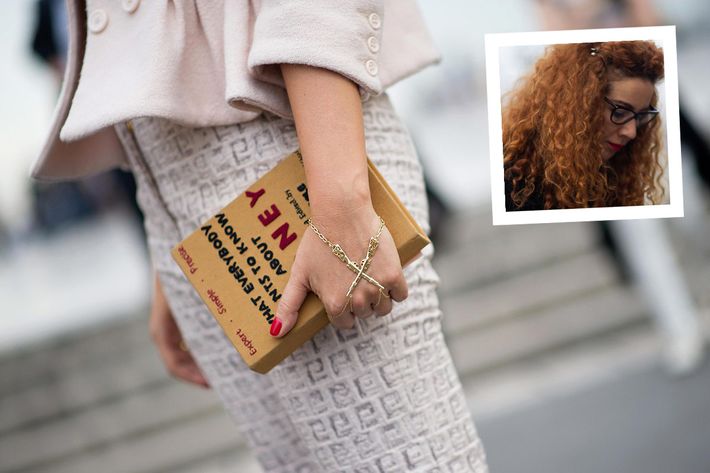 Natasha Zinko
Designer Natasha Zinko can count Miroslava Duma and crew among her friends and biggest supporters. The Central Saint Martins–trained designer has both a fine-jewelry (see hand bracelet, at left) and ready-to-wear line and is often photographed attending shows wearing both her own creations mixed with pieces from other designers. "I believe that a mixture is the best balance. Street style really works to grow the awareness of the brand," she told the Cut. "I believe it's because we live in a time when an audience prefers looks shown in social media."