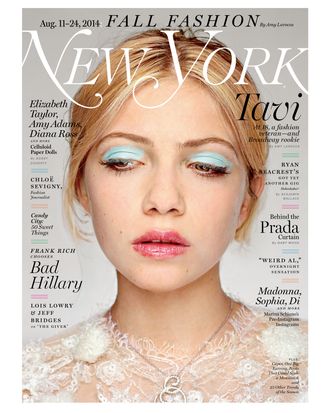 Photo: Martin Schoeller/New York Magazine
Tavi Gevinson stares wide-eyed into the camera on the newsstand cover of New York's Fall Fashion issue, her green eyes enhanced by imperfect blue eye shadow, her lips just a little bit pouty. The Cut spoke with Regina  Harris, the makeup artist behind the look, about which products she chose and how the make up enhanced Gevinson's simultaneous senses of strength and vulnerability. Here's Harris, in her own words.
We started with a shoot in Chicago at Tavi's home and then the Steppenwolf Theater, where she was performing. On the morning of the cover shoot in New York, we were channeling early '60s icons, so the makeup lends a sense of theatricality, but it was meant to look very touchable. As it should be! I like the sense that your makeup is real. Sometimes, I think makeup can make you look unapproachable and cookie-cutter and generic. It can overpower the person underneath. But I like honesty and realness.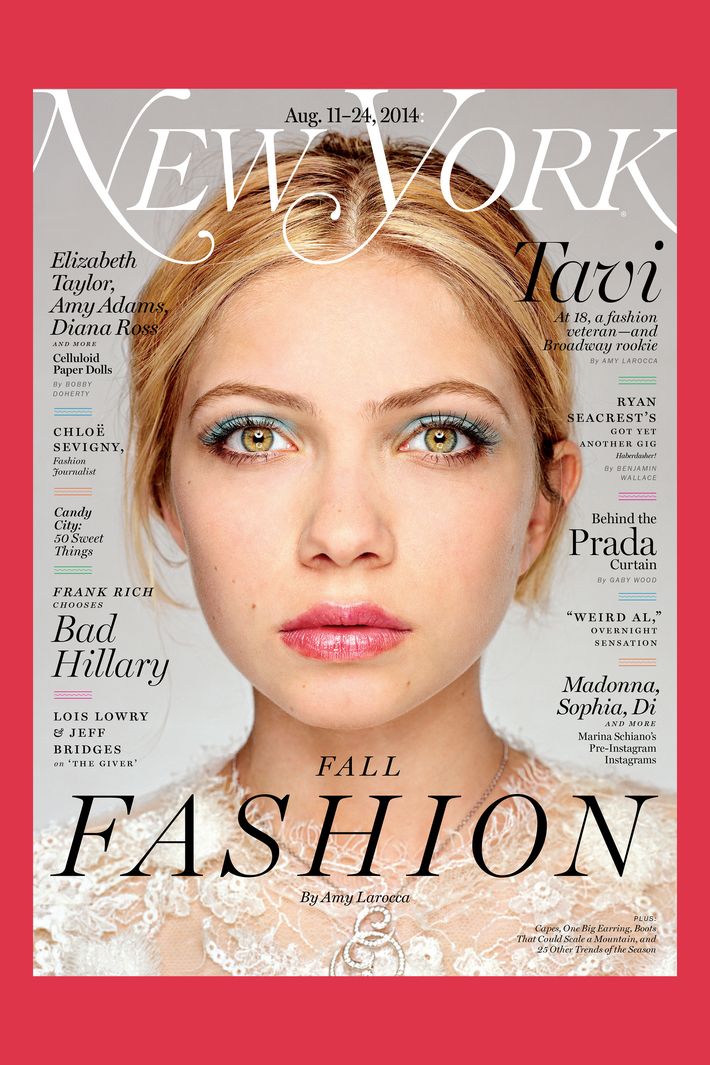 The blue eye shadow (MAC Aqua) was applied wet using a sponge applicator and swept across the entire lower half of the lid under the brow bone. It came from picking up on the retro '60s vibe and revisiting the idea of color. The sensuality of the look comes in that soft mouth and not doing a deliberate lipstick. It's a natural, pouty, girlish mouth because she's a young, beautiful woman. I think it's great if you have a strong eye to have a natural lip — it's less heavy. I used MAC's Pink Poodle Lipglass, which I dabbed and blotted.
We did many shots. The chosen cover shot was at the very end of the day. Photographer Martin Schoeller is famous for his hyperreal portraits, which have little to no retouching, shot on an eight-by-ten with microscopic detail. It's like he sees through the skin with his images. For me, his pictures are really about capturing a moment of strength and vulnerability at the same time.