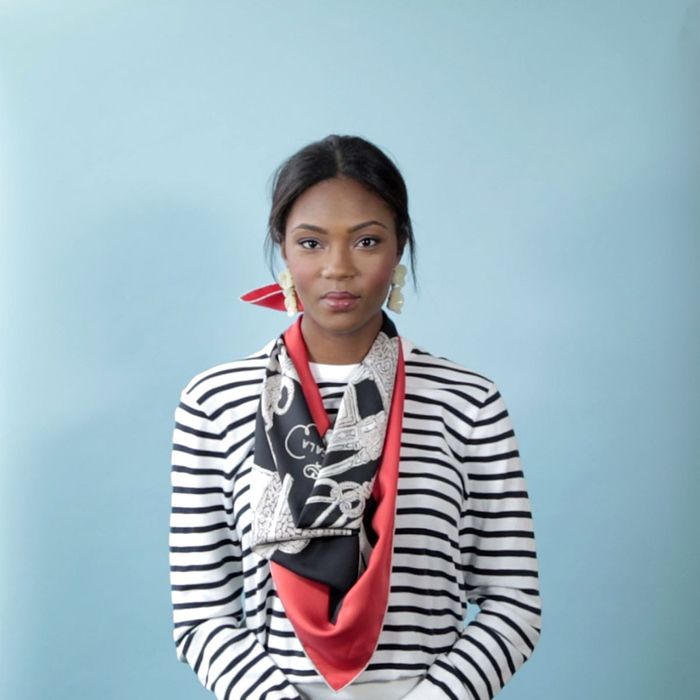 Printed scarves can be hard to wear. How to tie one without looking stodgy? Here's a solution that's simple and chic: Tie it in the back, and let the point hang down the front, like a cowboy. It's the perfect style to spruce up a slim, classic turtleneck or sweater, and it can instantly add an unusual drape to an outfit. Below, how to tie a colorful scarf, in three easy steps. 
Step 1: Pick a large square scarf with a vibrant print, like any of these. (The one we're using here is from Hermès.)
Step 2: Start by folding your square silk scarf into a triangle. Pull the ends out taut, and bring them together to tie a knot.
Step 3: Slip the knotted triangle over your head so the knot is sitting at the nape of your neck. Now pop out the top of your upside-down triangle, bringing it forward and away from your chest. Let it naturally fall out in front of you in a drape that falls to the side. Done!

Hermes silk twill scarf, $435 at at Hermes; Oscar de la Renta Resign Flower Earrings, $225 at Neiman Marcus; Similar: Club Monaco Leora Striped Top, $79.50 at Club Monaco.
Manicure by CityMani.