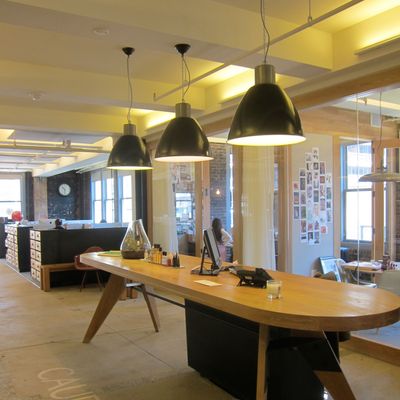 The other day I took a tour of  Caudalie's new 6,000-square-foot office space in the Garment District. Architect Caleb Mulvena, who designed the space, had one directive: Avoid anything that reminded the Caudalie staff of their former, generic "cubicle farm."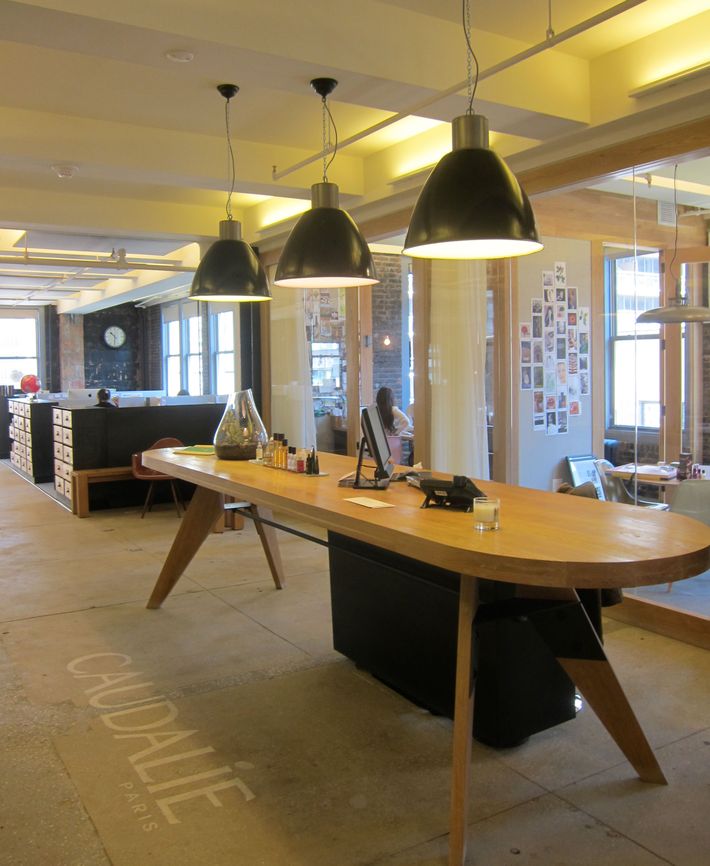 When architect Caleb Mulvena of Mapos was commissioned to design Caudalie's new 6,000-square-foot office space in the Garment District, his clients gave him one directive: Avoid anything that reminded them of their former, generic "cubicle farm," as Mulvena describes it. What Mapos created is a modern take on the elegant rustic design of the winery Château Smith Haut Lafitte, in Bordeaux, where the ingredients of Caudalie's luxury beauty products come from. Mapos designed this Jean Prouvé–inspired reception desk, which resembles the wine-tasting tables at the family vineyard. Recycled industrial lamps hang above.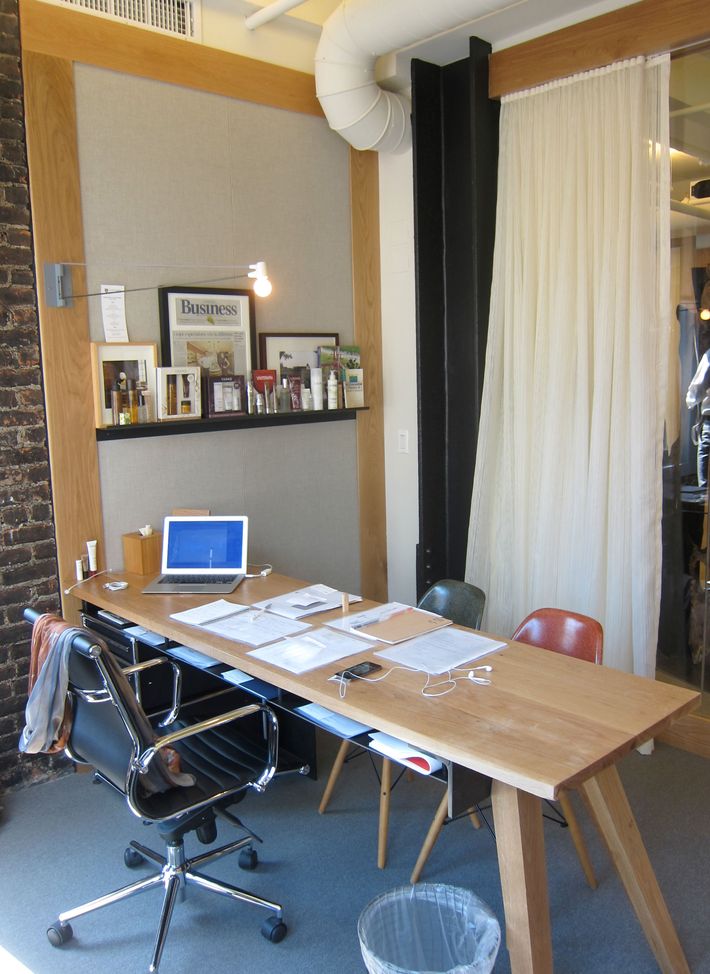 Here, Caudalie co-founder Bertrand Thomas's office has a glass wall that can be privatized by a soft curtain and an oak desk that doubles as an impromptu conference table with a metal shelf for storing papers. The company was founded in 1993, when his wife and co-founder, Mathilde, realized that the family winery could be producing more than just wine, as grape seeds hold polyphenols and grape vines exude resveratrol, ingredients that are beneficial to the skin and are now the basis of Caudalie's spa and luxury skin products.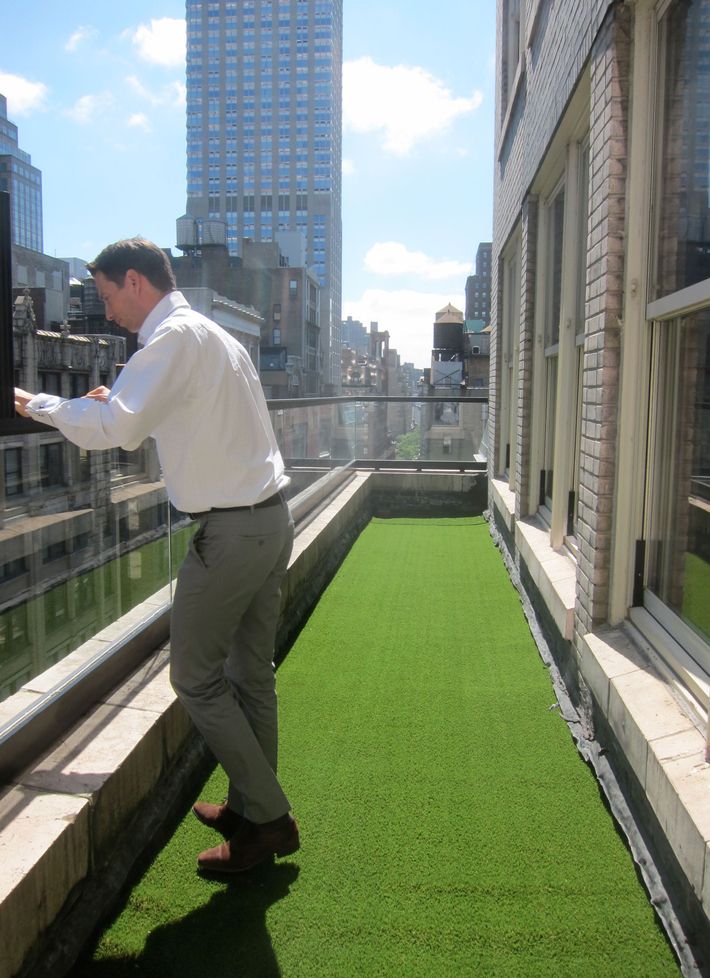 Mapos designed Bertrand and Mathilde's private offices so they could take advantage of the outdoor terraces. Bertrand, pictured here, loves the city skyline, especially the water towers. He counts 36 in all from different vantage points in the office.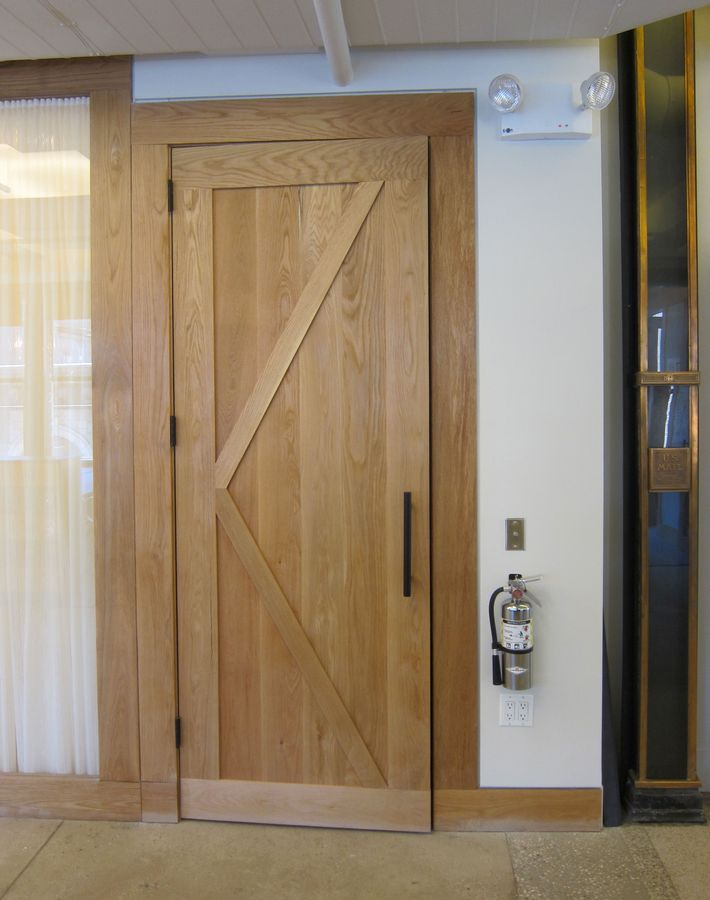 "We designed the wooden doors off the entrance foyer with the traditional cross-bracing as a nod to Mathilde's sensibility and the winery, with its rustic architecture," Mulvena says. The original mail chute has been left in tact.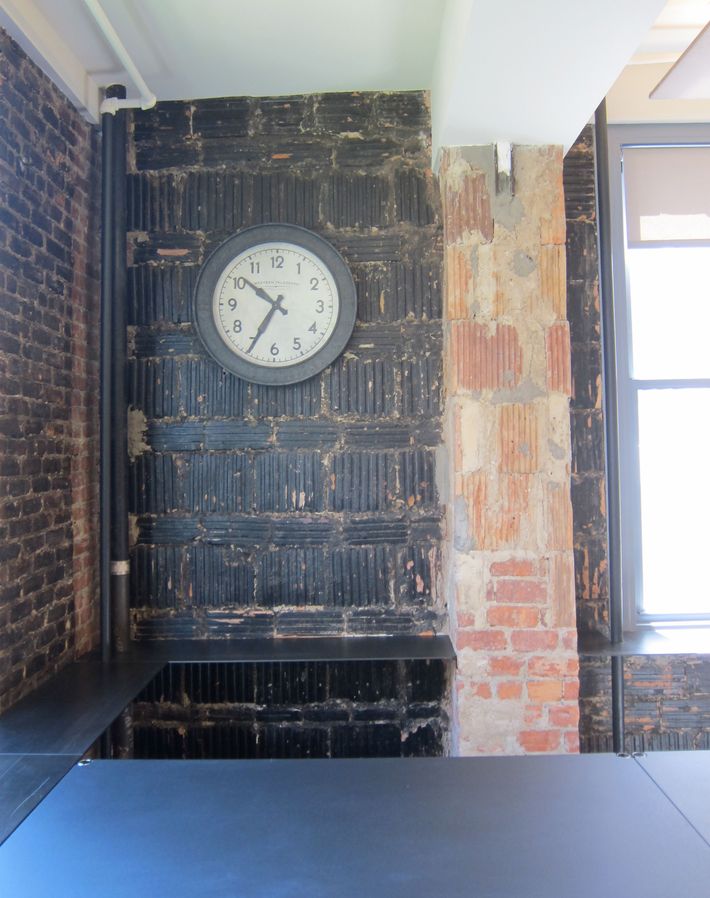 Mapos transformed what had been a dreary law office, according to Mulvena: "a rat's warren of enclosed office spaces with dropped ceilings and painted taupe-colored Sheetrock." The architecture firm, known for its agility in reusing materials, dug down to discover the clay tiles and original brick walls of the building, and then incorporated the leftover Steelcase desktops that now blend into the wall texture.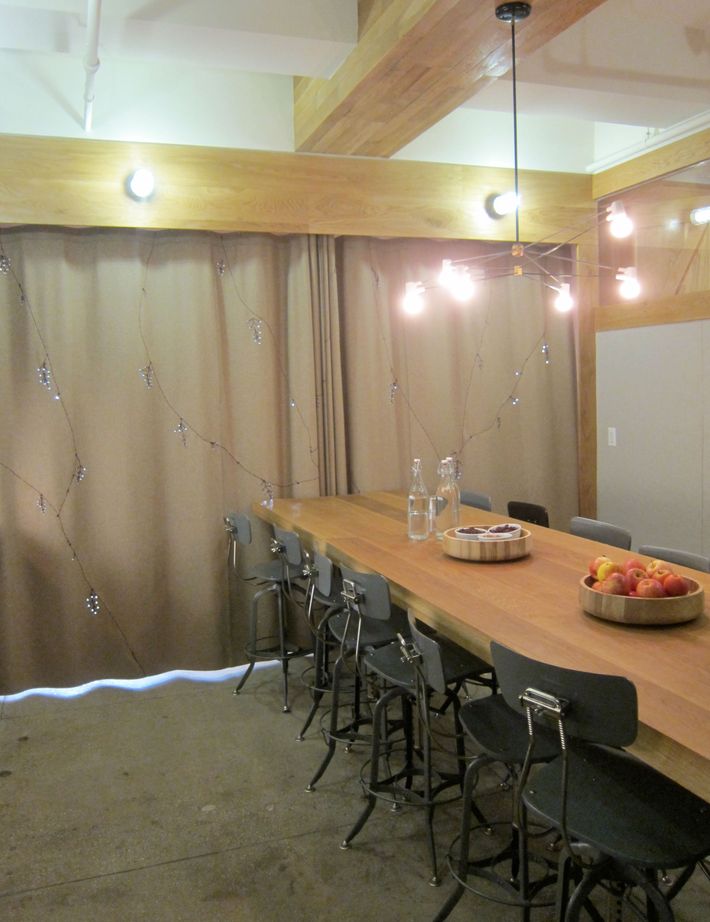 The office has a large kitchen area for the staff to enjoy communal meals. The cut and embroidered felt curtain acts as a soft wall that can be pulled for privacy and functions as a sound buffer. It was designed by the Brooklyn artist Elodie Blanchard (of ElasticCo).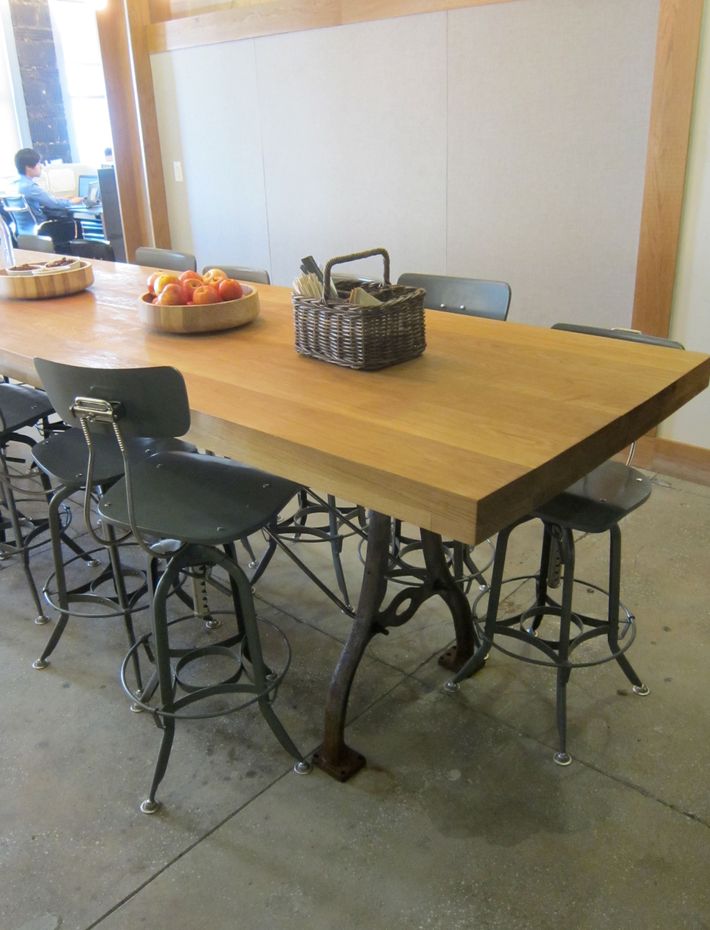 Of the kitchen table, Mulvena says, "We found these industrial table legs at an architectural salvage place, and then we just made a great big tabletop out of oak and screwed it into them. It was easy."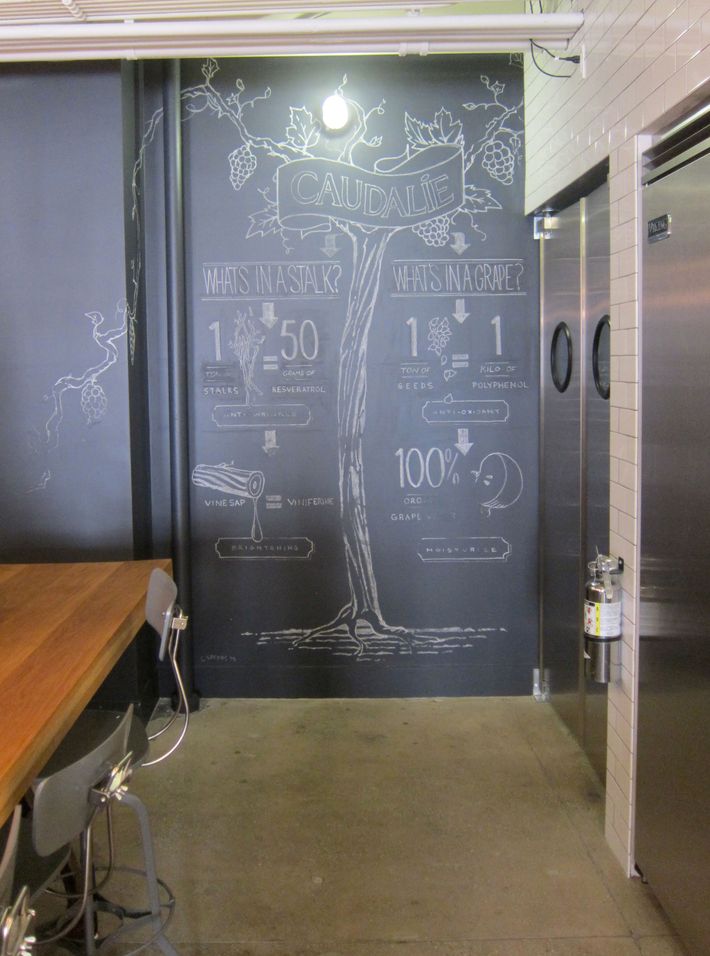 Chalkboard walls are the best. There is another one on the way to the bathrooms.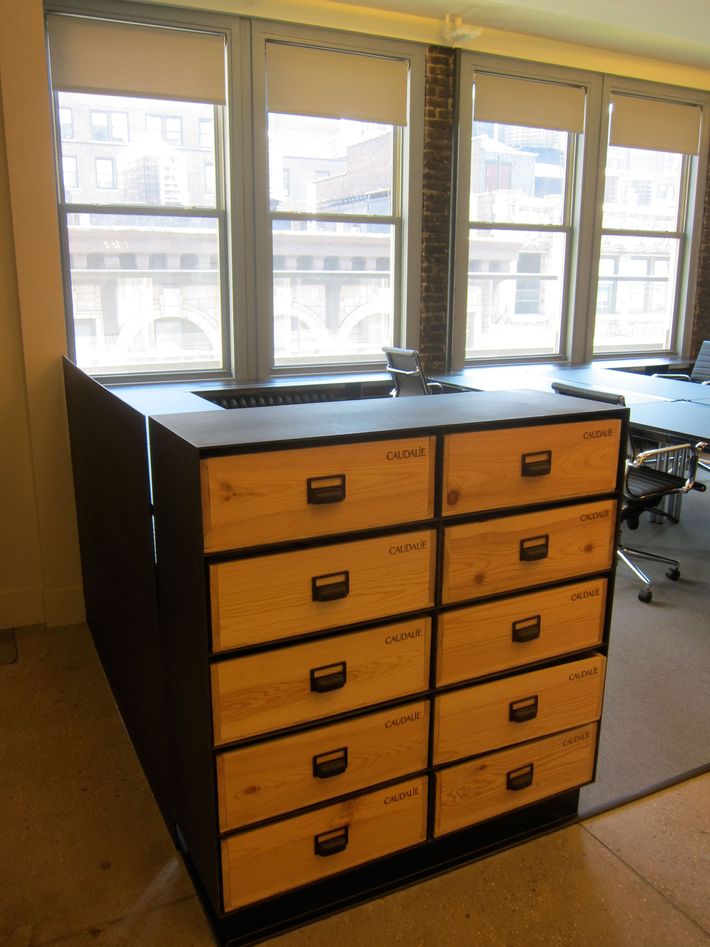 One of Mapos's challenges was to create a screen in front of the inherited Steelcase desktops that would also serve as a container for Caudalie products. The same French artisans who make crates for the family winery created a freestanding chest using wine boxes as cabinets.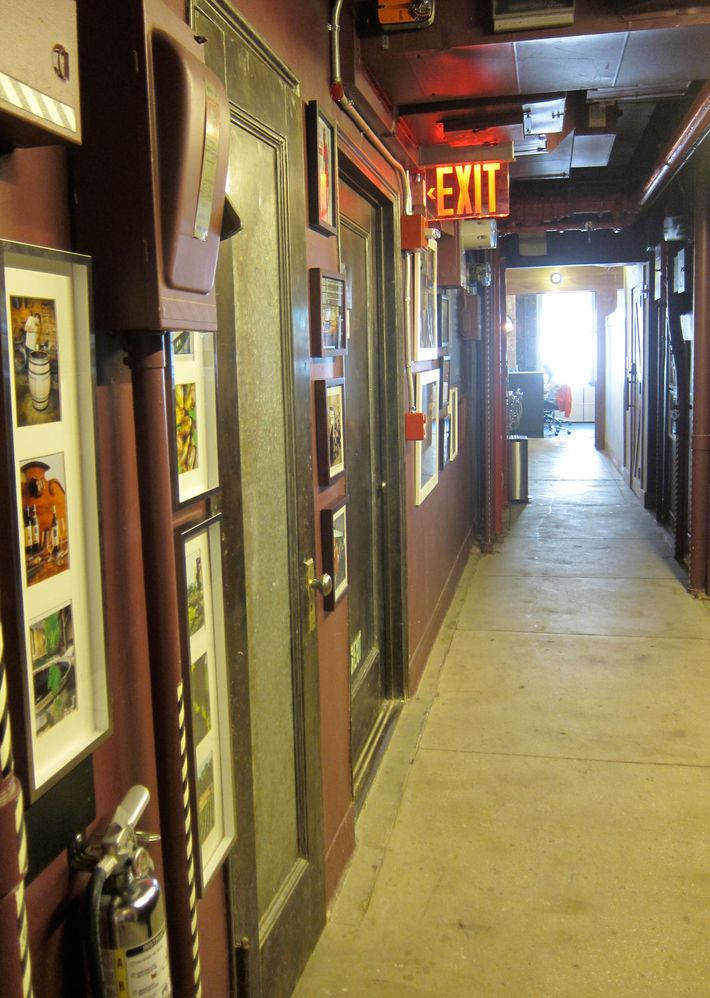 Mapos's team took this once-forgotten area in the back of offices where utilities are exposed and created a gallery. The walls were painted a deep maroon, one of the Caudalie colors, giving the space a more intimate vibe. "A tenet of our company," Mulvena says, "is 'challenge equals opportunity,' so we thought this would be a great opportunity to do something fun and playful."