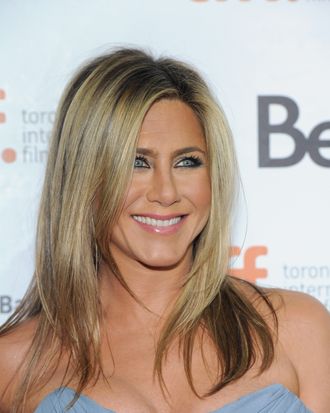 Photo: George Pimentel/Getty Images
Gloria Steinem–enthusiast Jennifer Aniston heard your questions. Not only does she not have answers, but she decisively does not have answers, she is questioning your questions, and this whole trial is out of order.
Aniston presented her case on FAQ exhaustion in an interview with Carson Daly:
I'd talked to [Gloria Steinem] personally about this for awhile, just because it is such an issue of, like, 'Are you married yet? Are you going to have your babies yet?' It's just constant. It's like, I don't know! I don't have this sort of checklist of things that have to be done, and if they're not checked, then I've failed some part of my feminism or my value as a woman because I haven't birthed a child. I've birthed a lot of things and feel like I've mothered many things, and I don't think it's fair to put that pressure on people.
Would you be satisfied if she agreed to let you use the descriptor mother as long as it were metaphorically employed? Well, mother of things that are not babies Jennifer Aniston is happy to let you do that.