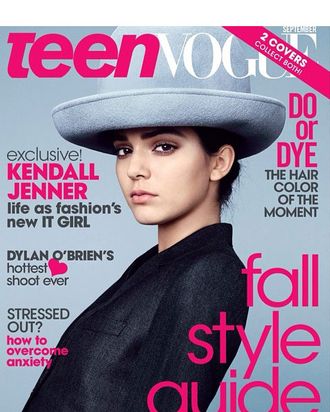 Photo: Teen Vogue/KendallJenner/Instagram.com
Kendall Jenner has just hit another level on her ascension through the fashion ranks: a plum spot on Teen Vogue's September cover as "fashion's new IT GIRL." She shared a sneak peek of the issue on her Instagram and, I have to say, she looks great: a jaunty, large felt hat (Pharrell, take notes), thick brows, an architectural lean — it's all very model-y, indeed.
Remember when she was just a tween begging Bruce Jenner for professional modeling photos on Keeping Up With the Kardashians? Dreams do come true, when Anna Wintour says so.