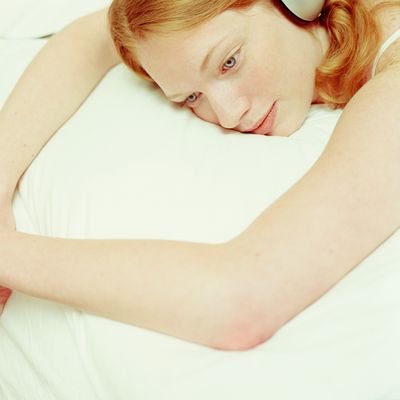 Photo: Dan Kenyon/Getty Images
Picking mood music for any occasion can be a challenge. You probably have a perfect mix of easy rock for dinner parties. And who among us hasn't sought the power of a "Project Sex Friend" mix? (Start with Miguel, move to "Juicy" for the climax.) But personally, my arsenal is still missing a playlist specifically dedicated to the emotions that accompany my menstrual cycle. What should I be listening to? Death metal? Gangster-rap? Lisa Loeb? Who knows?
Fortunately, Spotify now offers a list of "songs that you need to hear those days when you cannot stop crying, eating, or yelling at the ones who deserve it the least" — a.k.a. the PMS Playlist, curated by Spotify employee Sophia Olofsson. "I felt that almost every song is annoying when I have PMS; I can't stand anything too cheeky or loud or cheesy. But of course I still want to listen to music. The songs we put in the playlist have the right balance of attitude and emotions, they make you feel better or sometimes worse, but without pushing your buttons," she explains.

While about 60,000 playlist subscribers agree — or just really like sing-along-ready girl anthems — I have a real love/hate relationship with this list of songs. I'm slightly offended that a playlist is built around the "scary premenstrual woman" stereotype, but at least the selected songs are significantly better than any found in a tampon commercial.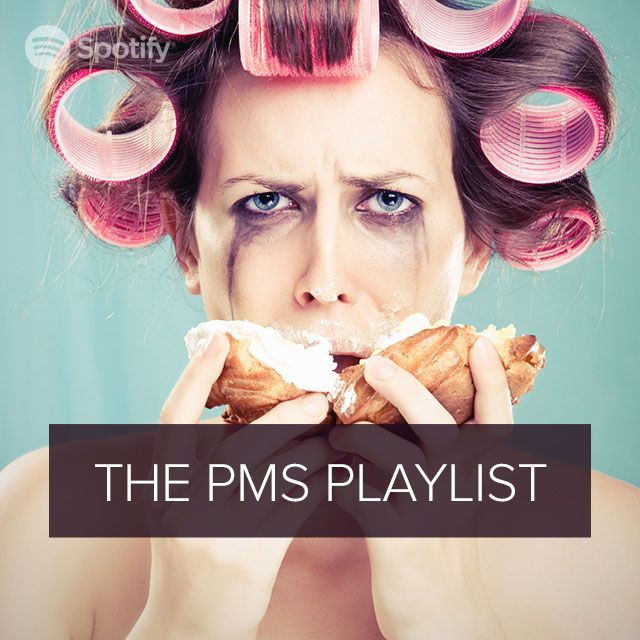 The Average Woman's PMS experience, as described by 11 songs from the Spotify PMS Playlist:

"Black Widow," Iggy Azalea feat. Rita Ora: Periods bring out the murderous misandrist in all of us.

"Fuck You," Lily Allen: The only words we can utter once our ovaries activate every month.

"If I Were a Boy," Beyoncé: … I wouldn't have a period.

"Why Am I Crying?" Molly Sanden: Because. Menses.

"Hollaback Girl," Gwen Stefani: I have no idea what this song has to do with PMS. Catchy, though.

"PMS," Mary J. Blige: Sometimes cramps are best by soothed soulful divas.    

"PMS Blues," Dolly Parton: And then other times, they need a sassy, country twang.

"Bloody Motherfucking Asshole," Martha Wainwright: A common exclamation. 
"Sadness is a Blessing," Lykke Li: Because then you can eat your feelings.

"Cigarettes and Chocolate Milk," Rufus Wainwright: Some snack suggestions.  

"Bitch," Meredith Brooks: The Period Anthem to end all Period Anthems.
And here is the whole thing. Listen while you feel your feels, eat your PMS snacks, and feel anger at everyone, including people who make PMS-specific playlists.