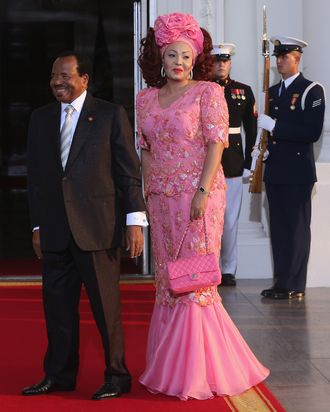 Photo: Mark Wilson/Getty Images
In 2009, we were introduced to First Lady of Cameroon Chantal Biya, who seemed to somehow be both the Lady Gaga and Beyoncé of political wives. This week marks her triumphant, pink return to U.S. shores for the U.S.-Africa Summit and her burnt-papaya-hued hair continues to fascinate (it has its own Tumblr).
On what pillows do you sleep to preserve that resplendent mane? When you met the Pope, did you ask him about the accuracy of the idiom the higher the hair the closer to God? Most important, when you met Paris Hilton, did your hair foretell that her best friend would one day turn from her — and then turn back? Was your hair responsible for brokering this friendship truce? Magic.