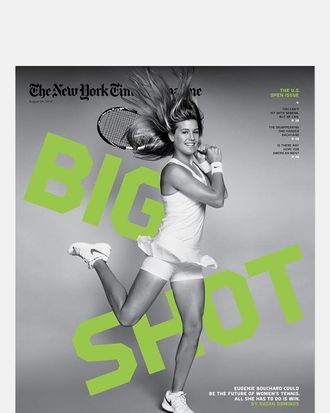 Things the New York Times Magazine cover about rising tennis-star Eugenie Bouchard looks like:
A vintage young-adult novel about a plucky, flaxen-haired Yankee who charms her way to a Wimbledon wild card.
A sporty homage to Marilyn Monroe.
Rare archival footage of a Title IX PSA from the 1970s that got scrapped because it was deemed too sexist. 
A commercial for no-leak, active-gal tampons that is so subtle you don't have to be embarrassed if it comes on while you're watching television with a guy.
Things it does not look like:
The cover for an excellent magazine article about the mental toughness of a world-class tennis player in 2014.