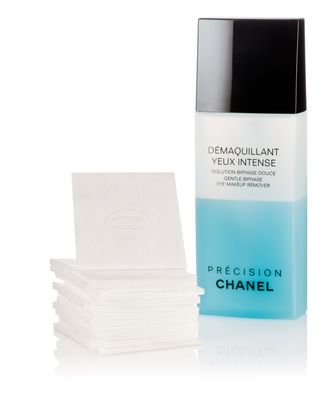 There are cotton balls, and then there is Le Coton (adopt snooty French accent). Cotton balls are generic; Le Coton is Chanel facial cotton, and 100 pieces cost $20. Although this may seem like an extravagance on par with blowing your nose on a Versace tissue, there are few things related to your face worth splurging on — and extra-nice cotton is one of them.
Most cotton balls (unless you're buying organic) aren't made out of cotton at all, but out of unbleached polyester. They're single ply, versus Le Coton's triple ply. They are the generic alternative to Charmin. Cotton balls matte your face, while Le Coton glides across your face like a Misty Copeland pirouette. Each piece has the interlocking Chanel logo (because you know Karl Lagerfeld does not let polyester into his home) and has an inner filling of Australian fibers.
Most important, fancy cotton balls like Le Coton help you conserve other beauty products. Unbleached polyester is far too absorbent, so your cotton gets more of the benefits of "Jesus in a Bottle"–like beauty products than your face. Since I started using Le Coton and its fancy facial-cotton peers like Cle de Peau Beauté's Cotton and Shiseido Facial Cotton, I've been able to conserve more of my toners and moisturizers. So, for all those opposed to facial chafing, say "aye" and buy Le Coton here.