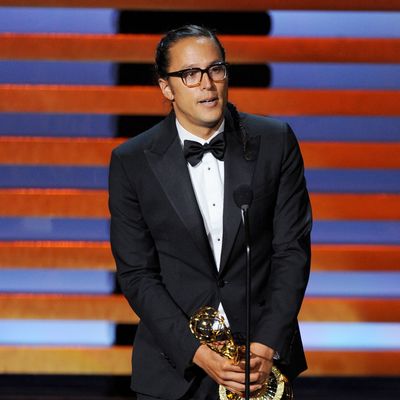 Photo: Vince Bucci/AP Images
Twitter erupted during the 66th annual Emmy Awards tonight when sleeper hottie Cary Fukunaga came up to accept something. What was it he came up to accept? We cannot say, because we were immediately distracted by the snaking presence of something special resting on his shoulder: a man-braid! For further analysis, we invite you to join us now in the Cut chat room.
Isabel Wilkinson, senior editor: Twitter is freaking out about Cary Fukunaga's hotness.               

Stella Bugbee, editorial director: What???????? those braids? Not sure about that.
Isabel Wilkinson: Oh I am FOR those braids. Inexplicably two thumbs up.
Molly Fischer, editor: Can we go from man-bun to man-braids? Jury is out.                
Stella: We need Allison P. Davis for this conversation.
Allison P. Davis, writer: NOT ALLOWED.                                        
Isabel: They were HOT. Smoking.  
Stella: Did any of you know who he was before this?
Kathleen Hou, beauty editor: No, he is just hot.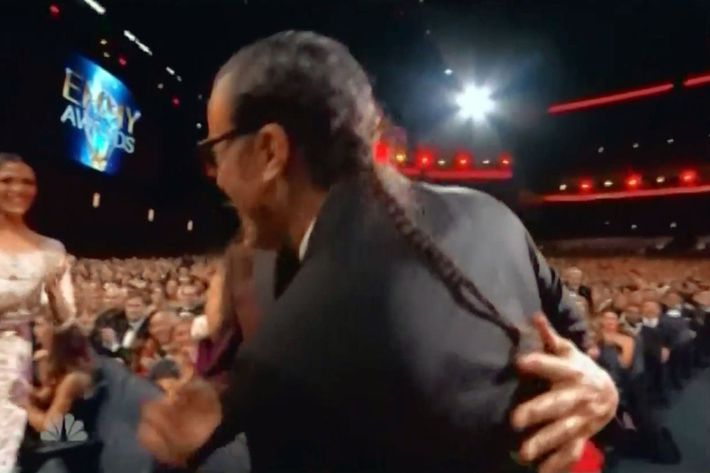 Molly: Wait, are they FRENCH braids?
Isabel: With a strong side part. 

Kathleen: I think I like it.
Allison: Are they cornrows? I'm still confused.                            
Kathleen: I think the braids work b/c the braids say dirtbag but his face says hottest guy in your calculus class, so it's that weird dichotomy. Apparently Cary used to date Michelle Williams.
Stella: She has the best taste in everything.
Molly: He is a hot man.
Stella: But he'd look better in a man-bun. Or with his hair free flowing. We just got the man-buns, can't we keep them around for a while? It's too soon to get rid of them.

Isabel:  And *scene*