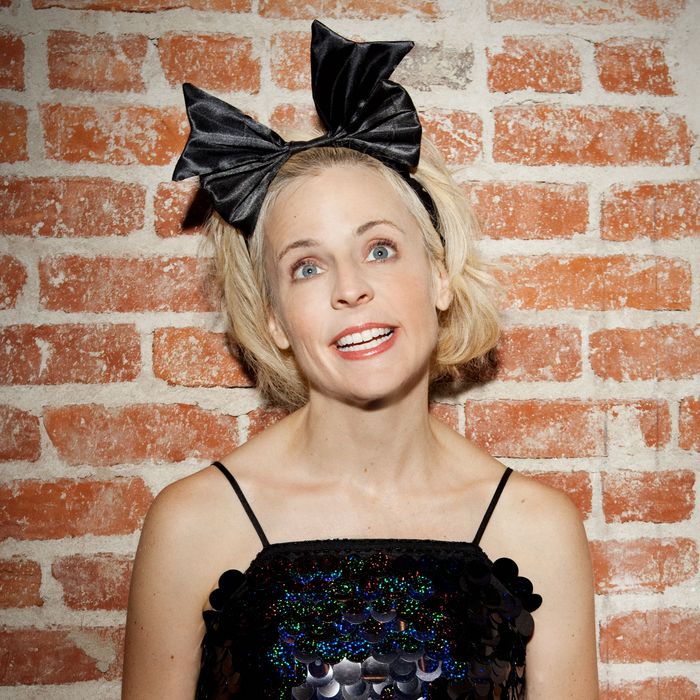 Maria Bamford's The Special Special Special — a comedy show performed in her living room for her visibly uncomfortable parents — begins with Bamford in her bathroom curling her hair. "This curling iron's pretty hot. These curls are gonna be tight!" she eagerly predicts. When Bamford comes "onstage" for the actual performance a few seconds later, her hair isn't just ramrod straight, it's almost helmetlike in its conceptual negation of anything resembling a curl.
No attention is drawn to the discrepancy. It's up to you to notice and you might not, because the Bamford technique is quick and spry. But the point — if you notice it — is an almost existential mismatch between intent and effect. Backstage doesn't match onstage. Predictions fail. The curls aren't tight, they're nonexistent, and this is the gap between the world that we plan for and the world that is.
Maria Bamford has been attracting fresh attention lately, with a new web series on Funny or Die and a big profile in The New York Times Magazine, but she first started doing stand-up in the '90s. Since then, she's become one of the best working comics alive — a "comedian's comedian" like Louis C.K., on whose show she's guest-starred twice. Much of her comedy riffs on her struggles with Unwanted Thoughts Syndrome (also the title of her third album), and she speaks openly about her struggles with depression and suicidal thinking. Her comedy sidesteps the aggressively "feminine" scripts most female comics feel compelled to address. Unlike Joan Rivers, Sarah Silverman, and Amy Schumer, who, when faced with the challenge of performing while female, share the same strategy of embracing raunch, Bamford's act is quiet and odd and distinctly not genital. She's the opposite of winningly brash — she's so odd that she could never join the boys' club the way Silverman does on Louie or have a night out with the girls the way Schumer can. There is no "clan" to which her comedy refers, no recourse to the "AMIRITE" move that so easily wins an audience over. Bamford's comedy is lonely, and that's its strength: It's the comedy of a true misfit.
That may not seem new; comics like Patton Oswalt and Louis C.K. have built their brands around their outsiderness. But for these guys, misfit status is a performance. For Bamford, normalcy is a performance. If there's a female equivalent to the bro in comedy (and in life), Bamford flawlessly dons that "normal" identity only to shuck it for a weirder, more anxious form of self-presentation.
The point, in Bamford's comedy, is always that she can fit in — she is capable of it — but only while doing an impression of normalcy. Seeming ordinary is always an act. In one episode of her web series, The Maria Bamford Show, she's booked a gig to open for the band Bread. She's nervous onstage, so she uses her chameleon powers to switch over to a deeply recognizable mode of female comedy.
"Am I RIGHT LADIESSSS?" she screeches after a joke about who gets the remote control. She intends the performance as satire, but the audience instantly warms to her, and so — tragically — do her family and friends (all played by Bamford herself), who seem delighted and relieved that the oddball has finally settled down and is speaking in a language they know. "That is so part of the paradigm that I understand! GODDAMMIT!" crows Bamford in the role of a high-school pal, brandishing a beer.
This isn't just terrific acting; it's an opportunity to watch an oddball thinking about what her oddity puts an audience — and her family and self — through. What if you could get your family to love you if you just kept pretending to be something you're not? This is where oddity meets the human condition. We all know what this is like. No one is "normal." Bamford explores the urge to fit in by perfecting her ability to blend in, before going on to reject it. This is partly inspired by Bamford's own biography: She's talked about going to see Dale Carnegie when she was younger and adopting his techniques to try to successfully perform normalcy in high school. The artifice of her performance was noticed in college ("Why do you keep saying my name?" one student asked suspiciously), so she had to get better. The sweet spot of Bamford's comedy is where effort and artifice authentically meet improvisation and chance — or, to put it another way, where anxiety meets preparation.
Bamford's apparently improvisational style is actually notoriously rehearsed — she told the Times she pays her friends $75 an hour to listen to her act on the phone — but her comedy almost superstitiously builds error and contradiction into its rhythms. A fuse blows in the middle of the "Special," so we follow Bamford outside to the fuse box. She stops her act to pee, to pay the pizza guy, to put drops in her pug Burt's eyes. And within three minutes of starting The Special Special Special, Bamford's bit on hating cooking and hollering at the very idea of preheating an oven, she steps "offstage" into her smoky kitchen to pull out a tray of freshly baked cookies.
Why rail against cooking while you are, quite literally, cooking at that very moment? That's the Bamford paradox: Her comedy thrives in the space between packaging and content. She rails in faux outrage against churches trying to recruit members by posing as fun picnics or concerts. ("Stop lurking behind your Jimi Hendrix font!" she growls.) She lampoons female bosses who pretend to be your friend to get you to work their house party.
We're in a moment when female performers are finally getting platforms where they can show off their freakish, mind-boggling range — Tatiana Maslany in Orphan Black and Maria Bamford both have an uncanny ability to transform into other people and literally play entire scenes off themselves. But where Orphan Black achieves this with help from fancy camerawork, a makeup team, and a giant budget, Maria Bamford does it alone, using methods that are almost aggressively low-tech. In her "Christmas Special," she's sitting on her couch at home. The Maria Bamford Show revolves around the creative use of irons as telephones, knives as nail files, and sheets as curtains. The artifice she's revealing is accordingly prosaic — and that's what makes it so powerful. She's offering herself up as a case study in the work that goes into playing the "normal" roles of everyday life.
The solitary kindness that flavors much of Bamford's comedy doesn't slip into sadness thanks to the effervescence of her impressions and her genius at translating her idiosyncrasy. The company of characters she creates and lovingly mocks feels very real (Bamford's mother is a truly impressive fictional creation), so successful is she at performing an almost lunatic normalcy. But there's a generosity there, too; Bamford's is the radical kindness of a guide in a foreign country who translates. I speak your language, but you don't speak mine, she seems to say. Don't worry. I'll give you clues. I'll make it easy and turn our moments of mutual incomprehension — which, as every misfit knows, are ludicrously painful reminders of distance — into moments of comedy.