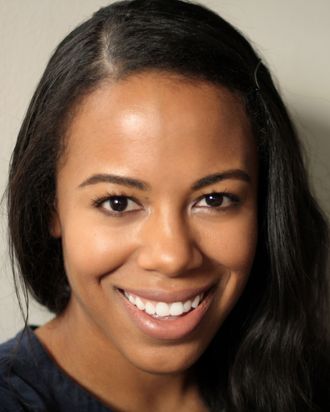 Photo: Courtesy of Ashley Weatherford
The Cut is thrilled to introduce Ashley Weatherford, who, starting today, joins our beauty team as an associate beauty editor. You'll see her voice on the site as we continue our exploration of all the funny, interesting, weird, and useful corners of the beauty universe (maybe we'll find some new ways to incorporate fire into our beauty routines). Ashley founded the blog August Skin and is a skin-care devotee (which should be pretty obvious; check out those nonexistent pores). She talked to the Cut about her obsession with one J.Crew model's skin and why her skin just looks better in August. Welcome, Ashley!
How did you first get interested in beauty?
Since a very young age, I've been fascinated by skin care and the things we can put on to improve our skin. When I got into makeup, I was enamored with anything in Sephora. It was my hangout place. I started my blog, August Skin, a few years ago. Quickly, I became the go-to person for my friends for all things related to beauty. Then I thought, I can help more than my friends with my own blog.
What does the name August Skin mean?
I like both uses of the word. August and august. I have this theory that August is when my skin looks best. I thought What a great name for a blog: the month when my skin is always on point. And then I thought about the meaning of the word in the grand sense, like really great skin.
Why do you think your skin looks better in August?
I don't know! I think a mixture of the humidity, which gives it a nice glow. I have a little bit of a tan from the summer. The combination makes August a standout month in terms of skin.
What for you is august skin?
It's skin that you're happy with. It can be anything. For me, it's having skin that is acne-free, which is one of my biggest issues. For other people, redness may be your concern. But really, it's just whatever makes you feel happy.
What do you enjoy about beauty?
I like that it's so fluid. I might not understand a particular look at this time or think it's ugly. And then of course, a few months later, I'm obsessed with it. I like that it's always changing and always up for interpretation. We all find different things beautiful.
What are your current favorite three beauty products?
I really like a mask by M-61, Blue Mercury's brand. It's called Fast Blast. You put it on your skin and it foams off. Afterward, your skin is so soft and you have a little bit of a glow. I also like Paula's Choice. They have a retinol serum that has 1 percent retinol; I use it every night under my moisturizer. And It Cosmetics has a great concealer. It will completely conceal anything on your face.
The road to retinol is usually a bumpy experience. What was yours like?
I've been using retinol for about two years. I made rookie errors when I first started using it. I used too many active ingredients, like I would use acne products and then use retinol. It would completely irritate and dry out my skin. It definitely was an adjusting period. And my skin is never dry, so I didn't know what was going on. But after about three weeks to a month, I was pretty much on track.
What are you currently fascinated by in beauty?
There's this model, Jasmine Tookes. I'm completely obsessed with her skin. She's my skin-care idol. I would really love the play-by-play of what she does for her skin. I think I saw her in one of the J.Crew catalogues and googled "Model in J.Crew catalogue" to find her. I follow her on Instagram and I'm like, Is this for real? Her skin is incredible. She doesn't wear a lot of makeup, and it's just really smooth.