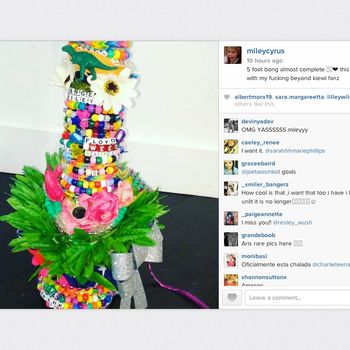 Photo: Miley Cyrus/Instagram
Miley Cyrus, maniacally joyous crafter for our time, is an artist with a Purpose. Cyrus's Purpose was a thing of debate, though its empirical existence is shown in the young craftswoman's devoted pursuit. And now she has revealed her motive: a 5-foot-tall bong.
Her expressive gluing and imaginative pinning is all for this goal. Cyrus is not vain — she happily collaborates with her "fucking beyond kiewl fanz." And she shall be rewarded for her ambitions. She reports that the apparatus is nearly complete.