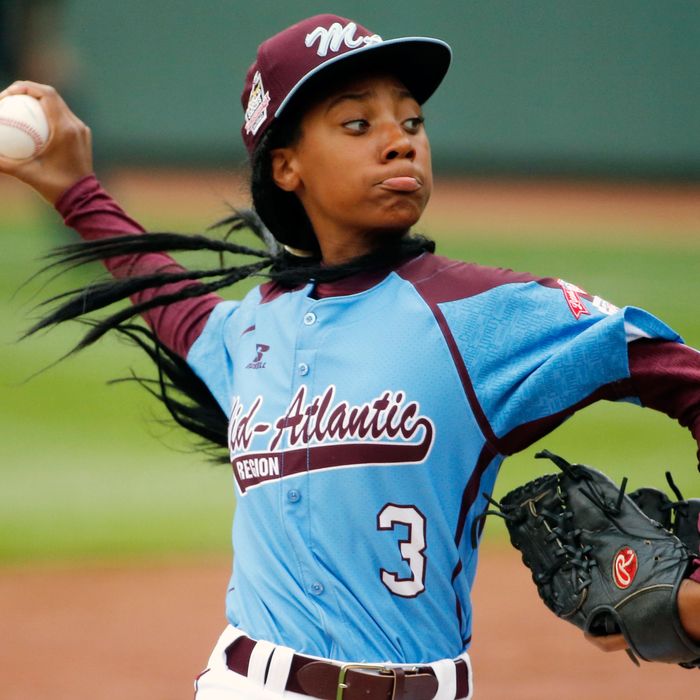 Photo: Gene J. Puskar/Corbis
Over the weekend, between updates about Ferguson (and news of which celebs were dumping ice over their heads), my Twitter feed was full of stories about 13-year-old Mo'ne Davis.
On Friday night, Davis made Little League World Series history when she became the first female pitcher in 67 years to throw a total shutout. She's a player for the Taney Youth Baseball Association of Philadelphia who became an overnight sensation when she pitched at 70 mph with all the cool confidence of an MLB player. (Boys her age throw at an average speed of 50 to 60 mph, while pros can regularly throw in the 90s.) By all accounts (including these from the  New York Times and NPR), Davis fever is spreading fast. Last night's game attracted 40,000 fans to a Williamsport*, Pennsylvania stadium; many were there to watch Davis, and the gift shop sold out of the T-shirt replicas of her powder-blue jersey midway through the game.
Reading about race relations in America is the most depressing experience you could embark upon this month. Thankfully, here's this black teenage girl not just dominating at the most American of America's pastimes, but winning everyone over, making headlines, and negotiating appearances on late-night talk shows. Her interviews, in which she considers what it means to be a superstar and role model at the age of 13 and her own potential as a future baseball star (or, frankly, whatever she wants), are a much-needed antidote to otherwise bleak headlines about what it means to be black in America right now.
But still, Davis: You should probably ignore people like me who are trying to hang way too much symbolism on your shoulders and just play ball. We're all really glad you exist.
*This has been corrected from Williamstown, Pennsylvania.