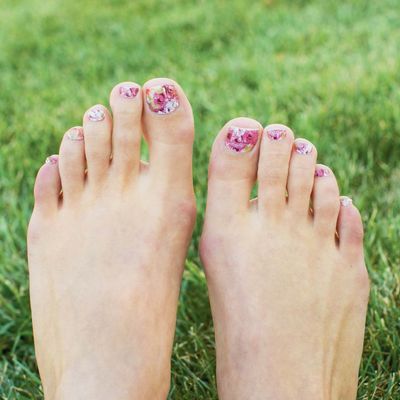 I'm beginning to think that I don't hate all nail art, I just hate about 98 percent of it. Just like I don't hate Katherine Heigl, I just hate most of her movies. Nail sticker from Jamberry are on the end of the spectrum of things that I thought I would hate but actually don't. 
Nail stickers are about as new to the nail world as Kourtney Kardashian is to the idea of pregnancy, but Jamberry's distinguishing point is that they refer to their stickers wraps and use heat to better adhere them to your nails. Each packet comes with an assortment of wraps in varying nail-bed sizes, ranging from small to large. (There is even an alarming and puzzling extra-large wrap, presumably for your big toenail.)
You apply each nail wrap using a blowdryer, which makes them more malleable to mold perfectly to your finger. File the excess nail wrap up and down rather than side to side for a smooth edge. No topcoat is needed. Compared to other stickers/wraps that actually look like stickers, Jamberry's actually look polishlike, and, in some cases, even gel-like. I thought ten fingers of nail-art would be a bit much, so I paired a few fingers of Jamberry Garden Party flair with a test-drive of Louboutin red.
Someone complimented me on the nails almost every day. "What is going on here?" the Chanel beauty PR girls asked me when they saw me last week. I had strangers doing a double take at my nails on the subway. At $15 a packet, the Jamberry designs range from classic to fun to questionable to weird to cute to Pinterest-y twee to Lisa Frank nostalgic to everything in between. With the designs lasting up to two weeks with zero chips (and an easy removal — you simply peel the wraps off your finger), choose carefully for maximum compliments.