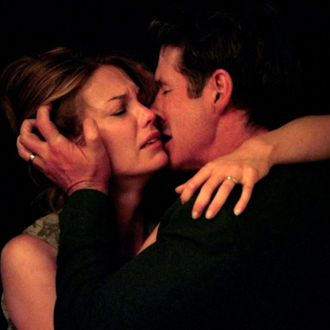 Photo: Barry Wetcher/20th Century Fox
It's the old cliché — once a cheater, always a cheater — but now, with numbers: People who cheat in one relationship are three and a half times more likely to cheat in their next relationships, as compared to people who've never cheated, according to new research presented Thursday at the annual American Psychological Association's convention in Washington, D.C.
The study, which University of Denver graduate student Kayle Knopp presented at the convention, examined the relationships of 484 unmarried 18-to 34-year-olds. There was bad news for the cheated-upon, too: As the press release explained, Knopp found "people who were cheated on in the past are also more likely to be cheated on again."
In addition, Knopp found that people who reported physical aggression in previous relationships had an increased chance of experiencing the same in their next relationships. According to the press release:
Respondents who reported lots of yelling, shouting, pushing and shoving in one relationship were three times more likely to engage in the same behaviors in their next relationship — even after controlling for their partners' aggression in both relationships. And people who reported being the victims of aggression in a previous relationship were five times more likely to report being victims again in their next relationship.
Knopp said that experts need to develop better methods for helping people learn from negative experiences in past relationships. Based on these numbers, that might be an understatement.