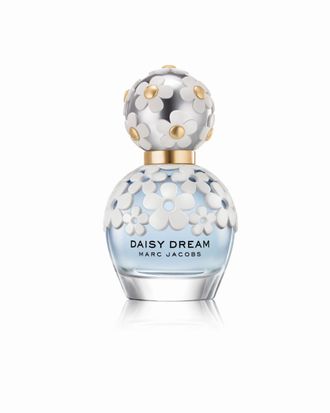 Photo: Courtesy of Marc Jacobs
There are perfumes that fill up a room, and then there are perfumes you can barely smell. Based on the name, it shouldn't surprise you that Marc Jacobs Daisy Dream is the former — a fruity, floral, cloudlike confection of a fragrance.
Picture your perfect grassy field, ideal for lounging in white sundresses (grass stains don't fit into this dream): It's warm but it's not too hot; there aren't any bugs; maybe there are some fruit orchards not too far away; and the grass is most definitely not itchy or scratchy. It's the kind of pastoral grassy landscape that you could picture in a Sofia Coppola movie and the setting of the Coppola-directed ad and mind space that Marc Jacobs Daisy Dream wants you to have when spritzing on this perfume.
The scent has a combination of fruity and grassier top notes, with blackberry, pear, jasmine, and blue wisteria (despite being festooned all over the bottle, daisies are not present among the scent's notes, probably because they have no scent). It's the slightest bit grounded (but not too much, as the scent needs to stay dreamlike) by the tiniest bit of musk and coconut water. As someone at the Cut said, "it smells like a perfume I had in high school," but made fancy and more elevated (which befits the occasional ethos of the Marc Jacobs brand). As commenters have noted, it doesn't have the longest staying power. But it's only fitting, as dreams are meant to be ethereal and fleeting.