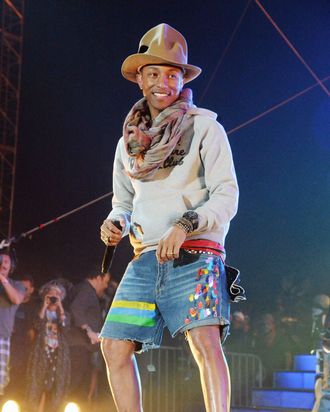 Photo: Jeff Kravitz/FilmMagic/Getty Images
The International Vanity Fair Best-Dressed List is out again — that time of the year when obscure Italian socialites, stars with several stylists on payroll, and a few close friends of Graydon Carter co-mingle in the name of fashion.
Let's see who made the cut: There are the usual suspects (Middleton, Nyong'o, Blanchett), glossy couples in black tie (Firths, Santo Domingos), sunny Northern European royals in fascinators (Maxima of Netherlands! Mary of Denmark!), and the annual starlet who Dares to Be Different by Wearing a Saint Laurent Suit (Emma Watson).
There are a few surprises: Pharrell Williams — who, though an all-around stylish guy — really split people into two camps with Pharrell Hat. VF approves! Another win for Arby's.
There are also some unexpected newcomers: NastyGal CEO Sophia Amoruso (who's pictured in a mesh crop top) and Donna Tartt, Pulitzer winner and lover of trenches. Conspicuously missing are any Russian street-style stars, Rihanna, Kerry Washington, Carla Bruni, Michelle Obama, and, devastatingly, Jared Leto.
In honor of the occasion, Mario Testino picked some of his favorite people from Best-Dressed Lists past and present for a portfolio — accompanied by a short video, below. Watch, and then click through to VF.com for the full list.