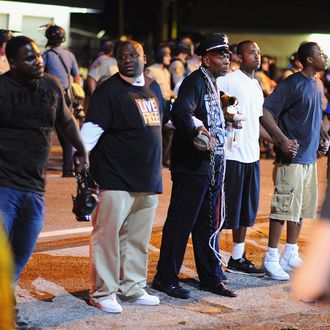 Photo: Michael B. Thomas/AFP/Getty Images
It's no surprise that sociologists, perhaps the group of researchers most dedicated to understanding issues of race and inequality, have strong feelings about the death of Michael Brown and the subsequent violence in Ferguson, Missouri. A letter just released by Sociologists for Justice  has been signed by more than 500 of them and counting (more than a hundred have added their names since the letter was posted with its original headline), and it's worth a read, in part because it contains some practical suggestions for how to prevent these sorts of tragedies from occurring in the future.
Here it is:
What's useful about this letter is that all eight of the suggestions listed on the second page (1) are based on established, hard-to-argue-with facts about either Ferguson or race in the justice system in general (check out Michele Alexander's book if you have any doubts about the latter — I've probably recommended it half a dozen times since Ferguson erupted, but there's a reason for that); and (2) focus on concrete steps that can be taken to improve things.
Slogans like "End racism now!" are all well and good — not to mention hard to argue with — but improving things is a process that involves understanding how different institutions work, and this letter reflects that. Some of the suggestions are more likely to be implemented than others, of course, but none is a total moon-shot, and each would be a step in the right direction.