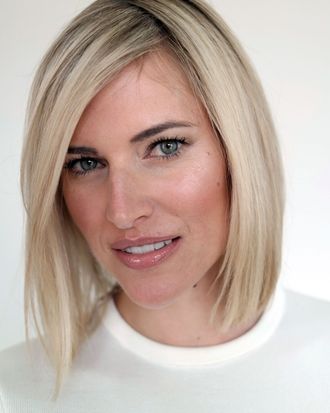 Photo: Brian Ach/Getty Images
On much of reality TV, characters shrug off bad behavior by explaining that they are "not here to make friends." On the Real Housewives franchise, however, husbands may come and go, but friendship is forever, at least once it's patched up in the post-season reunion. "I'm a girl's girl," the Housewives say, over and over. Then they befriend and betray one another. While they value female friendship, they also manage to transcend the strict confines of "likeability" by acting abhorrently.
When the Cut talked to Kristen Taekman, the rookie Real Housewife of New York, she explained that she did in fact join the show to make new friends. Over the course of season six, which wrapped up with a Champagne toast last week, Kristen had a wine glass thrown at her face by another Housewife, fought so much with her husband that fans advised her to divorce him, and cried in nearly every cutaway. But she also learned how to stick up for herself and did make "lasting friendships with some truly great girls."
Over the phone, Kristen talked about what it's like to watch herself on TV, how she learned to talk and not just smile, and why reality is way better than fiction.
Your first season culminated in what may well be the strangest fight on reality TV, when Aviva took off her artificial leg, banged it on the table at Le Cirque, and threw it at you and Heather. What was that like? 
You saw my face; I was completely shocked. I hadn't filmed much with Aviva, and I forgot she had a prosthetic leg. I went home that night and was like, "Joshua Morris Taekman" — 'cause I mean business when I say his full name — "you are never going to believe what happened."

Knowing about all the drama on shows like that, you still wanted to join The Real Housewives. Why?
I didn't go to college, so I never had that sorority experience. You have your tight group of girlfriends in your teens and your 20s. The boyfriend becomes a husband, but, in my experience, it's very rare that you meet women later on in life and actually let them in. When I joined the show, it felt like I got six great new friends. Or, that's how I felt in the beginning, at least. Outside of the Housewives group, my friends are all the same age and our kids are around the same age. I'm younger than most of the other Housewives, so they're not in the trenches with young kids. They'd stay out late and not worry about fevers and diaper rashes. It was really refreshing.
There's an assumption that shows like The Real Housewives are fake. How do you respond to that?
What you see is what you get. I'm definitely not an actress. If I have something going on, you're going to know it right away. I don't even know you, but I could walk into a dinner party, sit down next to you, and say, "You're never going to believe what happened to me today." That's just who I am.
You've modeled since you were 16 — how is being a Housewife different?
Modeling can be quite robotic — click, move, click, move, click, move. I had a Macy's commercial years ago with copy, but other than that, I've mostly done still work. Usually, I show up and look pretty. When we started filming I was like, "I have to open my mouth and say something now, what do you mean?" [Laughs.]
In the beginning, you seemed much more reserved, but, by the season's end you didn't take shit from anyone. How'd that happen?
I definitely learned to be more confrontational and really speak my mind. I was raised in Connecticut and my mom always told me that if you don't have anything nice to say, don't say anything at all. I learned pretty quickly that that wasn't going to work with the Real Housewives. It's really stuck with me since the cameras stopped rolling. Now, if I notice someone is acting weird, I'm much more willing to walk up to them and say, "What's the deal? What's your problem?" If someone's pissing me off, I joke that they better tell me what's going on or I'll go all Housewives on them.
After filming wrapped, did you have a sense of what you'd see on the show?
Not really. We shot Tuesday through Saturday for four months straight, sometimes doing three different scenes in a day. They shoot so much that you kinda lose track of it. Then there's a lot of stuff that doesn't make it, which is a bummer. From a fashion sense, I was like, "Damn it, I could have worn that jumper again!"
One of my favorite fashion moments from the entire season was when you wore that Opening Ceremony x Elvis baby-blue sweatshirt that said "Love Me Tender" to couple's therapy. It was incredible to watch you crying about feeling like your husband didn't love you while wearing that.
I'm so happy you noticed that. Nobody even picked up on it! That scene was shot in the summer, and it was hot as hell, but I was like, "I have to wear this to the therapy session."
Were there elements of your life that didn't appear accurate on the show?
Well, Josh's humor does not translate to TV. People will tweet at me and say that he's so horrible, but I think he's funny.
Do you think that translation problem has to do with editing?
I think people just don't get that that's the way we joke around with each other. People use editing as an excuse a lot. The only thing I want to say about editing is that if we're somewhere filming for four hours, they've got to edit down to the interesting parts of the night. There was one scene at the jewelry party where it was all sex talk coming out of my mouth. Watching it, I was like, "I know I spoke about other things," and Josh was like, "Yeah, but nothing else that was interesting." [Laughs.]
Is it strange to get recognized by fans?
I never thought it would happen, but it does all the time. I'm super-chatty, so someone will come up for a picture and we'll start talking. Suddenly, ten minutes have gone by and I realize that I should probably walk away. A few weeks ago, I was walking down the subway platform and someone taps me on the shoulder. I'm turning around, and without even thinking I was going to say, "Yes, you can take a picture." The woman goes, "Is this the uptown train?" That put everything into perspective. I was very happy to give that woman directions.