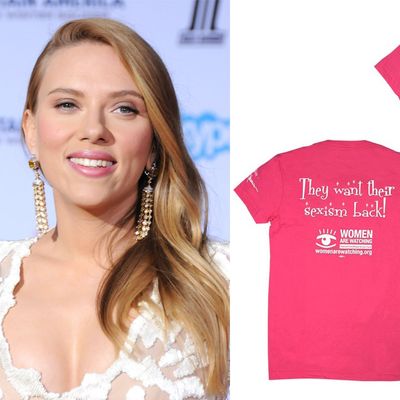 Photo: Barry King/Getty Images, Planned Parenthood
Scarlett Johansson designed a T-shirt to benefit Planned Parenthood's Action Fund, which encourages women to learn about risks to their birth-control rights and vote accordingly. The shirt reads "Hey Politicians! The 1950s called …" on the front, and "They want their sexism back!" on the rear.
Unfortunately, the T-shirts are upsetting. The typeface, in particular, gallivanted down a particularly bumpy road to this cotton, but the unattractive centerpiece of the shirt is the floating head of a cartoon ghoul with a mid-century haircut and the smile of a demon. He appears alongside a severed hand holding up an old-timey phone. In conclusion: The best of intentions have gone awry, design-wise.
Perhaps this is all calculated. It's crucial to demonstrate the frightening risks that face women's health care at this moment. It is dreadfulness to criticize dreadfulness. The shirt sells for 25 dollars.