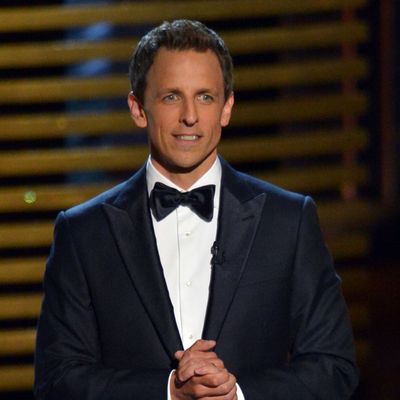 Photo: Kevin Winter/Getty Images
In his Emmys opening monologue, Seth Meyers took shots at dying network television, dying Game of Thrones characters, and … women who have casual sex.
… I love television — and not just the high-end cinematic stuff we're honoring tonight, but the low-rent cable series I stream onto a four-inch screen while I'm on the bike in Equinox. That's what I love about television. She doesn't play hard to get. She doesn't demand your full attention. Television has always been the booty-call friend of entertainment. You don't have to ask TV 'you up?' TV is always up. She'll happily entertain you while you cook dinner or wrap your Christmas presents. She's not like that high-maintenance diva movies who expects you to put on pants and drive all the way over to her house and buy $40 worth of soda. So thanks anyways, movies, but I'm sticking with TV.
No one tell Meyers that modern Netflix movies will let you enjoy long, on-demand, or noncommittal sessions from your laptop, too.