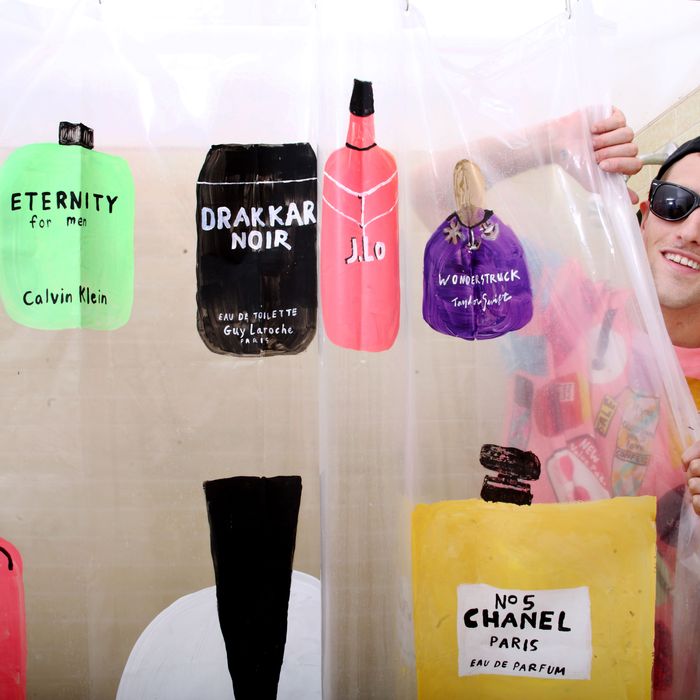 Photo: Courtesy of Seth Bogart
"He, maybe, I guess, was a fan of my band," Seth Bogart, who performs under the name Hunx and His Punx, hazards modestly when asked how he first caught Hedi Slimane's eye. In fact, the impression goes way beyond fandom: After seeing Bogart play, the Saint Laurent designer enlisted him for campaign-video soundtracks, photo shoots, and, now, a collaboration on men's shirts and accessories. Bogart's illustrations for his own year-old line, Wacky Wacko, have drawn fans like his longtime pal Kathleen Hanna ("We're old friends but I'm still such a dorky fan"), Tavi Gevinson, and even La Cyrus herself — she wore his "Suffering From PMS: Putting Up With Men's Shit" T-shirt.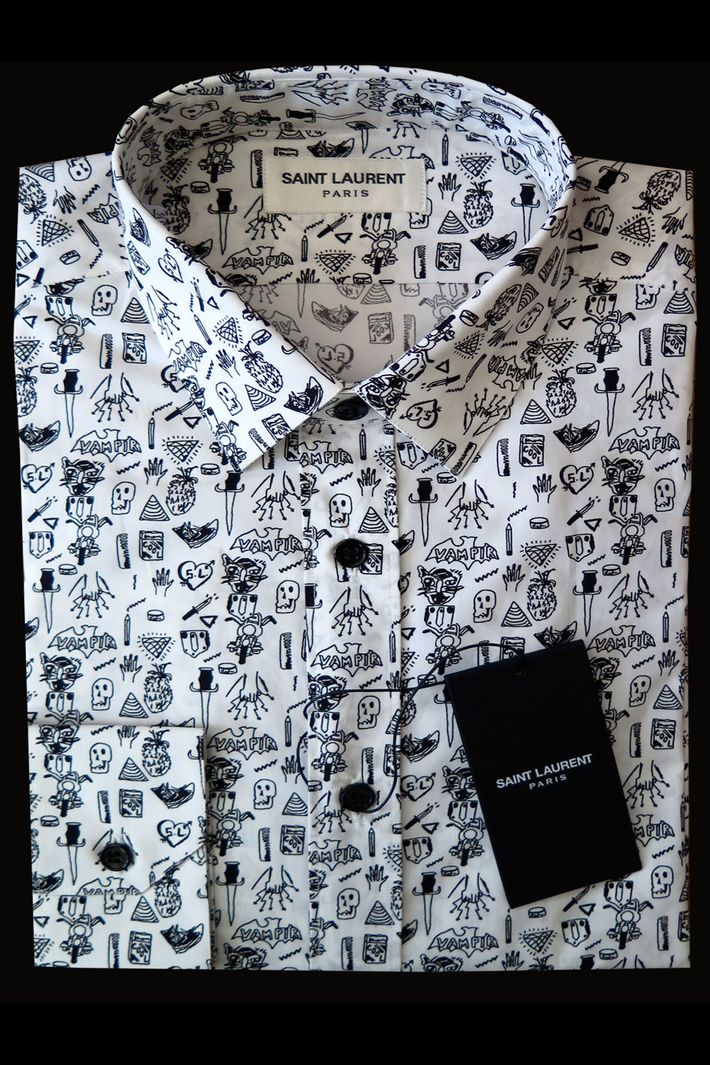 Bogart has been drawing ever since he made zines in the '90s. "I feel like in high school, for me it was either becoming a drug addict or making zines. The main one I did was called Puberty Strike. It was about being a teenager and not wanting to be an adult," he says. He began his design career with band T-shirts, but slowly began to expand into the Pop-style advertising art he has become known for (e.g., the shower curtain above, featuring his take on perfume labels). A T-shirt printed with tampon packaging is a standout. Explains the designer, "I consider myself a feminist, which doesn't have anything to do with tampons, but I just want to declare that, No. 1. I really love tampons aesthetically — the boxes and the packaging." Have people been snapping them up? "It's actually not that popular of a design, I think maybe it's because it's tampons. But the people who do wear it are cool, so." Bogart is also currently inspired by the Instagram stoner crafts of Miley Cyrus. "They look like an insane person made them, which makes me like Miley Cyrus even more, even though I don't agree with some things that she does."
For the Saint Laurent collaboration, which includes shirts, a sneaker, and a backpack, "I kind of just started drawing a bunch of delinquent things like switchblades and combs and greasy hair products. I submitted all of them and the one that they ended up using was this page of doodles that I had made and then spilled water on and wasn't even going to send," Bogart says. "There are parts of this process that have been really weird, but I'm really happy with what came out of it." The multihyphenate talent is also opening a store this Saturday in Los Angeles, on Sunset Boulevard between Echo Park and downtown. "I've been painting that to look really crazy," he reports.