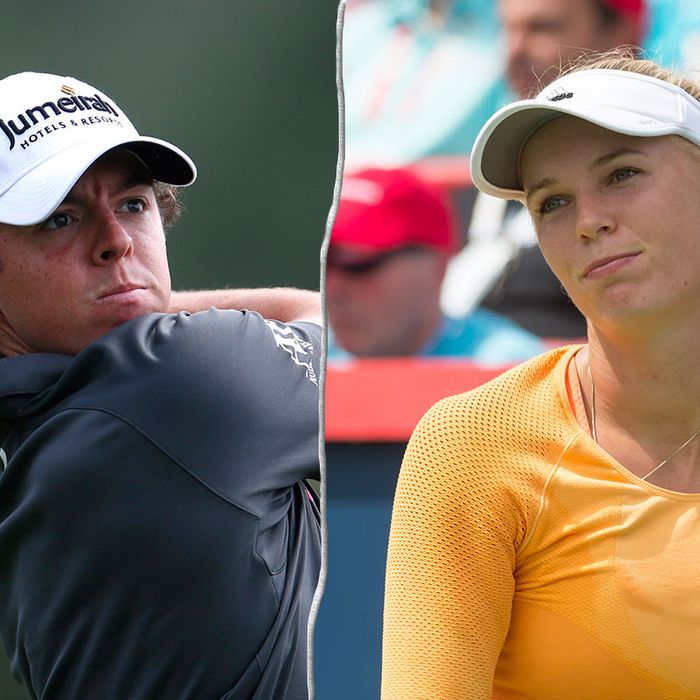 In sports movies, romantic unions are directly related to victory: Get the girl — or get her back — and score. (Or vice-versa.) So it's odd to see golfer Rory McIlroy on a hot streak just three months after breaking up with his fiancée, tennis player Caroline Wozniacki, over the phone, after their wedding invitations went out. (Wozniacki reportedly thought he was joking.)
He's won his last three tournaments — including the British Open and last week's PGA Championship. And nor is Wozniacki wrecked by the split. In the lead-up to next week's U.S. Open, she's climbed out of a career slump that coincided eerily with her relationship with McIlroy while simultaneously training for the New York City Marathon in November (when the couple's wedding would have been).
The public nature of their relationship, its dissolution, and their individual careers has thrown into focus the extent to which athletes' interpersonal lives affect their performance. "[The breakup] has refocused me," McIlroy told reporters shortly before he won the PGA last week. "I mean, what else do I have to do now?" Sports psychologist and shrink to professional athletes Jonathan Fader calls this "clearing the mental deck" — and its success suggests the relationship needed to end.
"I've seen athletes who succeeded their past performance unbelievably when they broke up with someone who was having a negative impact on them and I have seen athletes destroyed by breaking up with a partner who was supportive," Fader told the Cut.
In fact, relationship problems are the primary "off-the-field" topic in professional athletes' therapy. "The person that most influences your self-talk, and the way you think about yourself, is the most important person you talk to," he says. "Significant others are really coaches." And when a relationship goes awry, the effects are immediate. Physiological effects of stress like tensed muscles and diminished focus can impact performance second-to-second. Some athletes, Fader says, need to train their spouses to expect their phones to be off from two hours before a game until an hour after.
Relationship problems unique to the professional athlete lifestyle might explain the painful timing of McIlroy and Wozniacki's breakup. You know how you put off breaking up with a significant other until after Christmas or New Year's? "Every day is a holiday for an athlete," Fader says. "You may have to get through a whole season to make a life change that big."
McIlroy's post-breakup performance might seem to confirm the retrograde (and unsolicited) advice given to him by golf elder Gary Player. "He's got to find himself a wife that'll help him, actually almost dedicate her life to him being a success," the 77-year-old told ESPN. "And that's hard to find today, because women are extremely independent today." But a doting helpmeet isn't always the best solution, according to Fader. The imbalance of fame and earning potential can be tough on player spouses without their own careers, as can seasonlong absences and abrupt returns. "It doesn't matter if someone is sitting at home making origami placemats for you and braiding your kids' hair if when you get on the phone she's saying what a dog you are," he says. "The most important factor in a relationship success is communicating in a way that has low levels of hostility and criticism."