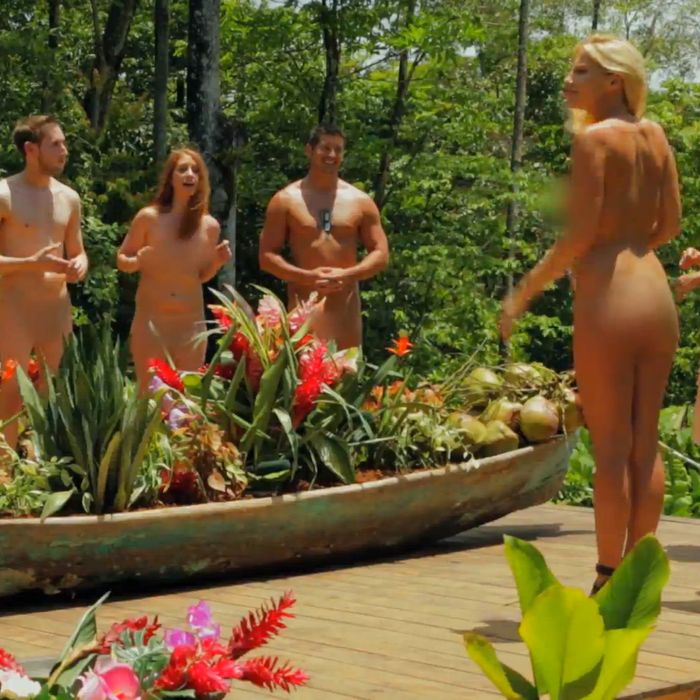 VH1 really likes to drive home its belief that this show is a "radical dating experiment."  At every introduction, the host asks: Will people put everything — from genitals to bad tattoos to glaring personality flaws — out there for judgment? On last night's episode, we finally got an answer in the form of Katie, who is the living embodiment of all VH1's radical ambitions, the show's raison d'etre. From her first moment, Katie lets that freak flag fly higher than any other. She's never met an inhibition she didn't release to the wind. This is the reason this show exists: so wildcard Katie can go freaking nuts.

But first, let's meet last night's lovelorn hopefuls: Diane, who seems plain old pretty nice and really normal. Her partner is Keegan. He's shy and muscly, and readily admits that he would marry and impregnate a girl he met on the show. Other than that, he's also quite normal. Just two norms, going on their naked date.
Date 1:
When Keegan and Diane first greet each other nude it's like the prom king and queen meeting to devirginize each other. It is so awkward. Keegan even says awkward things like, "If I get turned on during this date, it could get awkward." I suppose VH1 figures if these two norms can survive this level of awkwardness, they can survive anything, including spearfishing while naked. Great idea! Let's all take sharp three-pronged spears and jab them at things floating in murky water. Keegan's catch of the day is woefully small, and he says sadly, "He looked bigger under there, didn't he?" The guppy does its best to serve as a vessel for all his projected insecurities.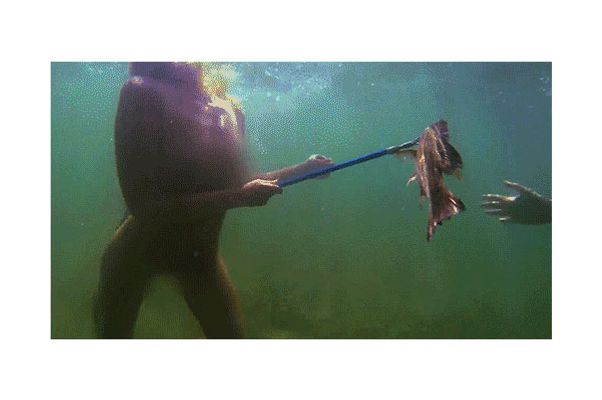 "Shy" Keegan reveals that he is actually so shy he can't really carry on a conversation. The pair sit there totally nude, the silence punctuated only by Diane's strained conversation-starters, i.e., "Oh, is your mom German?" Then they both give up and go straight to bed, hoping for a better tomorrow.  It just goes to show: You can put two people in a room and take away their clothes, but you can't make them appreciate it.
Date 2:  
Keegan goes on a spa date with the overly confident Jesse. This time, shy Keegan chooses to rely on his brawny muscles to do the talking rather than actually talking. (This show is the perfect place for him to meet women.) Their charming DIY spa date essentially turns into soft porn as they rub each other down with "spa mud" and wrestle on the beach. Keegan can't contain his enjoyment and lets lets his flag fly, if you will. Ladies and gentleman, we have our first accidental boner of the season!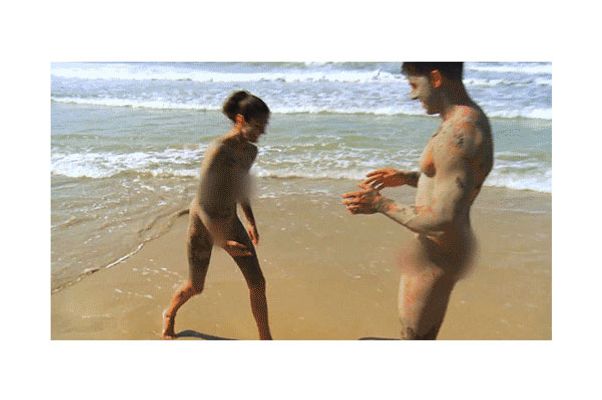 Meanwhile, if Keegan is Captain Taciturn, Diane's date Dan is his polar opposite. In 30 seconds he reveals that he's never had a girlfriend, never had a drink, kissed his first girl at 19, lost his virginity at 24, and went on a really bad trip to Disney World once. I fell into a deep hypnosis listening to him talk and talk while stress hives slowly crept up his back. When I came to, it seemed Diane surprised us all. She was totally into it. She was receptive to his personality — not his looks, though, definitely not his looks. It's a powerful lesson in values. And it looks like Dan is finally going to kiss another girl!

Back at the Jungle Villa, things go from porno to PSA as Keegan turns into a total alpha-male meathead. He takes one look at poor Dan, gingerly sipping his first margarita like a 16-year-old at TGI Fridays and says, "I would have made that kid cry in high school." His total jock-douche shtick is a huge turn-off. Let this be a lesson to you all: When you peak in high school, you don't get laid as an adult.
DATE 3:

Diane is still kind of mooning over skinny, nerdy Dan. Then she meets Scott, a manly man who tickles all of her primal urges. He goes right in for the hug, attempting to dick-poke her because that's went men do. He also uses the phrase "rock out with my cock out" and has a terrible ankh tattoo on his sternum. I don't get Scott's appeal, but they circle each other for a bit, check out each other's butts and decide to be in love.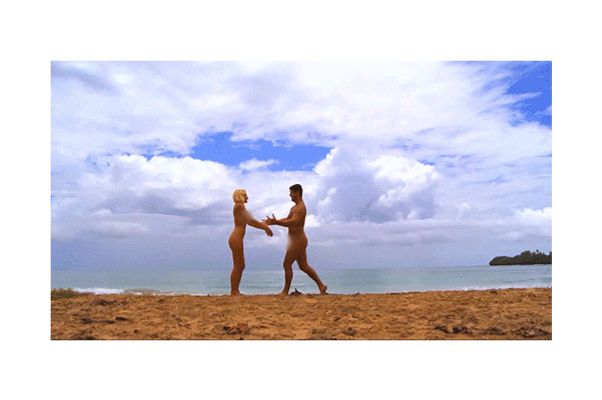 Finally, Dating Naked delivers on two promises: naked ziplining and foul-mouthed Katie. Katie is from Queens, curses like a sailor, and talks about her vagina. She's just your typical woman on the hunt for her "ride-or-die guy." Keegan tries to run from her, but Katie came to this tropical island to wrap her bare legs around someone on a tandem zipline. She gets her wish. They strap into the harness and meld together into one flying naked blur. It's thrilling! Until someone forgets to pull the handbrake and Katie's face slams into the stopping block. Ladies and gentleman, our first naked injury! Luckily, the producers let you put your clothes on to go to the hospital.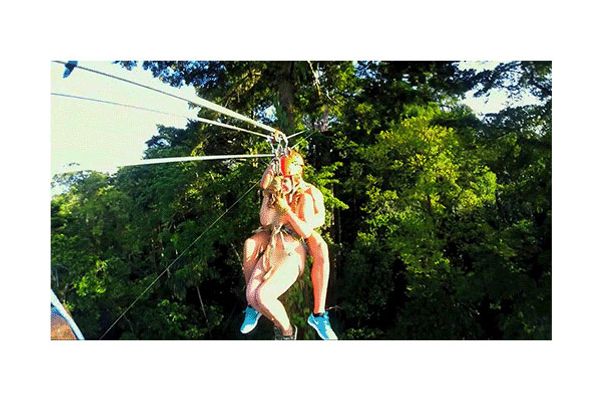 Of course this is not the last of the unsinkable Katie. She shows up later with a shiner and a thirst for revenge. She bullies "Johnny Football Hero" (Keegan) until everyone except manly Scott slinks away to hide. Is it possible that this ankh-man is the ride-or-die dude Katie needs? "Either way it's a porno, no matter what we do," she murmurs by way of pickup line. VH1 should thank her for providing an accurate tagline.

In the end, however, the rules of heartwarming teen movies prevail: the Prom Queen choses the nerd. Diane goes with Dan, even though he was way too invested — but who cares, she won't return his texts anyway. Keegan chooses Jesse instead of Katie. And Katie — well, Katie goes off in a glorious rant. All those bleeps and blurs cannot hide her hurt feelings. She's stripped of clothing, blacked of eye, waving her middle fingers to the sky — "F*CK YOU VH1! Take your picture, bitches!" And we did: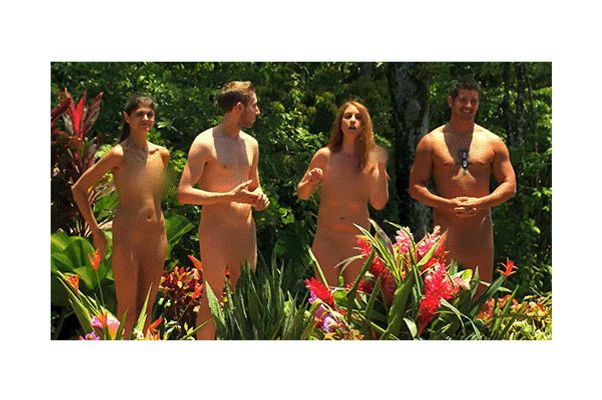 Most awkward naked activity of the episode: Failed naked paddleboarding: