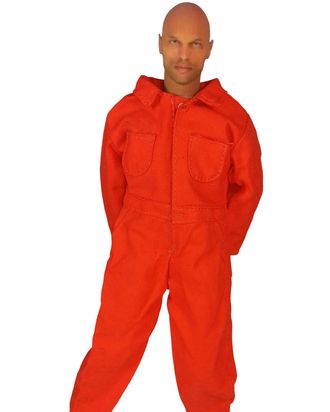 Photo: Splash News/ThatsMyFace.com
So far our obsession with Jeremy Meeks, a.k.a. Fine Felon, has resulted in a lot of memes, crowd-funded bail, and a potential modeling contract for Meeks. Now That's My Face, the leading site for custom-made dolls and action figures, has managed to one-up us all by creating a 12-inch "Hot Convict" action figure.
It's a very convincing replica. The doll, which will retail for $109,  has the same eyes of limpid blue, razor-sharp cheekbones, and smoldering sex stare as the real-life Meeks.

Would it be fair to say that things may have gone too far here? The site features photos of action-figure Meeks holding a machine gun — so, yeah, I think we can all agree this obsession might have spun out of control. Jury's still out though … no pun intended.